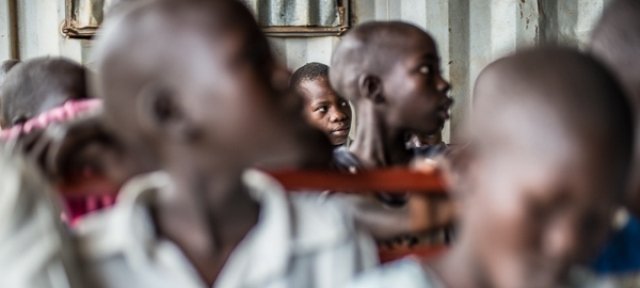 Dear friends its always a pleasure to share with you the stories in the clinic. These months have been full of challenges but at the same time we have learnt a great deal from these challenges, moulding us and making us improve on the work we are doing. I would like to thank you for being part of these experieinces.
An experience that Betty, a nurse and mother of three, would like to share this time.
It's been a very busy week for all of us, the malaria outbreak still raging on and yet we see no end to it. It is coming to midday but we still have a line of 30 women with sick children waiting eagerly to be attended. The team that should be going to the nearest school for health education cannot leave until we reduce these numbers. Eventually the incharge decides that only one person should go to the school and carry out health education about malaria transmission and prevention.
Nurse Betty is eager to go to the school to educate the children about malaria and how to prevent it. As a mother, Betty she knows the danger that malaria poses to school going children. Her own daughter has been ill from malaria and could not attend school.
At 1.30pm Betty is given permission to leave for the school, the number of patients have reduced and it's manageable by the rest of the staff. She finds 30 pupils were waiting for her in their classroom. They had several questions for her. Their class teacher introduced them to Betty and the already impatient children begin to raise their arms and asl=k questions.
Atim asks, "How is malaria got"?
Betty shares with class that, Malaria is got when one is bitten by malaria-carrying mosquitoes. Not all mosquitoes carry malaria. Mosquitoes of the Anopheles genus do, particularly Anopheles gambige. Malaria is spread by pregnant females that need blood to develop their eggs. The organism that causes malaria is the Plasmodium parasite.
Aleng asked, What can we do when someone is ill with malaria?"
Betty answered that, a malaria infected patient needs to be reached quickly.
Charles wanted to know whether malaria is treatable, and again Betty assured the pupils that malaria treatable. She told them that in a remote area, the difficulty of recognising that a patient has contracted malaria and not some other disease and the lack of available medicines all contribute to effective treatment not starting quickly enough. The result: many people die. Prevention for example using bed nets and treatment go hand in hand in combating malaria.
At the end of the session the pupils had asked so many questions and they all enjoyed Betty's visit. Lastly Betty advised them to sleep under treated mosquito nets. She urged them when they go back home to destroy any areas where mosquitoes breed.
Educating children and the community is very vital in destroying malaria in this community. For Betty this was a very fulfilling exercise and she hopes to visit the school again.
I hope that you have learnt as much as the children have done. We know that these opportunities are only possible when we partner and go out in the remote schools to talk about health.
We thank you for being part of this great team and hope that you have enjoyed this as much as the children did. Please dont forget to tell more friends about the work that we are doing.
Nurse Betty
Links: