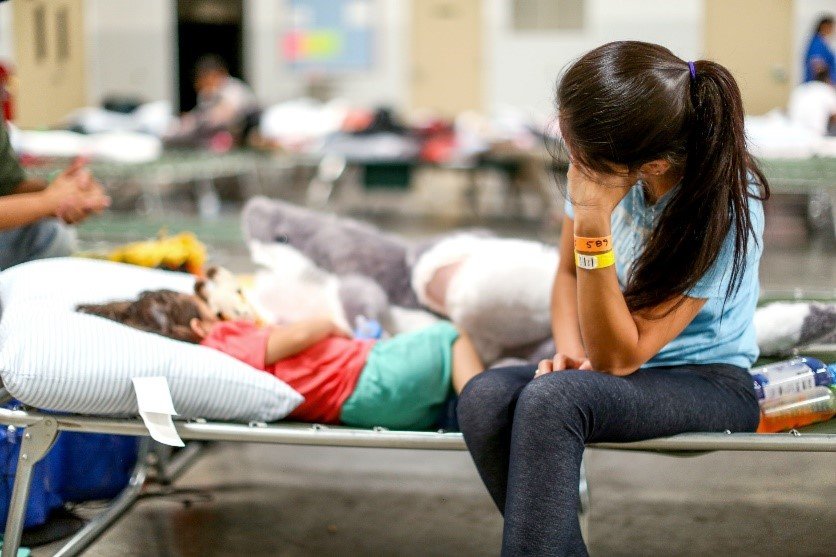 In response to the crisis at the U.S. southern border, Save the Children is partnering with local communities to strengthen their capacity to prioritize and meet children and families' urgent needs.
At different points in this crisis, our support has included direct delivery of child protection programs, providing training, capacity building and grants to local organizations to build their long-term capacity and sustainability, providing gift-in-kind of materials and leading coordination efforts between federal, state and local organizations.
Additionally, we are advocating to ensure that children are protected and treated humanely, and that their rights are upheld.
While recent changes to U.S. immigration policy are forcing many families to remain in dangerous areas in Mexico's border cities while they await asylum hearings in the U.S., Save the Children continues to respond to this crisis in support of children and families. We are taking a nimble approach, reassessing the needs periodically and adjusting our geographic and programmatic footprint accordingly.
Since May 2019, our border response has served 53,000 children and adults.
Supporting Children's Protection and Safety
We provided child-friendly spaces, community play areas and mother-baby areas at transit shelters in New Mexico, serving more than 3,000 children and their families. We are providing resources (including technical guidance, training, materials and small grants) to smaller shelters to enhance their capacity to meet the unique needs of arriving children and their families and provide safe play areas. Child-friendly spaces are safe play areas that help children return to normalcy, interact with peers, play and begin to cope. Community play areas provide families with access to developmentally and culturally appropriate materials and may be provided by trained volunteers. Private mother-baby areas allowmothers and babies to nurse, care for young children, rest and play.
Providing Families with the Essentials
Thanks to our donors' tremendous outpouring of support, we've provided newly arriving families and transit shelters with essential care and comfort items such as diapers, hygiene supplies, children's clothing, art supplies and coloring books, stuffed animals, backpacks, and water bottles – serving more than 50,000 children and families. Additionally, we are providing the training and equipment needed for local partners to manage the large quantities of goods for the hundreds of people passing through their doors every day.
Building Border Communities' Capacity to Serve and Protect Children
Communities along the border aren't resourced, equipped or trained to receive thousands of traumatized, newly arriving children and families. To ensure sustainability and build the local capacity to provide protection programs, screenings and services, we have trained over 100 shelter staff and volunteers.
Leading Coordination Efforts Focused on Children and their Needs
Save the Children is leading the coordination of a working group in the El Paso region that is focused on children's services that includes federal, state and local agencies and community partners so that children's needs are recognized and placed at the forefront of response plans.