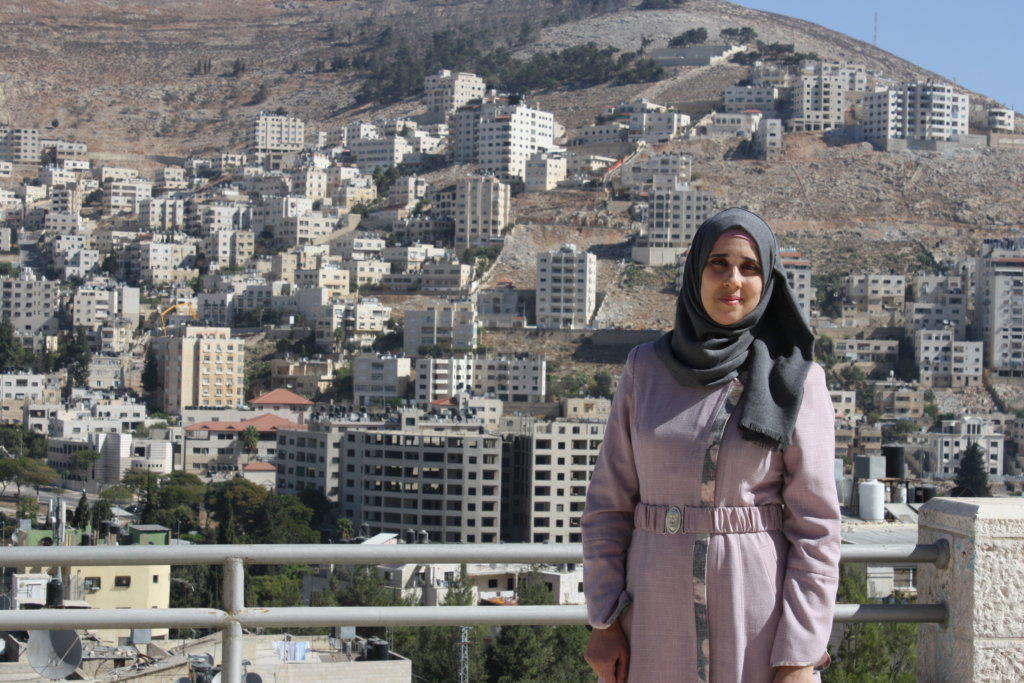 My name is Safa'a. I was born and raised in Attara, a village outside of Jenin which is one of the largest cities in the northern West Bank. I have a Bachelor's degrees in English and for years I have working as a teacher in a pre-school. I love my work; every day I see it as reclaiming what a fun, adventure- and color-filled childhood should be and what so many Palestinian children have not had.
However, I always knew that working as a pre-school teacher was not enough. I had dreams for something bigger. My dream has always been to own and operate my own business as a way to do something I enjoy while also supporting my family financially and being economically independent. This dream became even more important to me when my husband endured a workplace injury and became disabled and unable to continue his work.
The idea of starting a business of medicinal soaps and lotions came to me after a relative of mine developed terrible eczema. She visited a doctor who provided her with a cream that only made her condition worse. I immediately saw an opportunity for me to provide her and the wider community with something better, and I started by soap business. The majority of my products are made with goat milk, given there is an abundance of it in my village.
At first, my customers were primarily people from Attara and other near-by villages. Many of them purchase products from me repeatedly, not only once! Through trainings, individualized coaching, and regular support from Tomorrow's Youth Organization, I learned how to market my products to wider markets, and now I have my products in local pharmacies and beauty salons.
Tomorrow's Youth Organization also gave me the opportunity to participate in a Branding and Marketing training with a branding expert, and then work side-by-side with a graphic designer to design more beautiful packaging for my products.
When I heard about the support TYO offers to women entrepreneurs, I knew I had to join. I was most excited for the branding and marketing support, but everything I have participated in so far has helped, including the business development trainings, psychosocial support, English and IT intensives, and networking with banks and microfinance institutions. I have learned far more than I expected especially in regards to improving my bookkeeping and accounting practices. I have established a stronger network with other women micro-enterprise owners in Palestine through meeting TYO's other participants. That network also helped me to recently apply for funding for my business through the Counseling Committee in Jenin.
TYO also helped me to open a checking account with a local bank, which was an excellent decision. During a financial literacy and awareness day, I was able to meet with multiple banks and understand how their services could help my business. The Bank of Palestine representative helped me understand the importance of saving money to either purchase more raw materials or keep it for any unforeseen personal or professional emergency, and protect my business from being impacting by that emergency. If and when I decide to take a loan for my business, having a bank account and history of working with that bank will help my application a lot.
Before joining TYO, I also did not know the importance of registering with the local Chamber of Commerce. Through TYO's business registration session, I learned that registering my business could help me export my products internationally. My brother lives in Sweden, and I would love to be able to send him my products through official channels in order for him to sell them to Europeans. I took the first step and registered with the Palestinian Ministry of Economics, and I now have a merchant license. Now I am just a few steps away from registering with the Chamber of Commerce, and I could not be more excited for the next phase of my business.
Links: