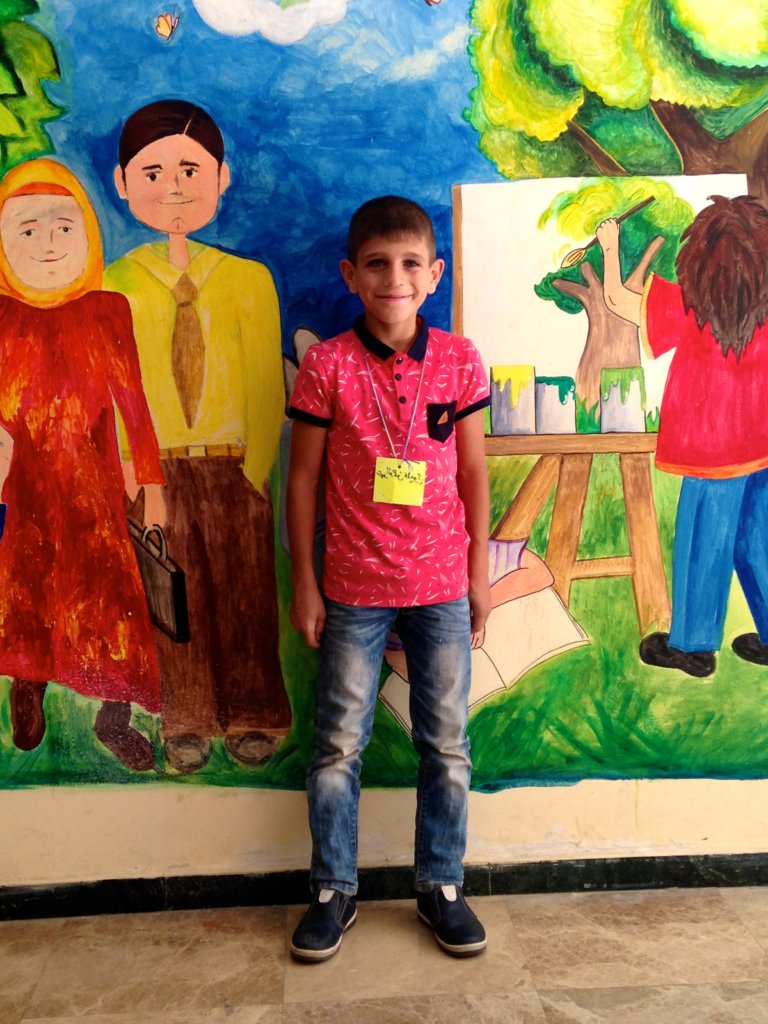 Abdulhamdan is 10 years old. He is in 5th grade and lives in Khallet El Amoud, the immediate neighborhood of Tomorrow's Youth Organization. Many of the neighborhood's families suffer from very difficult socio-economic conditions and few community resources, but the neighborhood also boasts a very friendly and welcoming community.
Abdulhamdan, along with his older brother Rayeq, were both in dire need of academic support to stay in school. Last year, both enrolled in Tomorrow's Youth Organization's Academic Support Program for children from refugee campus and other highly vulnerable neighborhoods of Nablus, and both remained committed throughout the year. Below, Abdulhamdan shares how the academic support program changed his outlook towards school and his future.
Tell us about your first session in the Academic Support Program.
Yes, I was enrolled in the program for the first time last Spring and I loved it! I liked it because every day was fun, no matter what. Of course I knew that class was not only about having fun but learning in the process, and I knew that while I was playing games and enjoying my time at TYO I was also learning so much that would help me in school. In the first session last Spring, I improved in math, Arabic, and English. I think I improved the most in English. I had never been comfortable in school in English class, and I would get so nervous with reading, writing, and speaking in English. Now I feel comfortable in English class, which is great!
Why do you think you improved the most in English? Tell us more about your previous experiences learning English.
For me, I feel like I improved the most in English because the Academic Support Program teachers and volunteers were always so willing to help us and they gave us each attention as individuals, which is often missing in school. In school, there are so many students in class that it's impossible for the teacher to really give individual attention and answer our questions. But at TYO, I feel like I can ask anything and get help – and so now I do! I'm so happy now that I'm improving in English.
What is your favorite part of the Academic Support Program?
Last summer, I was in Ms. Mahfuza's class and it was so much fun! My favorite part of the day is the ice-breaker activity. One student goes out of the classroom, and when they do the rest of us in class stand in a circle and choose someone to be the "leader." The leader then leads the class in some kind of movement like clapping or snapping and all of us do it in unison. The student outside comes in and has to guess who the leader is. We laugh so much when we play this game and I think we all get better at it every day, so we just keep playing! I feel like after that we're in such a good mood and I feel good to start working on my homework, even if it's difficult. I have made a lot of new friends at TYO doing fun activities like this. Most of all, I've become a lot closer with other students in my class who go to my public school. Before joining TYO, I'd see them in the hallways but I didn't know them well and didn't know how to ask them to be my friends. But last fall, I saw them all the time at school and we always said hi and spent time together! Having friends makes me feel a lot better about being in school.
The volunteers who help Ms. Mahfuza are great too. Most of all I love Waed who always tutors me. She is so kind and patient, and she never gets angry no matter how many times she has to explain and re-explain new lessons to us. Even if we ask her a hundred questions, she answers them with a smile and never gets frustrated like others do. She is the best!
What do you hope to work on in upcoming sessions of the Academic Support Program?
Right now, I hope to improve my math skills the most next session. Most of all, I want to understand division better and work on a lot of division problems with the tutors. In the program, our teacher and the tutors give us so much time and freedom to practice what we want to work on, so I know with time I will get better at division and become stronger at math. This session I'm also excited to work on my soccer skills in TYO's after-school sports program! Doing both, I know by the summer I'll be better at math, English, Arabic, and soccer!
I love coming to TYO and learning through the games here. I know if I keep coming I'll become a great student. I am still having trouble in some subjects at school now, but I know if I keep coming to the program I'll become much better. I can't wait to get started again this Spring!
Links: