Project Report

| Jun 28, 2019
Trusted World - Food Packing Team Building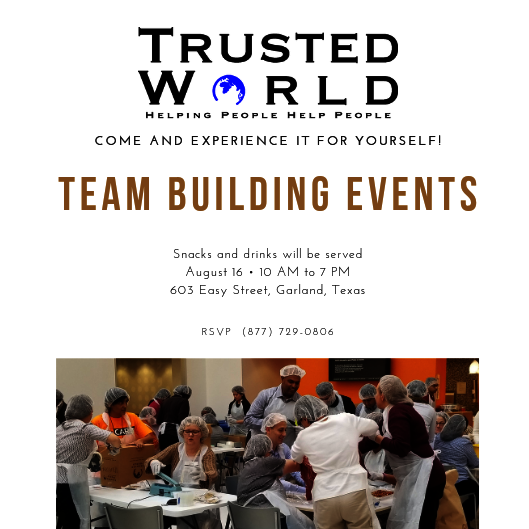 Who: Trusted World
What: Team Building Open House
When: Friday, August 16th 10:00 am - 6 pm
Where: 613 Easy Street, Garland, Texas
RSVP: jsmith@trustedworld.org
On August 16th, Trusted World invites you to experience firsthand how our team building activities can facilitate bonding with your team members, reduce employee stress, and give your staff the chance to get to know one another outside of the office.
Our team building events provide a fun, educational way for groups to make an impact on the community while building a team. Your team building activity will include - strong leadership, clear goals, defined roles, and responsibilities, and commitment.
Corporate Team Building
An activity which provides the opportunity for employees to be a part of charity work as a team may help build bonds, strengthen communication skills and boost morale while making a positive difference in your community.
TRUSTED WORLD IS WITH YOU EVERY STEP OF THE WAY
Trusted World works with companies of all sizes from 10 employees to corporate conferences. Through our simple process, we get to know you and your goals. We will ensure your team building activity goes off without a hitch.
OUR CEO IS THE FACILITATOR
Michael Garrett, Founder & CEO of Trusted World can inspire, engage and foster a positive and authentic connection while building bonds that last long after your event is over.
HOW IT WORKS
5 Easy Steps for a Packing Event
1. Determine the amount of time your group will have to complete the task
2. Determine, the size of your group and the amount of food you wish to pack*
3. Review your budget* or set-up a fundraising page
4. Pick a date
5. Start Fundraising
*$5,000 packs 20,000 meals or $10,000 packs 40,000
The meals that we pack are $.25 each. Each bag that is packed contains six meals.
When the event is complete, you can either keep all the food and use it for a cause that you support or you can donate the food to Trusted World, and we will use it for one or more of projects we support.
Links: