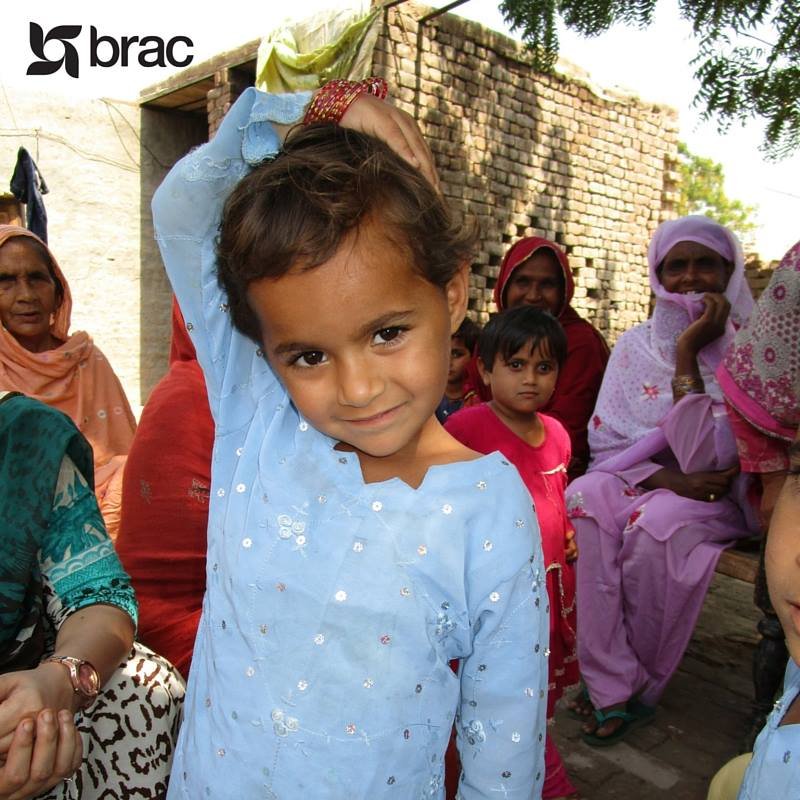 Over the past two years, you have played a pivotal role in supporting early childhood education in Pakistan. What began as a small pilot project to prepare disadvantaged young children for school, and help achieve universal enrollment and gender parity in primary education, grew to include over two hundred schools in locations chosen specifically to benefit girls and other marginalized student populations.
Historically, children in Pakistan have faced myriad barriers to receiving a quality education, and the country has struggled to make sure every child is in school by the time he or she reaches the primary level (the equivalency of elementary school). To address this shortcoming, BRAC trained local women as teachers, and opened pre-primary schools for children from poor families, especially girls, in the Khyber Pakhtunkhwa province.
This includes girls like Eman, pictured above, who lives in the Rahim yar khan district. When we first met her, Eman tried eagerly to touch her ear – in Pakistan, successfully reaching it signifies a child is at least five years old and eligible for school. Eman's older sister is a student at a BRAC primary school. One day, she'll follow her sister to school.
Thanks to you and BRAC's participatory education model, almost 6,000 children from extremely poor families, the majority girls, graduated from pre-primary school, resulting in a marked increase in the number of students enrolled in government primary schools. Over the course of 36 months, BRAC opened and operated 200 pre-primary schools in the Haripur, Swabi and Charsadda districts of the Khyber Pakhunkhwa province.
With the project's end, BRAC is pleased to report that 5,928 children graduated from BRAC's pre-primary schools, a full 56 percent of whom were girls. Virtually all of those students – 92 percent – successfully made the transition to government primary schools. The vast majority of these students were from poor families and, prior to the establishment of a BRAC school, were not receiving an education. For most, this was because parents could not afford school fees, or because schools were located too far away. BRAC's pre-primary schools offered free education and were opened in communities lacking schools.
Several factors contributed to BRAC's success, not least of which was a contextually-relevant early childhood education model. BRAC's experience adapting programs to suit country-specific needs proved particularly productive in Pakistan. This approach trickles down into other decisions that were equally helpful, like hiring a dedicated staff of locals and mobilizing mothers in the community to provide formal support to the schools and preempt negative perceptions. The project's low cost of operations and humble profile also found a receptive audience in the community.
Like any project, there were difficulties, too, that provided the opportunity for growth and learning. They included many inherent to working in developing nations; for example, challenges coordinating efforts with the government and the need for more technical education expertise on-the-ground. In addition, this project would have benefited from greater male buy-in, especially with community leaders, to endorse, promote and support the project. These shortcomings will be addressed in future iterations of the program.
Still, in addition to starting students on a lifelong learning journey, early childhood education provides a strong foundation of cognitive and learning abilities, confidence, reading and writing skills and positivity. We encourage supporters of this project to consider supporting our complementary program in Afghanistan: Triggering the Girl Effect. The journey to ensure every child worldwide, regardless of gender or ability, can receive a quality education is, like Eman, still young. It's also full of potential.