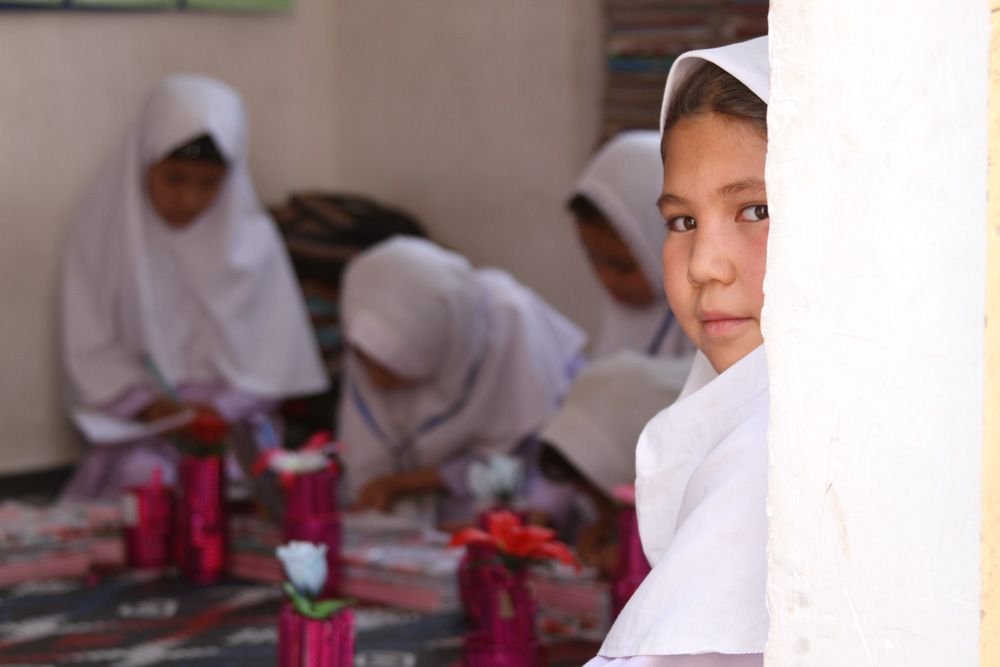 Last year, we told you about a storytelling competition for primary school girls in Afghanistan. It aimed to foster communication skills in students, develop positive reading habits and improve awareness about personal health, hygiene, history and culture. It was one of the biggest successes of the year, and we hoped its popularity would prove contagious.
Thanks to your support, it did, and we far exceeded our storytelling competition target of 6,000 students - with almost 12,000 children participating, more than 90 percent girls! As the larger Girls Education project enters its final six months, we want to share with you some more of the key accomplishments you have made possible, as well as some of the toughest challenges.
In Afghanistan, girls face systemic, institutionalized barriers to receiving an education. This project set out to empower young women and girls by triggering the girl effect in Afghanistan: coordinating with government officials from the Department of Education, training female teachers, creating safe spaces for adolescents and educating primary school girls who otherwise would not receive an education – all to support Afghanistan as it works to ensure every eligible child is enrolled in school by 2020.
From the start, the project's core was the establishment of many community-based schools, cutting down on the distance between girls and their schools, and making sure those schools were safe spaces to learn. With six months to go, we've again surpassed our goal, establishing 4,000 new schools. We also built 17 multiple-room schoolhouses and 22 separate modern toilets.
To staff these schools, you supported the training of almost 4,000 schoolteachers in English, Maths, Chemistry, Biology and Physics, and 138 government officials. All received training to support gender inclusion and equity in the classroom.
Peer mentoring is another important part of the project. Studies show that one of the best ways to encourage new behaviour is through peer counselling. We continue to support the more than 4,000 girl mentors who were trained in specialized classes to help their peers.
Finally, girls can only have access to an education insofar as their parents support it. To ease the burden on the poorest families, BRAC instituted stipends for girls who had dropped out. These were girls with exemplary attendance records, but whose families could no longer afford to send them to school. The stipend innovation proved massively successful, ensuring high performance and attendance from 98 percent of the recipients. We are looking for ways to sustain this program past the project end.
From an original ten provinces, over three years the project expanded to ultimately include 12: Baghlan, Balkh, Bamyan, Herat, Jowzjan, Kabul, Kandahar, Kapisa, Nangarhar, Parwan, Samangan and Maidan Wardak. Throughout it, security remained a pressing concern, as did gender discrimination. BRAC also encountered unexpected challenges: students migrating out of their local school zone in the summer due to high temperatures; a dearth of quality female teachers in remote regions; difficulty locating at-cost land suitable for construction.
Still, after the project ends in February 2017, with your help, BRAC will have trained thousands of local women as community school teachers and set up thousands of primary schools for girls who would have otherwise been left behind. With your generous support, we've worked closely with communities to raise awareness of the importance of educating girls, and engaged other NGOs to help get girls in school.
We are grateful to you for supporting equitable access to quality education in Afghanistan. BRAC believes that a focus on women and girls is a critical component of achieving development goals and alleviating poverty worldwide. With your continued support, together we will ensure the education gap in Afghanistan disappears entirely, one day just a whisper of a tumultuous past.