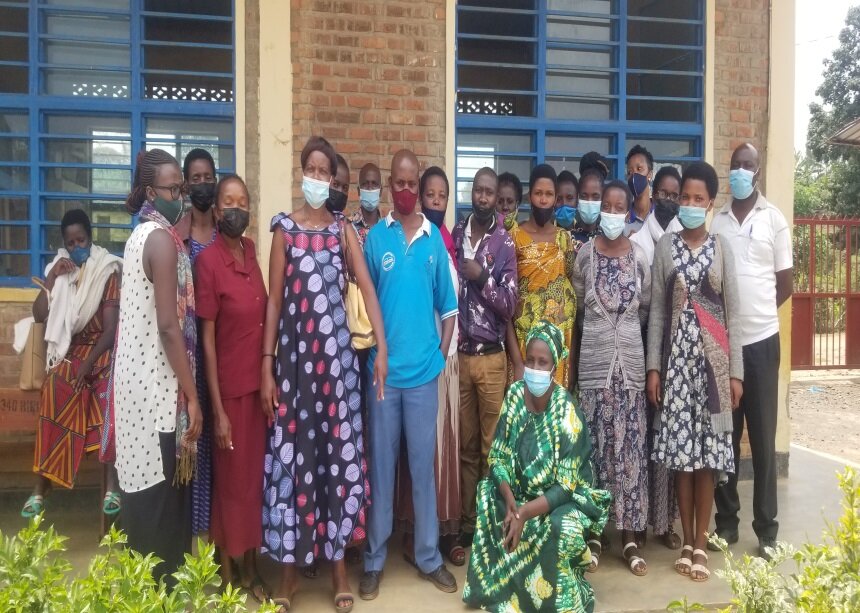 I.INTRODUCTION

In 2017 HROC Rwanda has initiated some of its activities such as workshops and follow ups in the schools from the community.More than 25 workshops have been conducted in four schools.Looking at the positive impact and finding that it has trained all the teachers(new and existing),and following up on the recommendations,HROC through AGLI has conducted basic workshops for new teachers, and the capacity building workshops for those already trained.Below is the summary report.
DESCRIPTION AND SUMMARY FROM KIMONYI(HROC COMMUNITY)
1. KITABURA primary and secondary School

Dates:From 14th to 17th/09/2021
Place:Kitabura School
Number of participants:20
Two workshops were conducted to new teachers.This is an advanced school that locates in where there is a lot of village activities(Planting, small shops, bars,…),It also has a big number adolescents(secondary school).
HROC has already conducted workshops on trauma, basic workshops,Healing and Preventing Violence in Schools.
2.BIRIRA primary and secondary School(two workshops)

Dates:From 20th to 23rd/09/2021
Place: Birira School
Number of participants:20
There was a HROC basic workshop conducted and the capacity building for those who have done HROC basic workshops together with Healing and Preventing Violence in school.
3.KIVUMU primary and secondary School

Dates: 24th -25th/09/2021
Place: Kivumu school
Number of participants:18
One capacity building workshop was conducted as they all had gone through HROC Basic workshop and Preventing Violence in schools,when the program started into 2017
4.KEYSTONE primary school

Dates: 27th -28th/09/2021
Place: Kivumu school
Number of participants: 12
A capacity building workshop was conducted there but there was a big number of teachers who haven't yet attended any of the HROC basic workshop,and had a different workshop, where by they joined other teachers who came in late for their new job.
II. AGENDA FOR THE ADVANCED TRAINING
Self-introduction;Gathering;Why this workshop;HROC Basic workshop Review ;What are Emotions; Identifying Emotions;Responding to Emotions
III.TESTIMONIES
Fred(Keystone school):I am a testimony to the positive change HROC brought into my life. It takes one more energy and patience to get to collaborate with the little angels I teach.I now understand that people may experience trauma, and show their emotions according to their personalities.
Thank you so much HROC.
Alex(Birira School): I have decided to keep my files,so that I can evaluate the work that I am doing while helping my pupils.
I am learning and I am getting clear with some of the questions that I used to ask to my self. I thought emotions are only what people feel, but I know that it involves people's behaviours and what they do.
I am glad for this.
Thierry(Kitabura School):HROC should be included into our daily activities. Find a short time to play,listen and share our feelings with kids.I learnt that I will not only listen to feelings but also to emotions Thank you so much HROC.
Helene(headmistress Kivumu School):
I know I have changed much from the way I use to deal with pupils and teachers in general.Now I can identify my own emotions and those of whom I work and live with.
IV RECOMMANDATIONS
To continue with more skills on trauma healing;More workshops on preventing violence in school,other teachers from neigboring communities to attend Hroc workshops.