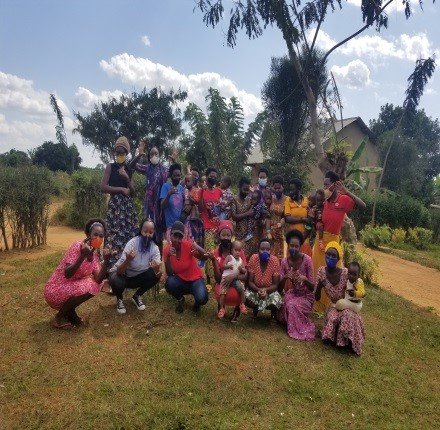 Within the two to three years, the number of early age pregnant girls has increased so much. This is due to many causes and circumstances such as RAPE, Trauma from the parents, Poverty,…
This has become very challenging and traumatizing to the community, to see "Babies" carrying and breastfeeding other babies.
With the partnership with the Evangelical Friends Church of Rwanda in the Eastern Province, HROC Rwanda was able to visit and conduct workshops with some of those girls(single mothers). I am saying "some", because we were only able to conduct 2 workshops, and 40 girls attended these two, where by there is more than 120 girls from the same community, according to the Executive Secretary of the of the Cell shared news.


Testimonies
1. Irakoze(first group): A 17 years old single mom said" Since I gave birth, I was abandoned by my family members, and had to leave school" Since then I felt no sense to life, and could do whatever I want, without thinking of my tomorrow." This workshop brings my mind back, and I want to start to work on how to build Trust with others" Thank you so much"
2. Vestine (first group): "The Johari's window is my mirror", "I got to understand myself", I need to share my feelings with others, especially the way I got pregnant unwillingly! Thank you so much HROC for inviting me here. I hope I will get healed"
3. Brigitte(first group): "Life is a journey" "Trust walk has taught me so much" My life is ourney! Thank you for showing me some ways of healing from grief"
4. Olive(second group): "HROC brought me back to normal life" I felt like giving up"
5. Noella(second group): Johari's window helped to understand the importance of sharing my sad stories with others" "HROC has set me free", "I am not the only one"
6. Francoise(second group):" I had decided not to have a friend anymore" HROC helped me to realize that I am still an important person"
Recommendations
1. Come back for the follow up
2. Train other single mothers from this community
3. Help us create a group of single mothers so that we stay together to exchange ideas
4. We need to do trainings on different skills so that we can help ourselves survive with our babies