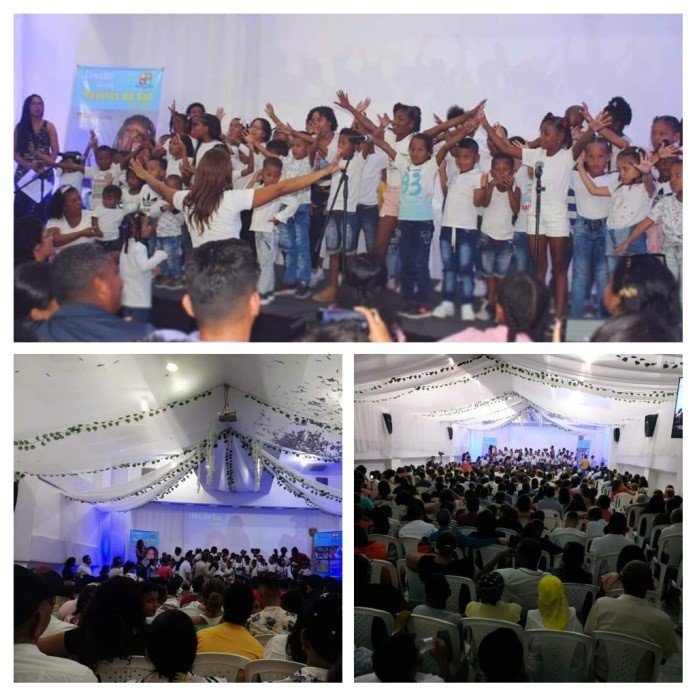 A new year has come and we are back serving the kids after a short Christmas break. We spent the last part of the year reflecting on all we have learned and how we will apply this to our vision for 2020. In February, we reached a very important milestone: our first anniversary. Your support has been an important factor that has enabled us to reach this point. In addition, to continue giving daily breakfast to 70 kids (20 more than last year), we also conducted the following activities since our last report:
School supplies: In Colombia, the school year starts in January, and this is a time with many parents struggle to provide school supplies for their kids. We are aware of this problem and wanted to help by providing 67 of our children with full sets of supplies which included notebooks, pens, pencils, and bags.
Music workshop: the children embarked on training for a musical for a very special occasion. This activity was helpful to develop the kid's artistic talent and to overcome shyness. It took discipline and effort, but it was very well worth it.
Fundraising concert: We invited an international artist to perform to an audience of about 700 people to help us raise funds for the new year. The kids had a chance to showcase their talent as well with a very moving performance (see the first picture of the report).
Nutritional screening: We brought in a nutritionist to perform nutritional screening to 65 children. As we did one year ago, the goal was to reassess how the kids are progressing in terms of nutrition and which ones are still at risk. The results were very encouraging showing that 60% of the kids under 5 years present a proper weight and height whereas for those above 5 years the proportion is around 50%. For the rest of the kids that don't have an ideal weight and height, we will be increasing our work with them to help them fight the malnutrition. Among the actions we have identified are:
Increase their breakfast portion.
Provide them with special food supplies that they can take to the school or house.
Help the family with goods to improve the quality of food at home.
Provide vitamin supplements to assist nutritional recovery.
Medical assessment: In addition to the nutritional screening, we also conducted medical assessments to identify potential illnesses that are common in children and to follow up with the medical authorities to make sure they receive proper treatment.
Finally, we conducted surveys to understand how the children and the parents feel about our work for them, the results were remarkable with the vast majority of the kids and parent indicating that they feel happy and helped. This is a great encouragement for us and we would love to continue having your support to make even more progress in transforming the lives of those children.