Project Report

| Jul 5, 2023
Mateo's tragic work accident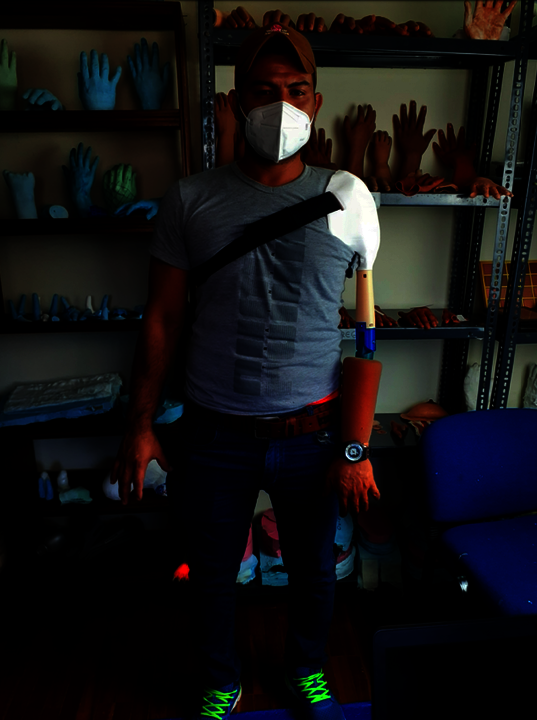 Mateo is a young 28-year-old Bolivian male from Beni (Warnes). His left forearm was amputated after Mateo suffered a labor accident. He was a daily worker without a formal contract and one day, as a consequence of technical negligence, he slipped into the soybean conveyor which trapped his arm, destroying it completely.
Mateo does not own a freezer to store food, which shows that his resources are limited. Furthermore, we believe that Mateo could be far happier and more productive in his household with a prosthesis, which he could never afford without Bolivians Without Disabilities' support.
Mateo studied until secondary school and worked as an industrial mechanic before his accident. Now, his life partner is supporting both of them, earning just enough to live thanks to her job as a soft drinks seller. Neither of them has parents or children, which made the tragedy even more difficult to overcome.
After receiving the prosthesis, Mateo wants to go back to work. He needs a prosthesis that would be both functional and aesthetic. For the moment, he is not working anymore and feels powerless. He explains in his initial evaluation:
"My life changed completely. I can't work anymore, I can't do anything."
Bolivians Without Disabilities paid for an arm and cosmetic hand to be made for Mateo. He was very impressed by the realism of his new hand, when he received his prosthesis, he said:
"I'm going to show it off, now I'm going to walk down the street with more confidence. I will stop hiding my arm because I always had it covered with something. You know, people are very mean, they used to stare at me and the most important thing is that I will be able to look for a job with more confidence."
He also had a special message for Bolivians Without Disabilities: "Thank you very much, may God bless you and may you continue to help people who need support."