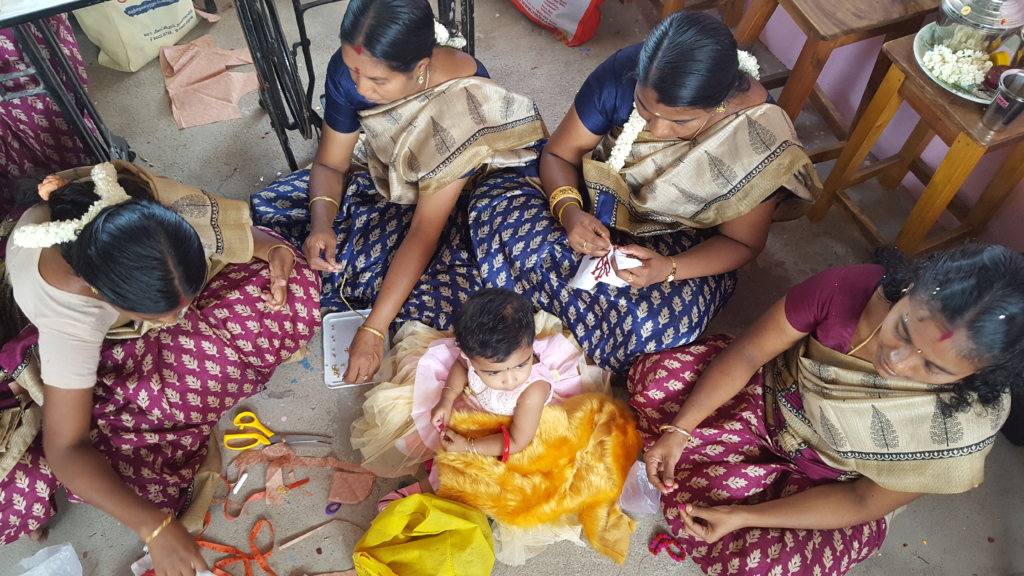 The computers training and cutting and sewing courses for young woman from Tamil Nadu continue with great success and there are more and more inscriptions. Many girls come from Nagercoil or nearby villages, one of them lives more than 30km away, but is willing to spend more than an hour on a coach to attend the lessons.
A group of girls has now completed both the 3 month and the advanced course of about 6-9 months and, having achieved excellent results, has acquired the skills needed to enter the workplace. Between two weeks, our project leader Sara will travel to India for a follow-up trip and, on her attendance, will be celebrating the expected delivery of diplomas.
The poorer young people who attended the tailoring course will be donated, through the microcredit mode, a sewing machine worth 7,000Rs (about 90 euros) and donated by the Mother Theresa Social Service Organization (MTSSO). Beneficiaries woman undertake to return the value of the sewing machine over time with the gains from their work.
However, women who have completed computer courses do not have any computer at the end of the course but, thanks to the official certificate they receive once they have completed the training course, they have a greater chance of finding a job.
In a culture in which the woman is seen to deny any right and you/he/she is destined since child to precocious marriages, the project wants to oppose this social sore, offering participants the opportunity to learn a trade and, in some cases, to start a small income generating activity. For this reason, the day of the diploma is a real goal for those girls who, forced to leave the studies and often marginalized or victims of domestic violence, succeed with such courses to redeem both at personal and social level and family.
With a view to promoting and empowering, at the request of Upalt and many women, is appraising the possibility to activate a course of English language, in order to further facilitate the entry of girls into the world of work and give them a better future.