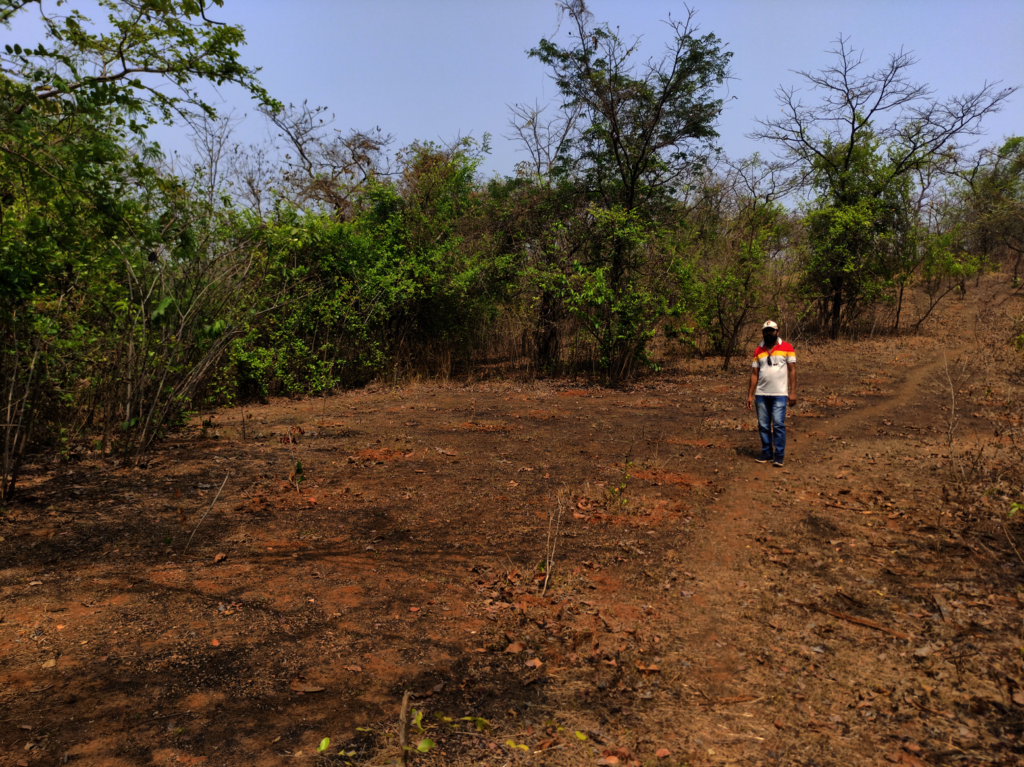 The months of March, April and May were decidedly the most crucial in the process of plantation of Karanj saplings that we started in August 2021. After a winter high of 90% survival rate amongst the saplings, these little champions had to survive the merciless heat of summer whilst combating anthropogenic pressures. It was expected that only the best candidates would see through, thus validated the Darwinian principle of 'survival of the fittest'.
However, when our team went for upkeep work and to take stock of the situation on the ground in April 2022, we were in for a bit of a let-down. We found out that damage due to forest fires was more than we had accounted for - thanks to soaring temperatures and a hotter-than-usual summer season due to climate change as well as anti-social activities carried out externally.
This, despite us having made several follow-up visits for drawing fire lines and holding awareness sessions with the community members. We also found that some of the saplings had fallen prey to grazing by cattle.
On careful evaluation of all plantation sites, we found out that the sapling survival rate stood at about 35%-40% - which is in fact considered a 'fairly good' number when it comes to saplings surviving in the wild in the least simulated environment - subjected to all natural and man-made threats that it will need to face. This analysis gave us some respite, but also made us introspect…
These findings should help us remember forever that the actual activity of plantation is merely the first baby step towards the huge goal of forest restoration. What matters the most is how many individuals see through foreseen and unforeseen challenges to become strong resilient trees that will contribute to the exemplary symbiosis in nature. Like one of the many tiny Karanj saplings that lived through extreme heat and having its tender leaves eaten by a hungry cow - just to pop its head up again and add the freshness of green against the rust brown landscape! I recall Darwin yet again - this time more accurately, where he says - 'It is not the strongest of the species that survives, nor the most intelligent, but the one most responsive to change'…and change - good or bad - is the only constant in this world. The only response we can have is adapt.
So we did.
We immediately went into damage control mode and looked into creating small agave fences around the saplings to protect them from grazing, drawing more fire lines and also reaching out more extensively to the community. In fact, for further plantation activities planned in June, we have identified plots which have natural fire boundaries like rocky patches and streams.
This experience also shines light on the steep learning curve that we have to traverse with the community which takes time and effort from both ends. When it comes to the long-term sustainability of an intervention in a new location, the engagement with the community has to be intensive and full of unlearning, learning and relearning!
As we gear up to play our turn in the game again, we have strengthened our strategy with valuable lessons from before and we are sure to make better score next time round!
We look forward to your continued support.
Best regards,
Suchitra