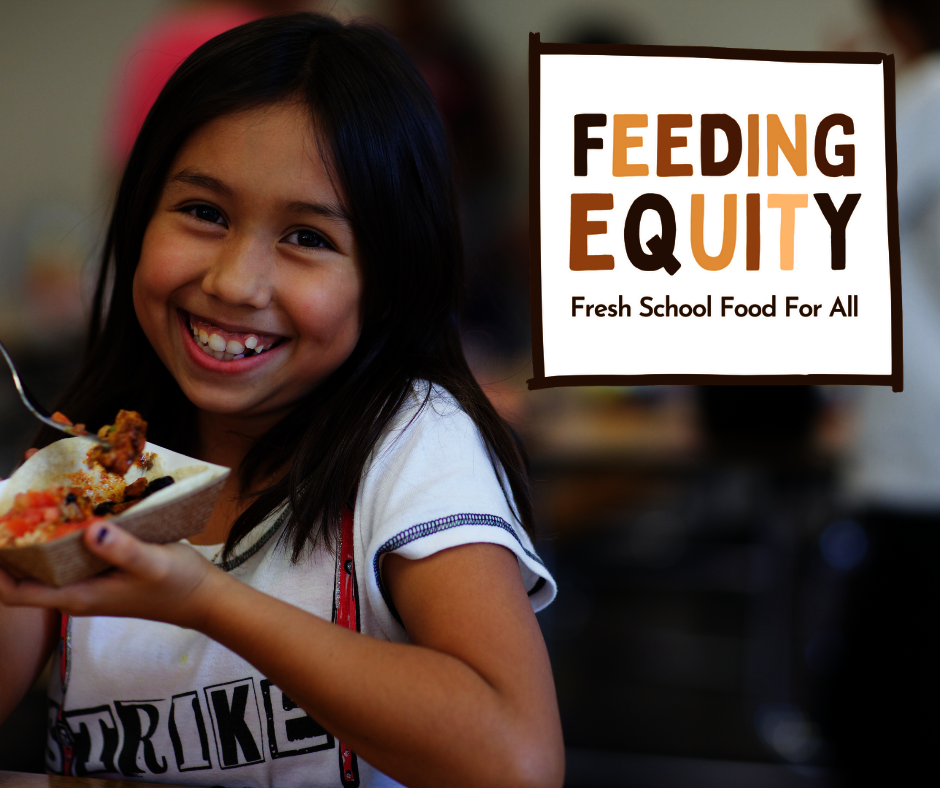 With sustained support like yours, it allows nonprofits like ours to flex when things change, and things certainly changed in 2020. With little to no federal guidance, school districts were burdened with not only educating and feeding kids but creating protocols and processes to keep kids and staff safe through COVID-19. Our team quickly changed gears to help our school districts through this.
Numbers
School Food Institute Scholarships. 125 were given out in 2020. With many school food professionals not able to work on the job school food management needed support with virtual professional development.
Hero Highlights 12 audio and blog stories told. School food professionals needed to hear how others were doing things, they needed acknowledgement for their front line work and CAF was able to share their stories and resources.
Serving fresh food during remote feeding. When districts moved to virtual learning they had to ensure kids still got school meals and that meant serving to-go through remote feeding stations. It also meant that processed packaged food was easier. We worked directly with 20 of our district partners to help them continue to serve fresh, cooked from scratch food.
Emergency Feeding We added over 30 resources on the Lunch Box. USDA guidance, emergency response plans from leading districts, meal kitting, marketing, recipes to-go and much more
Scratch Cooking not only supports the health of the child it also has far reaching effects:
Planet: Scratch cooking makes local procurement more attainable, improves community support, and increases school meal acceptance and participation. Each dollar invested in farm to school stimulates an additional $0.60-$2.16 of local economic activity.
Career: When school districts move to a scratch cook program, food service team members increase their skills and value in the workforce. They are no longer just qualified for heat and serve, they understand storing, prepping, and preparing food.
Equity: As the second largest food relief program in the country, the National School Lunch Program (NSLP) provides a unique opportunity for equal access to healthy, scratch-cooked meals that students of all races and backgrounds need to thrive and meet their full potential.
Health: School districts that increased the proportion of fresh and scratch cooked foods offered reported improved student nutrition and increased consumption of fresh fruits and vegetables, increased physical activity, and improved cognitive function.
Academic: Better-quality diets are linked to improved cognitive function, longer attention spans, increased work capacity, better grades, and improved test scores, with a particularly positive improvement for low-income students.
In addition to our core programming (which still continues during the pandemic), CAF has pivoted quickly to develop a COVID-19 School Food Resources and Support webpage and provided technical assistance to our Get School Cooking cohorts across the nation. We have also been showcasing the incredible work that school food teams are doing nationwide to feed children in our digital series, Hero Highlights. Now, more than ever, CAF is a source for hope and support each and every day. We are engaged with school food professionals on the front lines, sharing tools, resources, and guidance to ensure that every child has access to healthy food during the COVID-19 crisis and beyond.
Due to the pandemic, so much is changing in the area of feeding our kids at school. This has become a critical issue in communities across our nation. Our nation was already facing a public health crisis before COVID-19. Because of their diets, America's children have shorter life expectancies than their parents; nearly 1 in 3 kids have obesity; 1 in 3 will have diabetes; and 1 in 5 will go hungry.
COVID-19 has exposed and magnified our already broken U.S. food system. The resulting quarantine(s) and economic downturn puts us at an even higher risk for serious food equity and health crises due to its direct impact on school food programs, which are an anchor of our nation's nutrition security system. Schools around the nation are turning to us for new and immediate school food strategies and tools to safely and healthily serve children nutritious school meals, be they remote or in the classroom, which includes 22 million kids who rely on free and reduced price school lunch, breakfast, and after school meals.
We hope you will stick by us in 2021 as your financial support for all of the essential work of the Chef Ann Foundation is critical as many funders change priorities and eliminate support all together. While we are proud of our successes, we know we still have a long way to go.