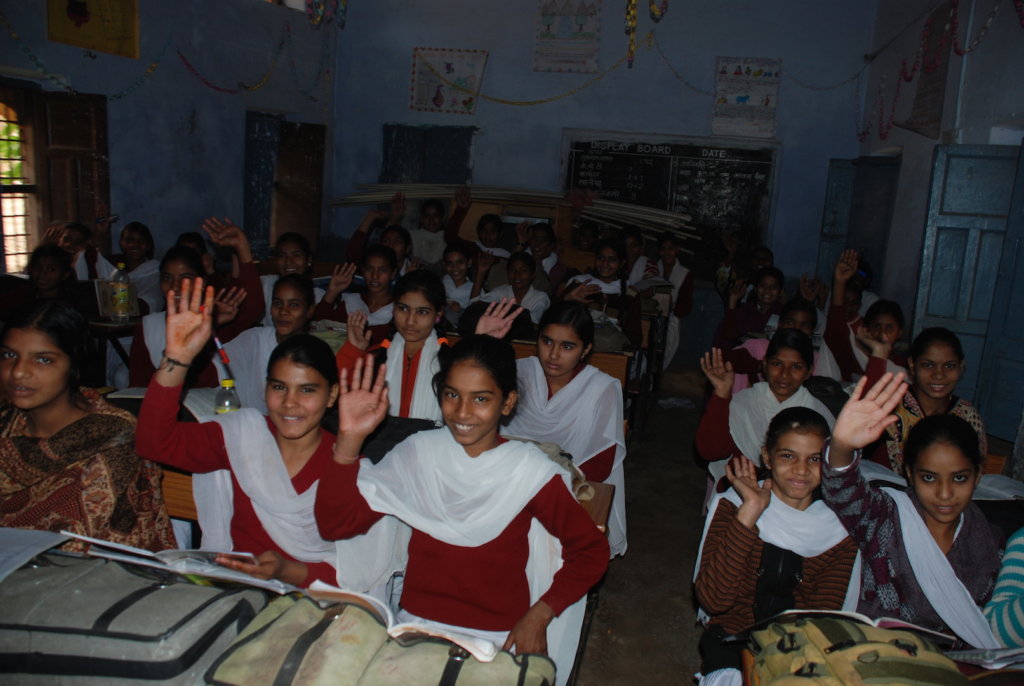 The Blossom Bus program continues to grow. Data from the Aharwan secondary school where we have 205 students in the program show that while many schools in the area are losing students, the schools in which we send most of the Blossom Bus girls has increased in numbers of girls from 180 in 2008 to 340 in 2016. These numbers are entirely reliant on Blossom Bus.
The Headmaster of the Aharwan school told us with pride that 45 out of the 54 girls in grade 10 have passed the exams in the 2015-16 school year which is vastly different from the 40% pass rate in the state. Blossom Girls attend school almost 100% of days in a school year which enables these kinds of results. Below is a story about a Blossom Bus GIrl named Suman.
Suman is from the village of Durgapur and is studying in tenth grade at the Aharwan school. She has been travelling on the Blossom Bus for the last year after passing eigth grade from Durgapur school. She does well at school and wants to study as much as possible. Suman said that she wants to be independent even after marriage. When asked why she is so keen to study until college she became silent. We asked, "Will your parents send you to school if there is no Blossom Bus?" She did not respond directly but only said, "please do not stop Blossom Bus or many girls will be out of school and will lead a bad life." It was a serious statement and we wanted to know why Suman was so interested in education.
After a lot of persuasion, Suman opened up and told us, "My mother is illiterate and my father is a drunkard. He does not treat my mother nicely". We asked her if she is confident that she will get a job after studying until grade 12. She said that she may or may not get a job but if married to a drunkard, she may not have to face domestic violence as it will be difficult for a husband to beat an educated wife. She said further that she knows about the helpline number 1091 for complaints against domestic violence and will call the police if subjected to such behaviour by her husband.
We asked her then why she does not ask her father to stop drinking. She said that she has seen her father drinking since she was a toddler and has many times asked him to stop drinking alcohol but he doesn't listen. He says that he will keep drinking as long as he is alive.
Suman is worried about her family as her two younger sisters are studying in grade three and five in the village school. The whole family is dependent on the earning of one brother and Suman wants to help her brother and earn more so that her sisters can also complete school education. We hope that her younger sisters will ride the Blossom Bus once they are of age.
During this discussion, Suman kept repeating "Please never stop Blossom Bus as this is the only hope for hundreds of girls who have reached grade 10 and 12".
Thank you to all that have supported this program. The beneficiaries are forever grateful!