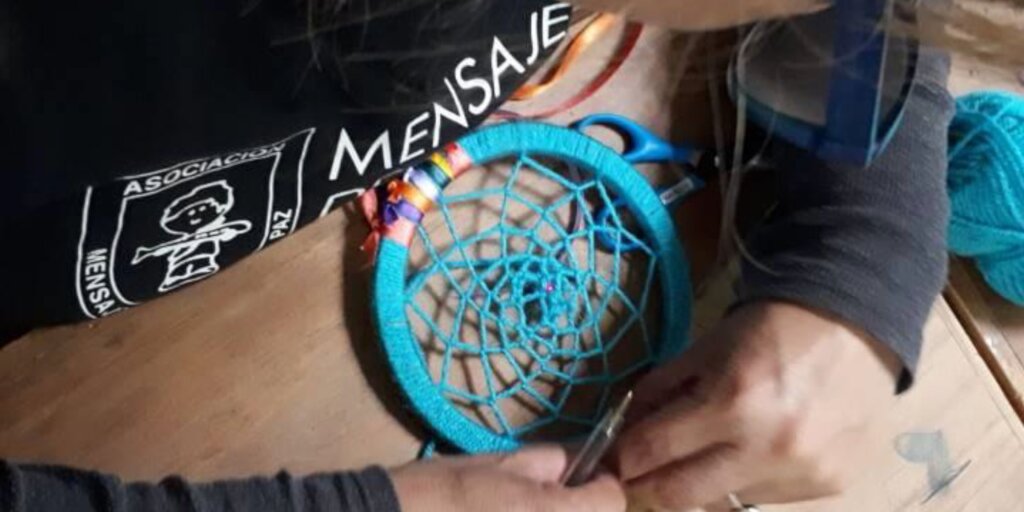 La Balsa Center is a place where girls and young women receive care and support while also taking part in different activities such as recreational workshops of all kinds. During the last few months, 8 girls and adolescents who were victims of social vulnerability and gender violence, stayed in the center. The following are just some of the activities they enjoyed the most.
A workshop on Plastic Arts is held twice a week, allowing girls to express themselves through their art and find the technique each of them likes the most. Some days paint on fabric, others with just focus on using pencil and paper, but the most unique mediums are the ones girls are the most excited about, such as geodesic domes and muralism. We´ve also been focusing on the importance of recycling. Girls participate in recycling-related activities 3 to 4 times a week, where they can work with materials like fabrics, thread, wool, and cardboard, transforming them from something disposable to something useful.
Another crucial activity that the girls love is cooking class. They learn to do teamwork, respect the opinion of colleagues, and build strong organization and responsibility abilities. At the end of each class, they can recognize their own capabilities, value their creations, and enjoy a delicious treat.
During this semester, a new space was promoted in order to accompany the housed adolescents. Monday to Friday, girls take part in a space where they receive school support and carry out homework and other activities. It was framed in a work strategy that aims to strengthen the self-esteem and potential of the population.
A schedule of special activities has also been implemented in order to promote recreational spaces and participation, framed in the matter of inclusivity. We provide various pieces of training on issues related to gender perspective, cultural diversity, gender violence, menstrual cycle, legal termination of pregnancy, bullying, grooming, positive use of social networks, and personal leadership, among many others. Girls also receive classes on sign language where teachers provide basic training on alphabetical signs, while also reflecting on inclusion towards people with oral and/or hearing disabilities.
On Fridays, sleepovers, and movie nights are held, and on Saturdays, we share what we call "dance parties", inviting the guests to loosen up, enjoy the music, and dance together. Lastly, the girls went out to local parks, where their sports skills and strengths were encouraged. There, they learned to roller-skate, which they were thrilled about.
All the workers from La Balsa Center work hard every day to provide these little women with all the resources they need and focus on strengthening the adult-child bonds to help them develop healthy connections and relations in the future. Without all these people, and without each one of you, this program wouldn´t be possible. We want to thank you for all the support you´ve given us. Together we can help these girls grow into strong and empowered young women, and in the process, we can make sure all their needs are covered.
The Mensajeros Family.