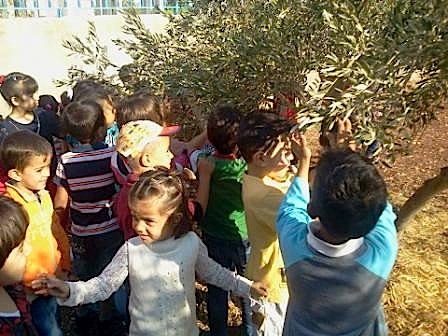 Dear Friend,

Of all the work Rebuilding Alliance has done, our most important project has been the Kindergarten of Al Aqaba. It keeps the whole village standing, attracts the further investment of 20 countries, and is a model for all our work -- but most importantly, our kindergarten provides 160 children with a wonderful education. Our kindergarten opens its door to the children of Al Aqaba, the nearby villages who don't have kindergartens, and to children who live in the Jordan Valley countryside. Your donation opens the doors to families who cannot afford the modest tuition.

"Your help gives all children the valuable opportunity to walk on the path of education," said Mayor Haj Sami Sadeq. "The kindergarten would struggle to stay open were it not for you."

Al Aqaba's Village Council and Al Aqaba's Rural Women's Association thank you for your donations. With your help, through the scholarship grants program, the kindergarten fees for 20 children were covered through the end of November. They believe in your generosity and ask you to continue your support in the months to come.
We are so proud that this project qualifies for the Microsoft Youth Spark Matching Grant offered on Giving Tuesday! On this Tuesday, Microsoft will give away $350,000 in matching grants for each donation up to $500 per project. Please set your alarm as Microsoft YouthSpark will match for Rebuilding Alliance's project, Dollar for Dollar, starting at 6am PST/ 9am EST and again at noon Pacific / 3pm EST.
The kindergarten now faces a real challenge in the way that it pays teachers. Miniumum wage has gone up in Palestine but the basic fees for the kindergarten remain fixed at 100NIS (New Israeli Shekels) per month. Teacher salaries need to more than double to meet the national standard. Our team is developing a grant proposal to ask foundation to help address this — I promise to forward a copy in the month to come.
The future of these children and this village starts with the journey of knowledge — it is their highest priority. Your donation opens a road of peace and hope. Please donate again on Giving Tuesday. Thank you.
Sincerely,