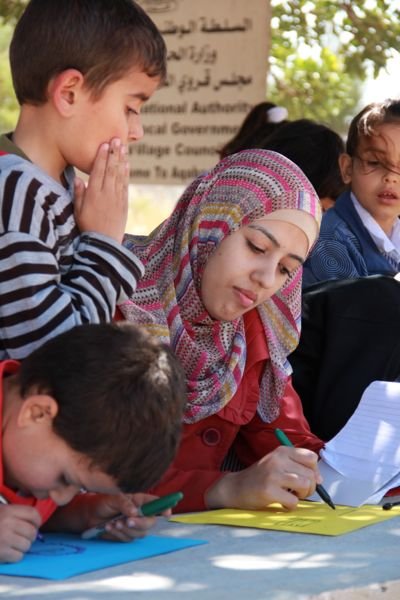 Dear Friends,
I am writing to let you know that through your support, 29 needy children were able to attend kindergarten at Al Aqaba's Al Haq Kindergarten this past school year. We transferred a grant of $5568 in March and that was enough to pay for 7.34 months of school for these 29 students. February, March, April, May, and June have quickly gone by, and the kindergarteners — including the scholarship students — have celebrated their graduations!
By the end of summer, Al Aqaba's kindergarten will receive applications for the new class of students. I write now to ask your help to raise the funds needed to provide scholarships to 30 kindergarten students for all 9 months of their school year. To do this, we'll need to raise at least $7396 (Tuition is 100NIS/month * 30 students * 9 months less 2.34 months of funds left over from this past year, as we started the scholarship fund mid-year). If we raise an additional $2000 we will offer stipends to 2 talented student teachers too.
From Mayor Haj Sami Sadeq, "Our Village of Al Aqaba remains safe. When things are scary, with the sound of military training underway near their homes, our kindergarten building and our teachers offer a good and positive place for the children. Please know your support for our kindergarten scholarships is more important than ever."
Good news. This Wednesday June 25th is a bonus day with a dollar for dollar match for donations up to $1000. On Wednesday, Microsoft Youth Spark is giving away $200,000 in matching funds via GlobalGiving — and I think the match will go in the first 5 minutes.
Please mark your calendar for Wednesday, June 25th and set your alarm for 9:01am Pacific, 10:01am Mountain, 11:01am Central, or Noon:01pm Eastern. Please click Scholarships 4 Children, Stipends 4 Young Teachers to give.
As always, please call me if you have questions or suggestions. My phone number is 650 325-4663.
Sincerely,
Donna
P.S. I am delighted to share photos from a recent workshop offered by artists Lily Yeh and Robert Shetterly in Al Aqaba Village. Rebuilding Alliance's own Ayat Omran helped out that day too, and the next day a wonderful mural took shape outside the Kindergarten!