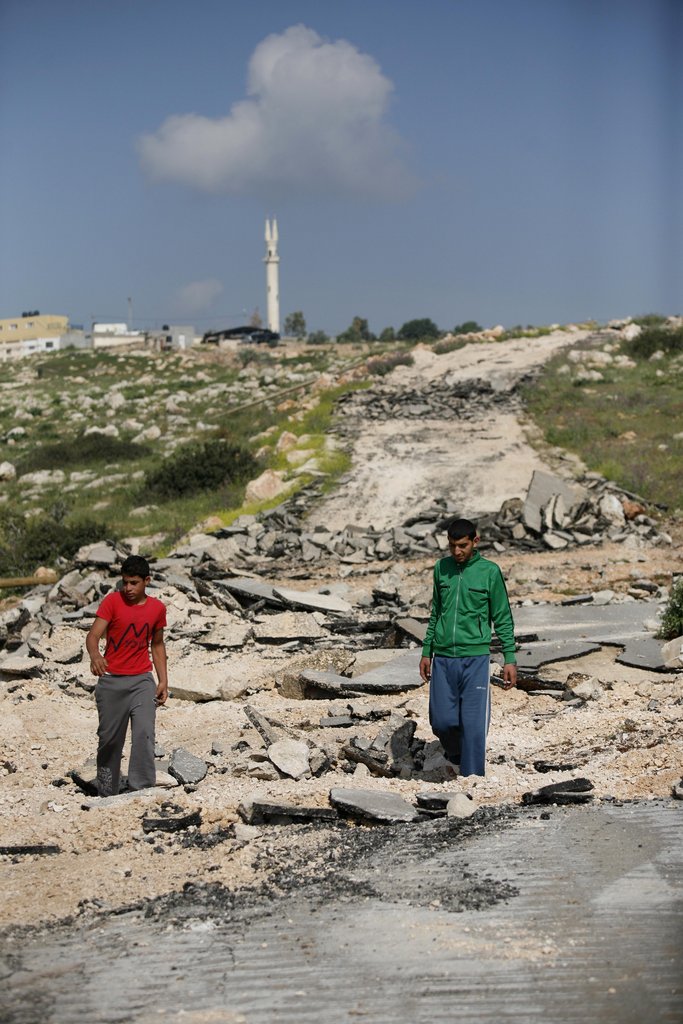 Hello everyone!
My name is Rudolfo San Miguel. I have been volunteering with Rebuilding Alliance for close to a year now and I am proud of the work we have done. I am delighted to be invited to join the staff part-time to provide monthly status reports for each of our projects on GlobalGiving. My background is in Technical and Professional Writing. When deciding on a career path, I felt the need to focus my work in support of important nonprofits like the Rebuilding Alliance.

Unfortunately, I am writing today with news that is not good.

On Thursday morning, April 7th, kindergarteners looked on from their school bus as Israeli soldiers barricaded access to, and then destroyed, several sections of the Peace Road, the main road in and out of Al Aqaba village. Al Aqaba is a tranquil and conflict-free village in the West Bank, where villagers have worked together to prevent total demolition over the past 20 years. Now piles of concrete and dirt from the bulldozed road force the village's only school bus, which was already straining to meet the transportation needs of 200 children, to take a long detour several times daily. To say nothing of the psychological impact this situation has had on these young kids, they now have a another obstacle in the way of their education.
In response, the Rebuilding Alliance is asking everyone to sign our petition, "Open the Road to Al Aqaba, Pave the Road to Peace". Our goal is to ask our elected officials to contact the Israeli Embassy and urge the State of Israel to fix what their army destroyed. Please sign the petition! If you have 15 minutes more, please call the senior staffer for foreign policy at your legislator's office. The Rebuilding Alliance will travel to Washington D.C. in May to knock on the doors of our Congress-people to ask for their support, won't you call ahead and announce our visit? Let's get that road fixed by the end of summer!

Sign here: http://www.change.org/petitions/open-the-road-to-al-aqaba-brpave-the-road-to-peace

Please call me at 1 650 325-4663 or email me at Rudolfo@RebuildingAlliance.org as questions arise. You can learn more about the situation by reading our web page, www.RebuildingAlliance.org.

I hope that despite this setback, you will continue to support our projects. I know the villagers deeply appreciate your commitment to them in this time of challenge and need.

Sincerely,
Rudolfo San Miguel
Links: