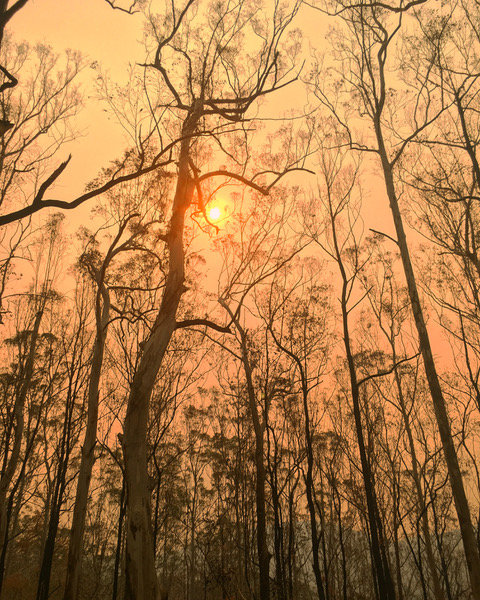 In the wake of the disastrous fires we have encountered across Sydney recently, I accompanied one of our great Sydney Wildlife volunteers, Senka Pupacic along with Frances Pike, founder of Australian Forests and Climate Alliance to help the wildlife affected by these terrible bush fires. Most of the places we walked and drove through still had smoldering earth where roots were continuing to burn underground.
Due to the intensity of these fires the authorities were not letting volunteers into areas until deemed safe. This could sometimes be a week or so after the fires before we are able to go in and help the native animals that had managed to survive.
We traveled to some of the worst hit areas towing trailers full of supplies to try and help the wildlife in need. While doing the "Black Walk" through the burnt-out bush in search of animals needing medical aid and attending to their needs we also, remarkably, identified some surviving wildlife communities.
This is where the trailer load of supplies really helped as we were able to put out fresh drinking water for the local wildlife that had survived as well as pelletized herbivore food and other important support feeds for animals needing this till the native habitat could start growing again and begin providing the food they need.
This food needs to be put out on a regular basis to continue to support the animals until their food grows back. Australia's bush is built for quick regeneration after fires and within 2 weeks, new shoots were pushing through charcoal trees and fresh grass was reaching through the ashes.
We saw very little "life" but life loves the dead stuff. The enormous cooked forests were strangely beautiful, especially where you could see how quickly life would (and indeed already was) taking it all back.
Tiny pockets of living things did exist. Small oasis' (by creeks and rivers) have given safety to animals during the fires and now food and water for the time being.
The existence of these places, and the survival of these animals, was entirely dependent on how human beings had treated the creeks, rivers and their surrounds.
In just a couple of hours we saw:
Wallabies

Lizards (skinks, water dragons and lace monitors)

Snake sheds and signs of recent snake movement

A plethora of birds, including scrubwrens, fairywrens, willy wagtails, spotted pardalotes, magpies, currawongs and some rainbow lorikeets

I even briefly glimpsed a platypus!
So life goes on for nature as it always does and where it has been nurtured, it gets a head start!