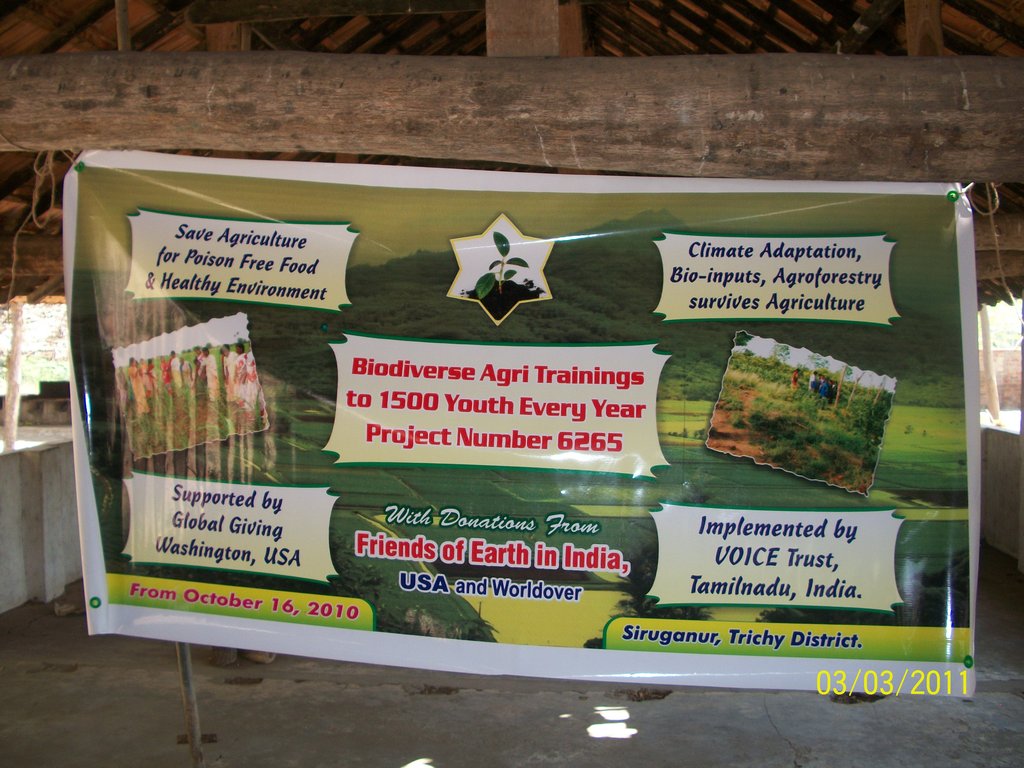 July-September 2013 Progress Report for Project # 6265
"Biodiverse Agri Training in 1500 Youth every Year ''
(Implemented by VOICE Trust, Trichy, State of Tamil Nadu, India
in collaboration with Global Giving, Washington D.C., USA.
through donation from Friends of Earth in India, USA, Europe.)
Background for Project # 6265
World operates under birth – death cycle. While children depend on family for food, clothing, education. Elders manage to survive through help from relatives, pension schemes, insurance coverage. Period of youth is full of energy and contributions to family and society are achieved through economic activities.
While there is a boom for youth in Information Technology, Engineering, Medicals, Tourism and Clerical Jobs, youth involvement in agriculture is coming down drastically. This is a dangerous situation, because, agriculture is needed for all whether young or old, rich or poor, employed or unemployed. For agriculture produces food, protects environment and empowers life in many aspects.
VOICE Trust decided to give trainings in agriculture for youth and appealed for help in September 2010 Open Challenge promoted by Global Giving. Basic supports came from 69 Donors and Biodiverse Agri Trainings are started from October 2010.
Activities So far
200 Youth by November 2010, 665 youth by February 2011, 93 Youth in March 2011, 647 Youth in August 2011, 742 Youth from March 2012, Follow-up Encounters with 750 Youth during April-Setembers 2012 (Case Study of Ms Mekala and Ms. Bhuvaneswari, with 750 Youth during October – December 2012, with 10 Youth during January-March 2013 and Campaign to Stop Sale of Farm Fields and to start Bio-Farming during April – June 2013.
True, coverage of over 1500 Youth every year is well maintained from October 2010 to September 2013. (totally 5152 Youth covered in 3 years), But, more than coverage, VOICE Trust is concentrating upon Confidence of Youth to consider agriculture as a viable activity not only for economic gains but also for environmental protection and other integrated empowerments for qualitative life. First of all attractive elements in agriculture are exposed to youth. Secondly, supports from others in family as well as in society are organized for sustainability through agricultural activities.
Special Activities during July – September 2013.
i) 9 women in their Final year of Agricultural Graduate Degree Course from Roever Agri College, Perambalur, stayed in VOICE Trust from 1 to 14 September 2013. (Photos attached) and learnt about nature centric agriculture. They have assured to spread to various farmers in their villages
ii) People in 350 villages of Trichy District are exposed to Agroforestry in Farm Fields. Out of 3,50,000 Tree Seedlings to be planted in agri lands. So far 1,26,000 tree seedlings have been planted with help of 700 Youth exposed to Bio-diverse Agri Trainings. Rest will be done after rains in October-November.
What Next from October 2013
Project # 6265 has started 4th year on October 1, 2013.
Financial constrains forced us to think of closing down.
But, many Friends asked us to continue this important activity.
So, efforts will be made to cover 848 more to complete 6000 Youth for 4 years.
Follow-up Encounters will also be continued in the following domains.
Your Support is the Basis for Continuity of Project # 6265
Your help of $ 50 and above is enough to continue Project # 6265
Your help of €50 and above is enough to continue Project # 6265
Your help of £50 and above is enough to continue Project # 6265
As the first Prime Minister of India spoke at the Victory speech of Independence in 1947 that "Everything else can wait but not agriculture", all of us have to support agriculture. Collaboration under Project # 6265 is a fine opportunity to encourage Youth to involve in Bio-diverse Agriculture for poison-free food production, pollution-free environment and economic sustainability. Hence VOICE Trust appeals to you for your support and solidarity.
Your immediate help is very much needed. Hence, please donate now.
With Best Wishes,
Yours Sincerely,
(Mrs. A. Jecintha)
Managing Trustee, VOICE Trust.