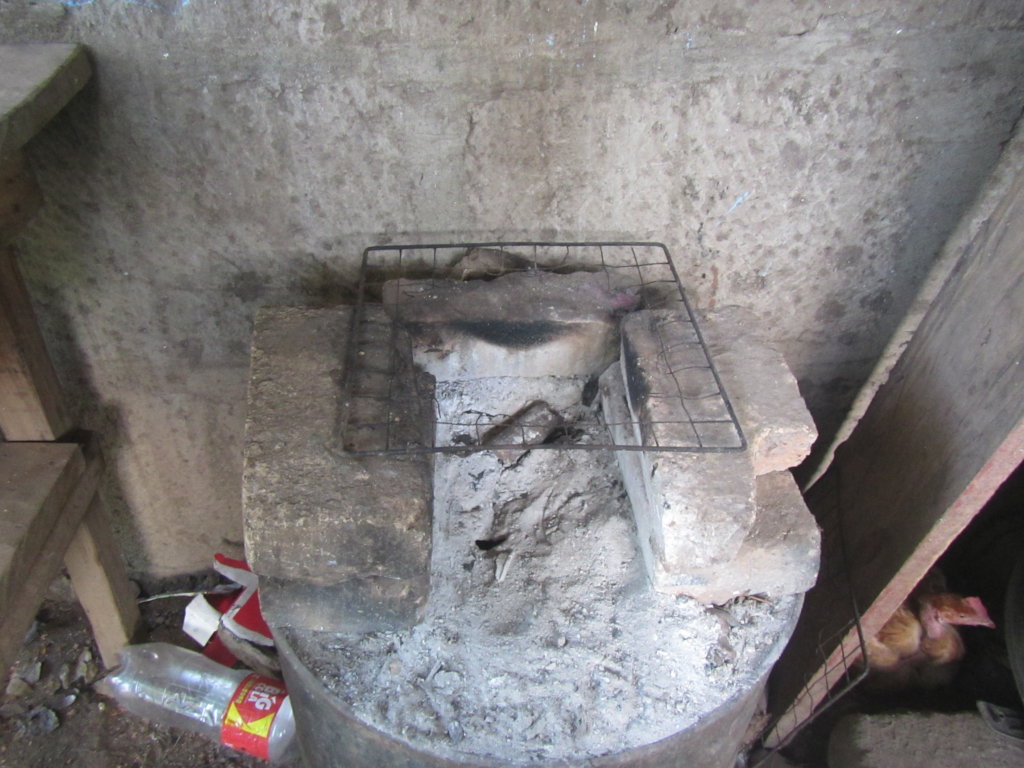 Today, 70% of the municipality of Nagarote is rural. 98% of the people living in the rural sector cook their meals on an open wood fire, always under a roof, often within the home, without any chimney. To protect families from the health effects of smoke inhalation, SosteNica promotes an improved system of food preparation throughout eight communities: San Antonio, Silvio Mayorga, Peña Ventosa, La Chilama, Copaltepe, La Ojeda and Nagarote.
SosteNica staff recently interviewed several recipients of our SosteNica-improved cookstoves to see how they viewed the technology. 25 year-old Jessica, who lives in San Antonio with her husband and their son was one of those interviewed.
"I wake up at 3 am to help my husband milk the cows. Then I run to cook breakfast, after which, I go to the village to sell our milk. Our son goes to school and my husband goes to work. Cooking has been very complicated for me. First, I start the fire then wait for it to heat up. Timing was one of my biggest problems. The open fire always caused a delay! Today, with the stove that SosteNica made for me, I can light the fire faster. In addition, it is less dangerous and it heats much better. I never thought that this stove could be of so much help."
Jessica's was only the second stove to be built in San Antonio, but when word got out, most of the women in the community wanted one. According to Nubia, one of Jessica's neighbors:
"In the countryside, there is no better publicity than word of mouth from people with direct lived experience. Recently I've been getting inquiries from women who live in other communities about how my stove works. I tell them that I'm very pleased because I have much less smoke in the house and my young son is no longer at risk of being burned."
In Copaltepe, the village next to San Antonio, families with improved cookstoves now use less fire wood. A good example is a large family, where siblings, aunts, cousins and distant relatives have all asked SosteNica to build them new stoves. 28 year-old Everth said that he was persuaded by his aunts and uncles sharing their experience with them.
"They convinced me. We now have our own stove and what a big difference. Even our little daughters can help in the kitchen because there is less danger than with the open fire. Now they are learning to make tortillas."
Copaltepe, the village that produces the most charcoal in the region, lies 15 kilometers from downtown Nagarote. In the past year, the number of stoves in Copaltepe has increased by 400%. Everth's sister Anielka says that, of course, her interest was in having a good working stove that would use less firewood while keeping smoke out of the house. But for her, of equal importance was the look. She wanted a beautiful stove with a ceramic top, so SosteNica made her a ceramic-top stove.
According to Sayra, an elementary school teacher in La Chilama:
"Stoves have to respond to the needs of the particular family, being adapted to the size and space of the kitchen. Obviously, the most important thing is how well the stove functions. This degree of flexibility is difficult to achieve, but SosteNica modifies its stove design to fit the needs of the family. I have one of these stoves in my mother's home and it works wonderfully!"
In terms of public health impacts, SosteNica estimates that over 200 people today are breathing cleaner air as a result of the 36 stoves that have been built recently. 150 children are less at risk of burns from stove related accidents, while 36 tons of firewood per month are saved thanks to the fuel efficiency of our stoves. That means less deforestation in the region.
SosteNica has a waiting list of families wanting to acquire an improved cookstove in their homes. Thanks to your help we have achieved a lot. With more gifts, we will be able to spread the program to more communities in Nicaragua. Please share this great opportunity to contribute with friends and family.