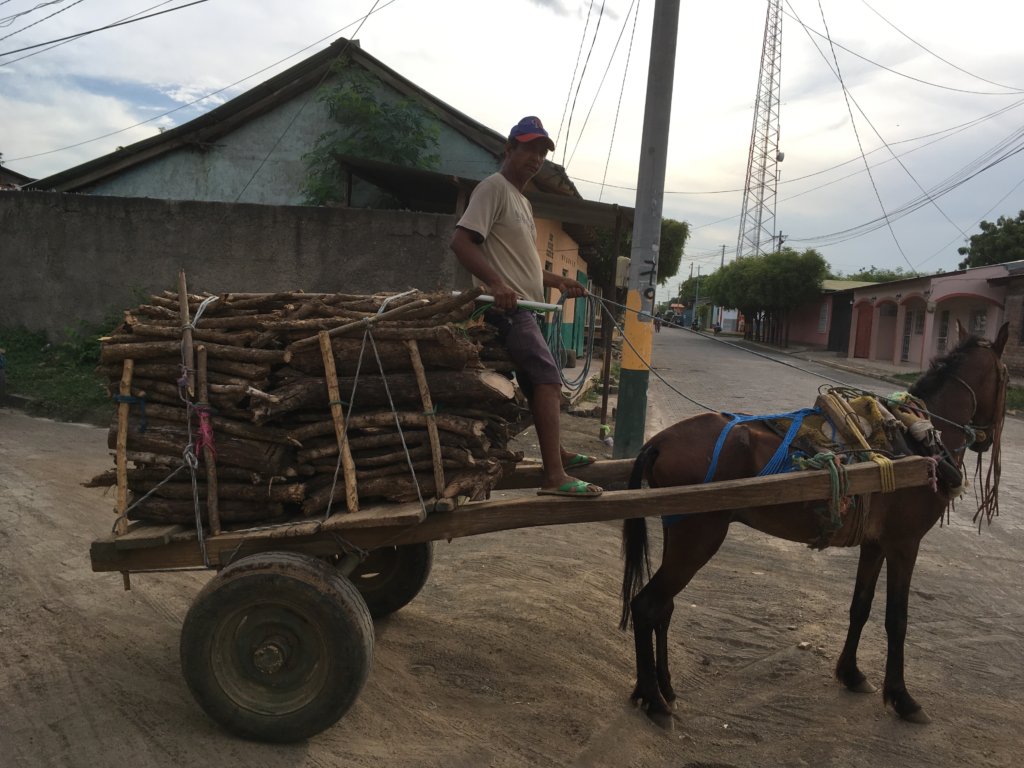 In Nicaragua, firewood and deforestation go hand in hand. Every day countless men head out into the few remaining rural wooded areas to harvest fuel wood, load it onto carts like the one in this photo, and transport it into urban and semi-urban areas to sell. Carts such as these travel up and down, supplying cooks with the fuel needed to cook gallo pinto -- Nicaraguan rice and beans. Because the wood is harvested at a rate that exceeds the rate of natural regeneration, the land looses tree cover every year. As a result, springs, streams and rivers dry up, top soil is lost, and the hot sun of the tropics bakes the land, denuded of its protective cover. Every year it gets worse.
We believe that low-income Nicaraguans can meet their basic needs without destroying the planet. With your help, SosteNica is modeling a path forward. Here is how we do it.
We have designed an earthen/brick fuel efficient stove that uses less wood than the conventional cooking technique. The stove costs $100 to build. Because most low-income families in Nicaragua don't have $100, that would ordinarily end the discussion. But thanks to GlobalGiving donors, we can keep talking. If a family qualifies as "low-income" we give them a $20 discount on the stove. That brings the price to $80. We then offer them 80 hardwood seedlings and technical assistance to plant their own wood lot for firewood -- free of charge! If they agree to plant and tend the trees (paid for by GlobalGiving donations), we give them an additional $10 discount, bringing the price to $70. Then, if the family participates in a community garden project for one month, working as a volunteer for a certain number of hours, we give them an additional $15 discount, lowering the cost to $55.
If a family qualifies, and agrees to the conditions we sign a contract. They pay $5 down, participate in the construction of the stove, and come to the SosteNica office every month for the next 10-11 months, paying a $5 per month until their "loan" is paid off.
The families are thrilled with the arrangement. We have 25 families who will soon receive a new stove that vents smoke from their home, uses less fuel and boils rice and beans faster. Thanks to you, and all of our GlobalGiving supporters, we are able to provide up to $45 in subsidies to each family who, otherwise, would have been unable to afford the stove.
Darly, one of our recent clients, runs a small sidewalk eatery in Nagarote. Her daughter Wendy told SosteNica: "Mi mama esta muy contenta porque su estufa le permite gastar menos leña que antes, y es poco el humo que sale en la cocina. Esta rapido la comida y sus frijoles de la fritanga." (My mom is very happy because her stove uses less wood than the old stove, and we get very little smoke in the kitchen. Her meals and her beans for the restaurant cook more quicly than before.)
That is how we combine public health, ecology and social justice in one package! Thanks for your support.