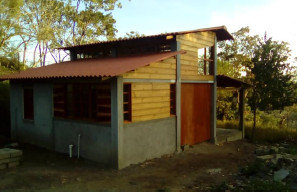 At long last, Ramon and Ada Sepulveda have a home. Their's is an experimental sustainable home, designed by SosteNica and paid for by our generous donors. Like so many experiments, it took longer to build, cost more than budgeted, and includes more features than originally anticipated. All in all, they are happy with their new home and SosteNica learned a lot about sustainability, as well as about home construction in general. Today, we are happy to share with you, and all of our supporters, some details of the final product.
The home was originally planned to enclose 387 square feet. Proving the dictum "If you build it they will come" once the construction had begun, Ramon's mother-in-law and nephew elected to join them, to live in the house. That decision made a larger (581 square feet) footprint advisable. The loft space was also enlarged, pushing the final construction price up from $13,000 to $16,000. Included in that final price was a fully functional composting toilet, as well as 107 square feet laundry area where the family will bathe, wash clothes, and do cleanup from cooking. They call it the "wet zone."
The home had originally been designed to include solar electricity, but the elevated construction costs made it necessary for them to connect to the grid instead, at least for now. They did embrace other eco-techs however, including a 5,000 litre rainwater capture system. The final window count grew from a planned 32 square feet to a generous 172 square feet. 376 square feet of floor space is covered in ceramic tile.
Important lessons learned by SosteNica in the process include:
stay in constant communication with the future home owners;

make sure that the eaves are large enough to protect earth walls from hard rainfall

quality control before and during construction is easier than error remedy after completion
Perhaps the biggest take aways were three:
Nicaragua, and every other country in the world, needs to take sustainability (green) issues into consideration when planning housing, whether for wealthy or for low-income families.

SosteNica, while committed to modeling sustainable solutions for housing, is best built for extending credit, rather than overseeing the actual construction of affordable housing.

The single most important factor contributing to a shortage of affordable housing is the market alone cannot produce a quality product that a low income family can afford. A non-profit like SosteNica does not have the resources required to subsidize the difference between "cost of construction" and "ability to pay".
We are very grateful to all of our generous supporters who contributed to this effort. The donated funds not only enabled the construction of an experimental model home for one family. More importantly, the made possible a laboratory for design and experimentation that will serve for many projects in the future.