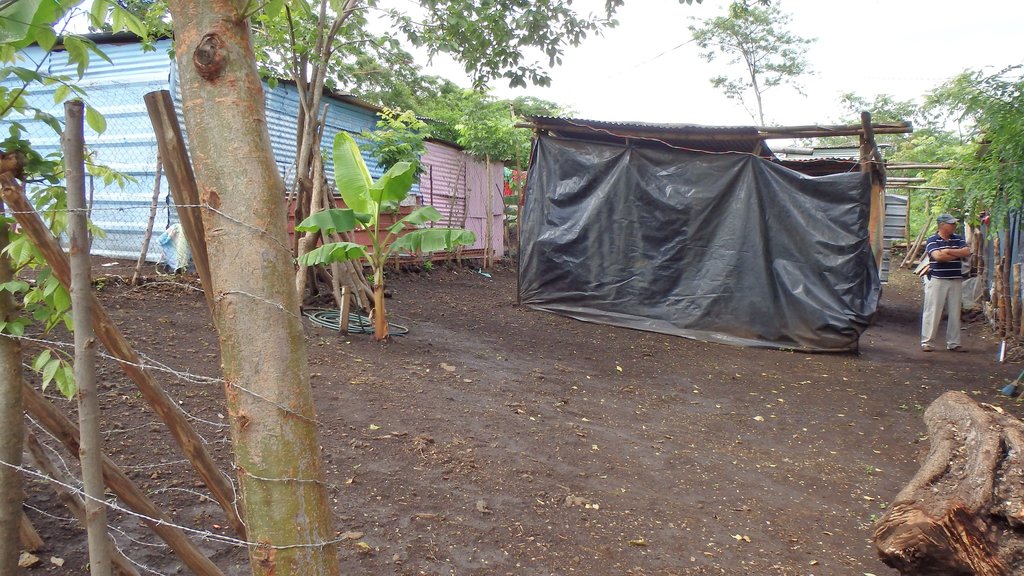 Sometimes life doesn't go the way you expect. The same can be said for development work. In our recent Social Housing Project, SosteNica partnered with CEPRODEL in the credit department and with FUNDESONIC in the area of adobe block construction. We spent many months designing and engineering an innovative pressed earth block home with volcanic rock tile roof and a loft sleeping quarter in a format that would allow our chosen family to add on rooms as their young family grew. We designed a "nucleo humedo" -- an outbulding that incorporated all of the water related eco-technologies -- grey water treatment, composting toilet, rain water capture and filtration, clothes and dish washing area, and shower. When we broke ground everything looked like a go, but often, life doesn't go the way you expect.
With the walls up and the roof ready to be installed, the Sepulveda family offered, and SosteNica agreed, that they should purchase the half finished building outright, and continue the construction under their own supervision.
This unexpected turn of events has allowed SosteNica to take the resources donated to build our first model home, further improve upon the design, and begin working with very poor families in a veterans' neighborhood "Brigada 21". The residents of this neighborhood are so eager to move beyond their plastic and sheet metal homes that they have donated a plot of land for the construction of the first model home.
Once again, SosteNica is working with some of Nicaragua's leading earth architects and progressive University faculty to design and implement affordable housing that is more than just affodable. Our goal is to make this project into an educational opportunity.
Every human on earth needs adequate shelter. There are multiple strategies for meeting that need. We plan to work with many of the 300 families living in and around "Brigada 21" to create a demand for environmentally sustainable housing, building with earth, minimul concrete and steel, maximum eco-technologies and edible landscaping.
While we were sorry not to complete the Sepulveda home, we have reached an agreement that is mutually beneficial -- one that will allow them to oversee the project in a way that meets their needs while we can refine our design and work with an even more needy community, eager to embrace the advantages of earth and natural construction. The possibility of using a single home to inspire dozens of families to create a new low-income building model in Nicaragua holds tremendous potential for the future. Stay tuned for more unexpected developments!