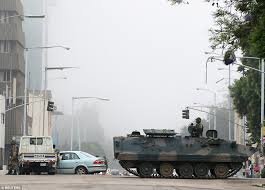 DECEMBER 2017
Lots has happened since our last report. It's a good thing GG limits the number of posts we are allowed to make, folks!
Unbelievable news from Zimbabwe: We have had a change of governance, a peaceful coup d'etat. You cannot begin to imagine what this means to us all. The people, the workforce, who have lost so much and been so patient, now wait with unquantifiable expectation for positive change, which in turn may create work opportunities and a better life. Living here, watching strong men and resilient women hunched and hopeless, trying daily to make a little money, has been very soul destroying. This gentle nation waits. They wait for change in decision making, for no police and political brutality, and zero corruption from our new leaders. They wait for change in their circumstances. We at animal rescue centres are hard hit, when people cannot afford to feed or neuter their animals. This, from a country with enormous, widespread natural resources. How on earth do 15 Billion US dollars simply disappear from the government coffers.
AT Mutare SPCA, one of the things that affect us directly, apart from grinding poverty and a non-existent economy, was the widespread outbreaks of rabies. You may have seen our sub project. Zimbabwe by law insists that every dog has to be vaccinated against Rabies. To this end, the government Vet Department vaccinated at a very affordable price. But lately, no funding is supplied to them. With the tragic increase of rabid animals, including Jackals and even a cow, we motivated a program to give the poor access to free rabies vaccinations. A very rewarding project to be involved in, and the GG community has been good to us. Hats off to you all! On the first weekend we trekked into the rural lands to vaccinate dogs free and as a service to the underprivileged, we treated 629 dogs. We also fed, counselled, medicated for parasites, skin lesions and trauma wounds. Those good people walked their dogs for long distances to benefit from this work, and we are truly loving running this project.
Recently we were to court again, when a man and his complicit father killed a dog violently, with a spade, in the presence of the neighbour's little boy. We went in support of the boy's family, and Inspector Noel was a very strong witness in the dock. The case went in our favour, and the dog killer is serving time. We have decided that to not to take a strong stance will have repercussions in the future, as we protect animal rights. We need a reputation of taking swift and determined taking action.
Our little SPCA has taken a huge step forward with the appointment of Inspector Simba Karumbidza, and also with regular input from volunteer Ange Wright, who is also a qualified Inspector. It must be a relief for Noel Usore to have back up, when they go out into the community to fight the good fight. Simba was for a time in the Police force, and is very firm with aggressive offenders. He has also done much maintenance work, repairing breaking walls, drains and fencing. Another gem in our staff.
We continue to have far too many strays brought in, and we are working to have the by-laws changed in Mutare. Just this week we have had an addition of 15 kittens and 6 cats. Each one is absolutely beautiful. We have found two handsome and solid German Shepherds, two delightful and loving Labradors, and a multitude of "special breeds" as we like to call our mongrels. All have been surrendered. It's going to be a very busy Christmas. Also this week, Magic our goat is in delirium at the arrival of 15 goats, and as if that wasn't enough, he fathered the tiniest little replica of himself with Miss Pretty, who was never collected by her owner. What a little delight. Already the baby can be seen pronking vigorously at the sight of Petal Pig.
Our Annual Dog Walk was well supported, and we were able to reward the children who came. Each child received a book, some sweets, two packets of tea, (for those who don't know, Zimbabwe is a great tea growing country), and jotter books and pens. This golden opportunity was not wasted as our judge talked on animal care and welfare. We hand out flyers at every outreach we do: The 5 Freedoms, and How to Care for your Dog, or Donkey. We have actively backed the petition to prevent the Chinese immigrant community from building a Donkey Abbatoir. This is one fight that is ongoing, but we are desperate to win. We participated in the Xmas Fair at the town Club to raise funds. Warm nights in Africa on the full moon, under luminous Fever trees, is something all who leave their homeland must dream of. It was one of those nights….
For all the sad or difficult issues we deal with, we are rewarded with loving and appreciative rescued dogs and cats, and this helps us keep going. Just today, I was dropping off some fresh grass for the herd of goats, and the two Labradors that we have been forced to intervene and remove, made sure I noticed them through hypnotic eye contact. I went over to have a little one on one time with them. They have entrusted us to find them, and their little mongrel friend, a home. Please wish us luck. Homes are now our biggest challenge. All our rescues deserve them.
So, the work continues, and we will do our best. Thank you for all you have done for us. We are grateful beyond belief. Please visit us if you pass through our country. It's a soul abundant, beautiful land, and the people are warm and friendly. Contact us if you need to know more about Mutare, the jewel in the East.