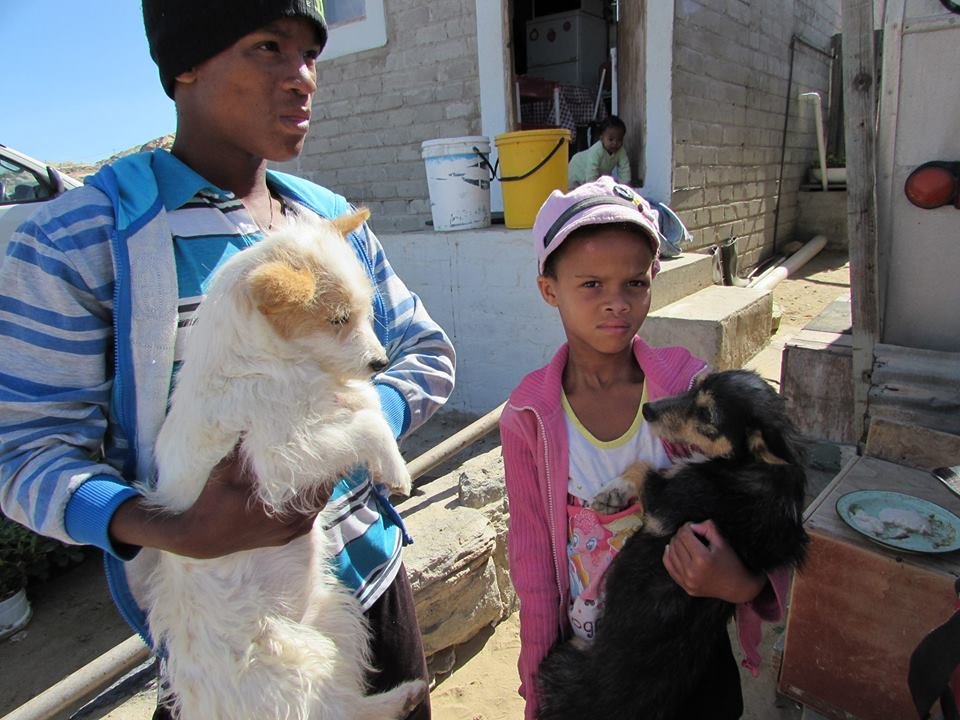 When I notified Geesche with Have A Heart-Luderitz about the GlobalGiving funds that Animal-Kind International is sending to her (this 2nd batch of GG funds=US$700) for spay/neuter and dog house construction, in her email response, she was obviously delighted:
"Last night I was thinking that I might have to cancel the July Spayathon because we might not have enough funds to cover the costs. I still need to pay off the March Spayathon. THANK YOU!!"
Geesche will use the GlobalGiving funds we're sending to cover the remaining March costs and to hold a July Spayathon. Thanks to you, our donors, the July Spayathon will not have to be cancelled, and dogs and cats like these in the pictures (all sterilized by HAH during March), will get their chance to be sterilized! Wolfie (see photo with his owner) was one of 22 dogs spayed or neutered during the spayathon in Aus in March, and the kitty, with her owner was one of three cats.
The dog house project is coming along, as well. Geesche told us that next week they'll paint the first six dog houses and deliver them. In conjunction with the delivery, HAH-Luderitz will hold an animal awareness and dipping day on May 23. (I promise to send pictures in the next GlobalGiving update.)
Other sponsors--in Namibia--have stepped forward to support an HAH spay day in Aus (May 27) and in Luderitz (May 29). It's always exciting news when our AKI partner organizations are able to raise additional funds--beyond what AKI raises for them-- and become more sustainable organizations.
But your support is still needed! We've managed to remain on the GlobalGiving site and continue to raise money for this very worthwhile project, but we need a "unique" donor every month to continue to be able to fundraise on the GlobalGiving site--and we still need several more donations to earn a permanent place on GlobalGiving. WE'D BE SO GRATEFUL IF YOU WOULD HELP--SINCE YOU KNOW US AND THIS PROJECT BEST--BY SPREADING THE WORD TO OTHERS YOU KNOW WHO CARE ABOUT ANIMALS: A DONATION OF $10 OR MORE BRINGS US CLOSER TO OUR GOAL OF REMAINING ON THE GLOBALGIVING SITE AND SUPPORTING HAVE A HEART-LUDERTIZ'S LIFE SAVING WORK FOR ANIMALS.
Thank you so much for your support!