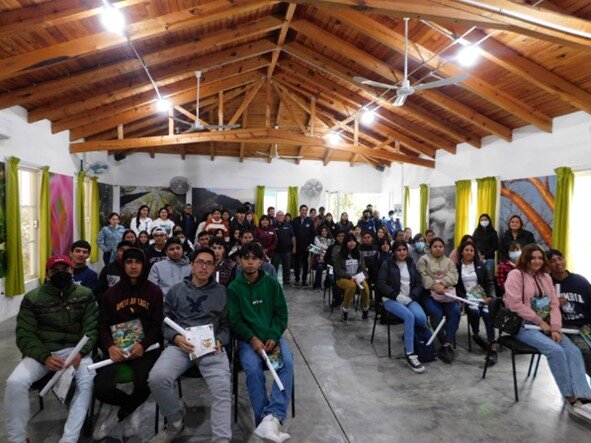 Global Report
ENVIRONMENTAL EDUCATION PROGRAM.
During the months of January, February and March, the Education Program held an environmental awareness-raising event for 60 university students, in coordination with the Sierra Gorda Ecological Group and the Secretary of Sustainable Development of the State Government. An agenda was developed with the following content: Theme: "Awareness Session on Climate Emergency" with the following topics: Biodiversity of the Sierra Gorda Biosphere Reserve, Environmental Forestry Services, "Zero Waste" Campaign and Environmental Awareness.
Workshops were also held on composting, separation of solid waste, and vegetable growing.
The young people participated alternately in teams in the different workshops and in the presentation of the topics.
Augusto Cervantes, SEDESU's director of Environmental Planning, gave a brief introduction of the work being done by SEDESU to promote environmental education and presented the topic "Climate action strategies in the biosphere reserve" where he addressed issues related to the problems we face today, such as water scarcity and climate change.
such as water scarcity and climate change.
Afterwards, the director of the ecological group, Ms. Pati Ruiz Corzo, continued giving her welcome message to the different agencies present at the event, and called on the attendees to join the change of habits to improve the environment, referring to the planet as the largest living organism "The Earth" our common home.
We continued with the participation of the Director of the Sierra Gorda Biosphere Reserve, Biologist Guadalupe Sanchez. Biologist Guadalupe Sanchez, who addressed issues related to population growth and the problems it causes and invited young people to act.
Continuing with the work agenda, Nature Photographer Roberto Pedraza Ruiz. Roberto Pedraza Ruiz. He presented the theme Sierra Gorda "Arca de Vida. He began by highlighting the characteristics of the ecosystems and the neo-tropical and neo-arctic influence, which is why the reserve is so eco-diverse, as well as the different functions performed by some of the fauna, in pollination and in the germination process of some species of flora, as is the case of the foxes to process the seeds in their digestive tract and make the germination of junipers easier. He also presented the great variety of fauna that inhabits this natural protected area, as well as the importance of preserving the habitat of endangered species endemic to the area.
Salvador Sarabia Rivas, director of sustainable forest. He presented the topic "Environmental services of forests" and mentioned the importance of forest conservation, taking advantage of the benefits they provide in carbon sequestration. He also explained how the payment for environmental services program works, which is designed to provide economic incentives to forest owners to support conservation practices.
He also mentioned the umbrella effect that trees have in capturing rainwater. She mentioned that in a study carried out in the state of Michoacán they compiled data proving that a tree 15 m high and 50 cm in diameter, with a 28 m crown, captures 190 to 210 liters of water, and provides the inhabitants with this vital liquid. She also highlighted the importance of the mountainous massif of Pinal de Amoles as part of the hydrological recharge in the Sierra Gorda.
Finally, Ms. Olivia Perez Jimenez. Head of the environmental education program. She presented the theme of the "zero garbage" campaign, explaining that this campaign has been spreading in the mountainous region, to make known among the population, the urgency of reducing to the maximum the use of disposable items such as plastic bags, metallic bags, unicel waste, among others, because this type of waste is highly polluting as it impacts human, animal and plant life, that is, all forms of life, as well as common goods such as water, air and soil. And as part of the solutions, he indicated that it is necessary that all the inhabitants of the Sierra Gorda participate and get involved in the correct separation of solid waste, from school, home and community.
All these acquired habits contribute enormously to saving energy, and raw material that is extracted from natural resources and used to make all kinds of products for our daily life. He showed the table of biodegradation of solid waste, i.e., how long it takes for waste to disintegrate or be incorporated into the earth, for example: plastic bottles take approximately 450 years, glass takes more than 4000 years, some organic waste takes up to 6 months, etc.
To continue with the agenda of activities, the workshops began.
Alejandra González, who began with the meaning of "compost" and emphasized that the word "compost" comes from the Latin word "componere" which means "to put together". She emphasized that there are different methods for the elaboration of compost. She demonstrated in this workshop the realization of a compost for urban spaces, an apartment, or a house. He also emphasized that it is our responsibility to care for and restore our planet.
At the end of the composting workshop, the young people moved on to the vegetable workshop, led by Tec. Lucio Baldelamar, here they talked about the benefits of establishing a vegetable garden, for example, the production of food, the economic savings in the purchase of vegetables, knowing the origin of our food, etc. He commented that he uses compost based on sheep manure for the preparation of the beds, and there must be a space of 30 cm between bed and bed.
At the end of the Vegetable workshop, a workshop on waste separation was given by Tec. Alberto Carranza Lance, who explained the importance of separating recyclable materials for their correct final disposal, also gave a brief explanation on how to identify the types of plastics such as: Polyethylene (PET), High Density Polyethylene (HDPE), Polyvinyl Chloride (PVC) among others, which depending on the corresponding number should be separated to give them a correct disposal, he also mentioned how toxic these materials can be when they are at high temperatures because they release styrene which can be harmful to health. He also mentioned that Tetra-pac is one of the materials that has the best function for food preservation, but more difficult to recycle.
At the end of the workshops, the students, and the General Coordinator of the UTSJR, Jalpan Unit, Mtro. Edgardo López, to comment on their conclusions and to verbally evaluate the lessons learned.
As part of the environmental awareness during this period, 10 murals were painted with the theme "The impact of human actions on water". The murals were painted on strategically located billboards to disseminate among the population and provoke a change in attitudes towards the responsible use and consumption of the sacred liquid "Water".
Murals with water theme
Communities:
Col. Solidaridad Jalpan de Serra Cabecera
Lindero, Jalpan de Serra
Col. Las Terrazas, Jalpan de Serra
Pinal de Amoles Cabecera
Purísima Arrollo Seco
During this period, we started the events called Fiestas de la Tierra, to honor and pay homage to Mother Earth for all the blessings she gives us. And with the objective of rescuing and promoting the roots and traditions of the mountain region, as well as learning about the typical dishes of the region.
In these events the participation of the schools is to develop a cultural program with songs, scenery, poetry, marches with posters, regional dances and involve mothers in the gastronomic sample.
The educators present a play entitled "Waves of action for Nature" in which Mother Earth is presented as the provider of all our food, and the festival is enriched and enlivened with environmental songs sung by all those attending the festival.
These events were attended by 36 elementary schools, with 1,447 students from the 4 municipalities of the Sierra Gorda in Querétaro, and we had the participation of 77 teachers and 702 adults from the community, including mothers and fathers.
Also, as part of the environmental awareness process, we held 19 community meetings, attended by 702 people, in which topics related to the zero-waste campaign and forest fire prevention were discussed. And between all of us to conserve the common goods: water, air, and soil. As well as guiding their children and family members to respect all forms of life.
Community meetings
Topic: Zero Waste and Forest Fires
Communities:
Limón de la Peña, Jalpan de Serra
Los Charcos, Jalpan de Serra
Sabino Chico, Jalpan de Serra
Embocadero, Jalpan de Serra
Huilotla, Pinal de Amoles
Joya de Ahuacatlán, Pinal de Amoles
El Trapiche, Arroyo Seco
Rincón de Pitzquintla, Jalpan de Serra
Pto de Escanelilla Pinal de Amoles
Purísima Arroyo Seco
Rio Verdito, Landa de Matamoros
Pinalito de la Cruz, Landa de Matamoros
El Aguacate, Landa de Matamoros
La Alberca, Landa de Matamoros
La Florida, Arroyo Seco
El Lobo, Landa de Matamoros
Sauz de Guadalupe, Pinal de Amoles
Laguna de Pitzquintla, Jalpan de Serra
Zoyapilca, Landa de Matamoros
And as part of the training process for teachers.
A diploma course in sustainable development, didactic tools for climate action is offered online.
This course has already been taken by 200 teachers at the basic and higher education levels, and 300 teachers are currently taking it, with the purpose of being trained in the lines of action of the green protocol: environmental awareness, the correct separation of solid waste at school, at home and in the community, saving electricity and water, the integration of ecological committees of parents, the establishment of school and community collection centers, all of which are integrated in a community intervention project.
---------------------------------------------------------------------------------------
Informe Global
PROGRAMA DE EDUCACIÓN AMBIENTAL.

Durante los meses de enero, febrero y marzo, el Programa de Educación, realizó un evento de
sensibilización ambiental dirigido 60 jóvenes de nivel universitario, en coordinación con el Grupo
Ecológico Sierra Gorda y la Secretaria de Desarrollo Sustentable de Gobierno del Estado. Se
desarrolló una agenda con el siguiente contenido: Tema: "Sesión de sensibilización ante la
emergencia climática" con los siguientes temas: Biodiversidad de la reserva de la biosfera sierra
gorda, Servicios Ambientales Forestales, Campaña "Basura Cero" y Sensibilización Ambiental.
De igual manera la realización de talleres como: la elaboración de compostas, la separación de
residuos sólidos, y el establecimiento de hortalizas.

En la que los jóvenes participaron alternadamente por equipos en los diferentes talleres y en la
presentación de los temas.

Para iniciar el evento se contó con la presencia del Director de planeación ambiental de la SEDESU el Lic.
Augusto Cervantes, quien dio una breve introducción del trabajo que realizan en SEDESU para fomentar la
educación ambiental, así mismo presentando el tema "Estrategias de acción climática en la reserva de la
biosfera" donde abordo temas relacionados con los problemas a los que nos enfrentamos en la actualidad,
como: la escasez del agua y el cambio climático.

Posteriormente la directora de grupo ecológico la Mtra. Pati Ruiz Corzo, continúo dando su mensaje de
bienvenida a las diferentes dependencias presentes en el evento, así mismo hizo un llamado a los
asistentes para que se unan al cambio de hábitos y así lograr mejorar el entorno, haciendo referencia al
planeta como el organismo viviente más grande "La Tierra" nuestra casa común.

Continuando contamos con la participación de la Directora de la reserva de la biosfera sierra gorda. La Biol.
Guadalupe Sánchez, quien abordo temas relacionados con el incremento de la población y los problemas
que esto ocasiona, así mismo invito a los jóvenes tomar acciones.

Continuando con la agenda de trabajo el Fotógrafo de Naturaleza. Roberto Pedraza Ruiz. Presentó el tema
Sierra Gorda "Arca de Vida. Inicio resaltando las características de los ecosistemas y la influencia neártica
y neo tropical, por lo cual la reserva es tan eco diversa, así como las diferentes funciones que realizan
algunos ejemplares de la fauna, en la polinización y en el proceso de germinación de algunas especies de
la flora, como es el caso de las zorras para procesar las semillas en su tracto digestivo y hacer más fácil la
germinación de los enebros. También presento la gran variedad de fauna que habita esta área natural
protegida, así como la importancia de preservar el hábitat de especies en peligro de extinción endémicas
del lugar.

Posteriormente el Ing. Salvador Sarabia Rivas, director de bosque sustentable. Presentó el tema "Servicios
ambientales de los bosques" mencionó la importancia de la conservación de los bosques aprovechando los
beneficios que nos aportan en la captura de carbono. Así mismo explicó cómo funciona el programa pago
por servicios ambientales, el cual está diseñado para proveer incentivos económicos a los dueños de los
bosques, esto para apoyar las prácticas de conservación.
De igual forma mencionó el efecto paraguas que tienen los árboles en la captura de agua de lluvia. Mencionó que en un estudio realizado en el estado de Michoacán recopilaron datos comprobando que un árbol de 15m de altura y 50 cm de diámetro, teniendo una copa de 28 m capta de 190 a 210 litros de agua, y provee a los habitantes de este vital líquido. así
mismo resalto la importancia que tiene el macizo montañoso de Pinal de Amoles como parte de la recarga
hidrológica en la sierra gorda.

Para finalizar la Mtra. Olivia Pérez Jiménez. Jefa del programa de educación ambiental. Presentó el tema
de la campaña "basura cero" exponiendo que esta campaña se ha venido difundiendo en la región serrana,
para dar a conocer entre la población, la urgencia de disminuir al máximo el uso de los desechables como
las bolsas plásticas, las metálicas, los desechos de unicel, entre otros, porque este tipo de residuos son
altamente contaminantes ya que impactan tanto la vida humana, la animal y vegetal es decir todas las
formas de vida, así como los bienes comunes agua, aire y suelo. Y como parte de las soluciones indicó que
es necesario que todos los habitantes de la sierra gorda participen y se involucren en la correcta separación
de los residuos sólidos, desde la escuela, casa y comunidad.

Todos estos hábitos adquiridos contribuyen enormemente en el ahorro de energía, y materia prima que se
extrae de los recursos naturales y que se utiliza para elaborar todo tipo de productos para nuestra vida
diaria. Mostró la tabla de biodegradación de los residuos sólidos es decir cuánto tiempo tardan los residuos
en desintegrarse o incorporarse en la tierra, por ejemplo: las botellas plásticas tardan aproximadamente
450 años, el vidrio más de 4000 años, algunos orgánicos hasta 6 meses, etc.

Para dar continuidad con la agenda de actividades, se dio inicio a los talleres.
Primero el taller de cómo elaborar composta, a cargo de la Lic. Alejandra González, quien inicio con el
significado de "composta" la cual recalca que la palabra "composta" proviene del latín de la palabra
"componere" que significa "juntar". Recalcó que existen diferentes métodos para la elaboración de
composta. demostró en este taller la realización de una composta para espacios urbanos, un departamento
o una casa. Se elaboró en un tambo con pequeños agujeros para la respiración de la composta, también
recalcó que es nuestra responsabilidad el cuidar y restaurar nuestro planeta.

Al finalizar el taller de composta, los jóvenes se pasaron al taller de hortaliza, a cargo del Tec. Lucio
Baldelamar, aquí se habló de los beneficios que tiene el establecer una hortaliza, por ejemplo, el producir
alimentos, el ahorro económico en la compra de verduras, saber la procedencia de nuestros alimentos, etc.,
comentó que él utiliza composta a base del estiércol de borrego para la preparación de las camas, y debe
de haber un espacio de 30 cm, entre cama y cama.
Al término del taller de Hortalizas se dio continuidad con el taller de separación de residuos a cargo del Tec.
Alberto Carranza Lance, quien explico la importancia de la separación de los materiales reciclables, para
su correcta disposición final, así mismo les dio una breve explicación sobre cómo identificar los tipos de
plásticos por ejemplo: Polietileno (PET), Polietileno de alta densidad (HDPE), Policloruro de Vinilo (PVC)
entre otros, los cuales dependiendo del número correspondiente se deben separar para darles una correcta
disposición, también hizo mención de lo toxico que pueden ser estos materiales al encontrarse en altas
temperaturas debido a que liberan estireno el cual puede ser perjudicial para la salud. De igual manera
menciono que el Tetra-pac es uno de los materiales que mejor función tiene para la conservación de los
alimentos, pero más difícil para su reciclaje.
Al finalizar los talleres se les invito a los estudiantes y al Coordinador General de la UTSJR, Unidad Jalpan.
Mtro. Edgardo López, comentar sus conclusiones y a evaluar de manera verbal, los aprendizajes adquiridos.
Como parte de la sensibilización ambiental durante este periodo se pintaron 10 murales con el tema "El
impacto de las acciones humanas en el agua". Pintados en bardas estratégicamente ubicadas para la
difusión entre la población y provocar un cambio de actitudes hacia el uso y consumo responsable del
sagrado líquido "El agua"
Murales con el tema del agua
Comunidades
Lindero, Jalpan de Serra
Col. Solidaridad Jalpan de Serra Cabecera
Col. Las Terrazas, Jalpan de Serra
Purísima Arrollo Seco
Pinal de Amoles Cabecera
Durante este periodo dimos inicio a los eventos denominados Fiestas de la Tierra, para honrar y homenajear
a la Madre Tierra por todas las bendiciones que nos brinda. Y con el objetivo de rescatar y promover las
raíces y tradiciones de la región serrana, así como conocer los platillos típicos de la región.
En estos eventos la participación por parte de las escuelas es desarrollar un programa cultural con cantos,
escenografías, poesías, marchas con carteles, bailes regionales e involucrar a las madres de familia en la
muestra gastronómica.

Los educadores presentan una obra de teatro que en esta ocasión se titula "Olas de acción por la
Naturaleza" en la que se presenta a la Madre Tierra, como la proveedora de todos nuestros alimentos
además y se enriquece y ameniza la fiesta con cantos ambientales que entonan todos los asistentes al
festival.
A estos eventos asistieron 36 escuelas del nivel básico, con 1,447 alumnos de los 4 municipios de la sierra
gorda queretana y contamos con la participación de 77 docentes y 702 adultos de la comunidad, entre ellos
madres y padres de familia.
También como parte del proceso de sensibilización ambiental realizamos 19 reuniones comunitarias, a las
que asistieron 702 personas, en las que se trataron los temas referentes a la campaña de basura cero y a
la prevención de incendios forestales. Y entre todos conservar los bienes comunes el agua, el aire y el
suelo. Así como orientar a sus hijos y familiares en el respeto a todas las formas de vida.
Reuniones comunitarias
Tema: Basura Cero e incendios forestales
Comunidades:
Los Charcos, Jalpan de Serra
Embocadero, Jalpan de Serra
Rincón de Pitzquintla, Jalpan de Serra
Joya de Ahuacatlán, Pinal de Amoles
Limón de la Peña, Jalpan de Serra
Sabino Chico, Jalpan de Serra
Huilotla, Pinal de Amoles
El Trapiche, Arroyo Seco
Pto de Escanelilla Pinal de Amoles
Rio Verdito, Landa de Matamoros
El Aguacate, Landa de Matamoros
Purísima Arroyo Seco
Pinalito de la Cruz, Landa de Matamoros
La Alberca, Landa de Matamoros
La Florida, Arroyo Seco
Sauz de Guadalupe, Pinal de Amoles
Zoyapilca, Landa de Matamoros
Laguna de Pitzquintla, Jalpan de Serra
Y como parte del proceso de capacitación para los docentes.
Se ofrece en línea el diplomado en desarrollo sostenible, herramientas didácticas para la acción climática.
Mismo que ya cursaron 200 docentes del nivel básico y superior y que de igual manera 300 docentes están
cursando actualmente, con la finalidad de capacitarse en las líneas de acción del protocolo verde: que son
la sensibilización ambiental, la correcta separación de residuos sólidos, tanto en la escuela la casa y la
comunidad, el ahorro de la energía eléctrica, el ahorro del agua, integración de comités ecológicos de
padres de familia, establecimiento de centros de acopio escolares y comunitarios, todos estos integrados
en un proyecto de intervención comunitaria.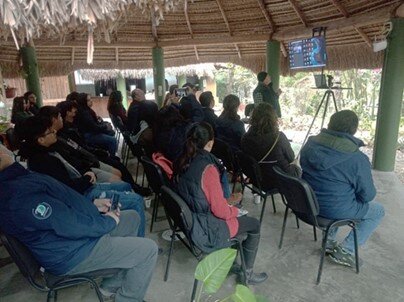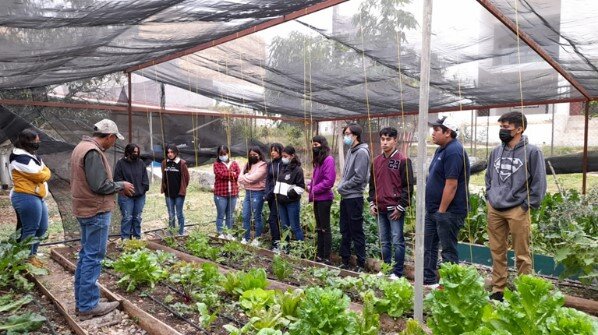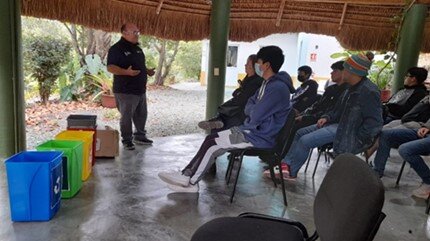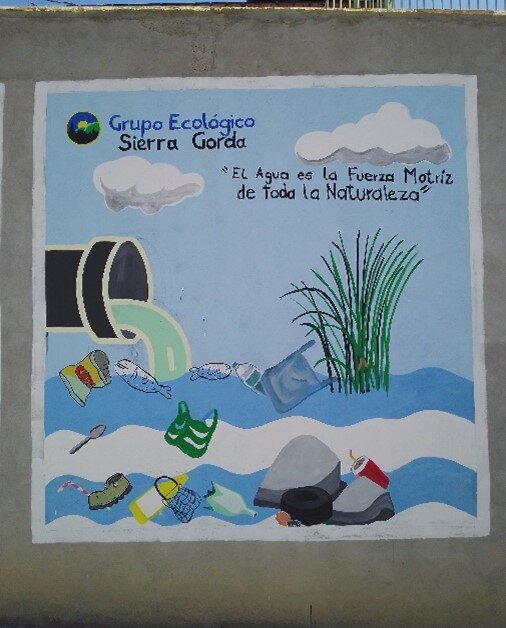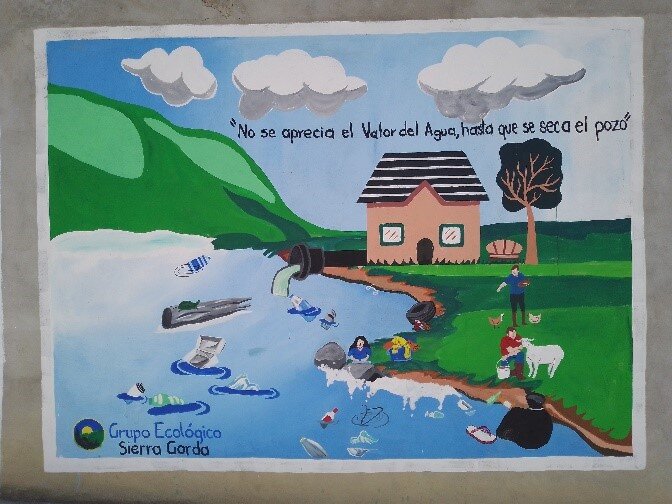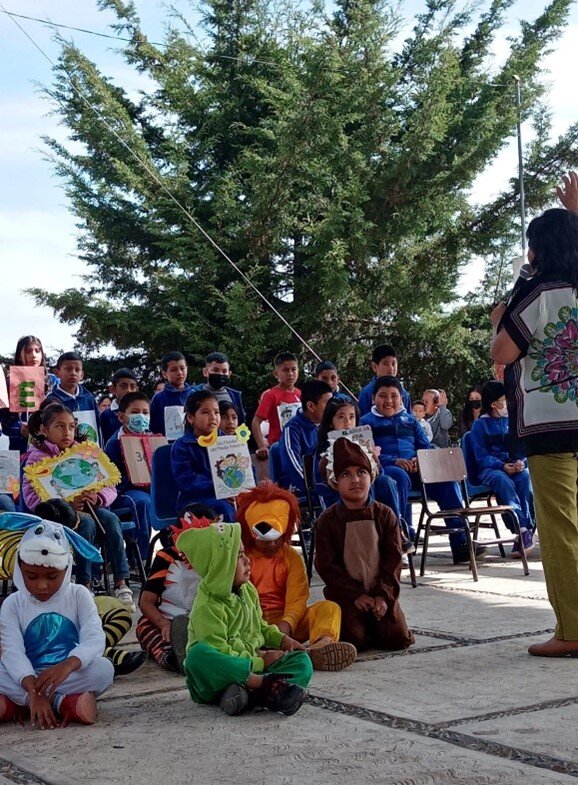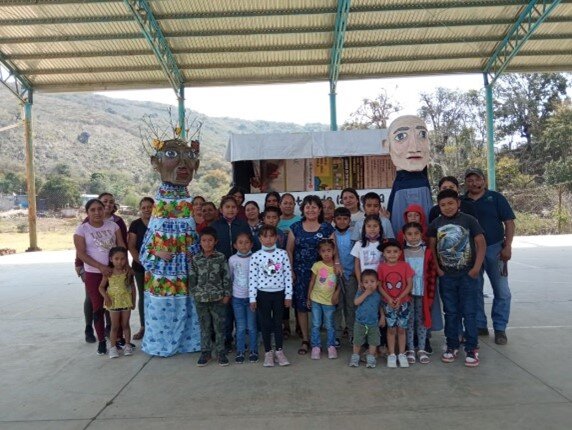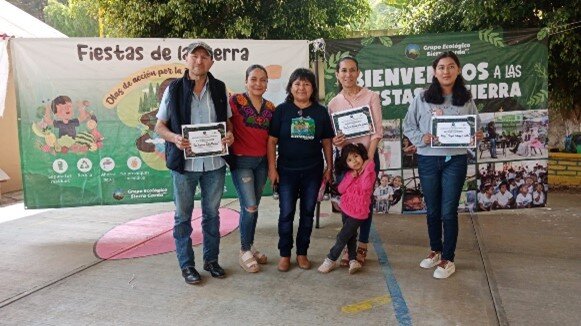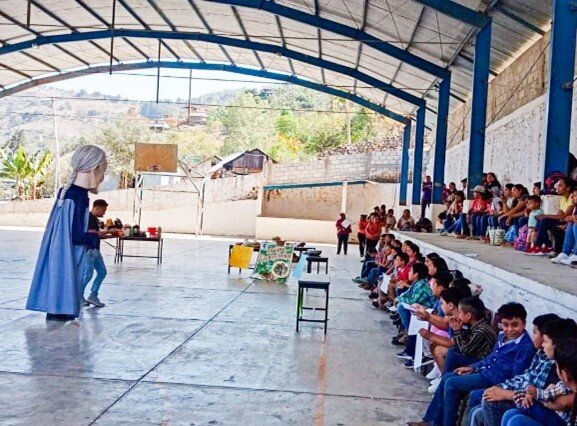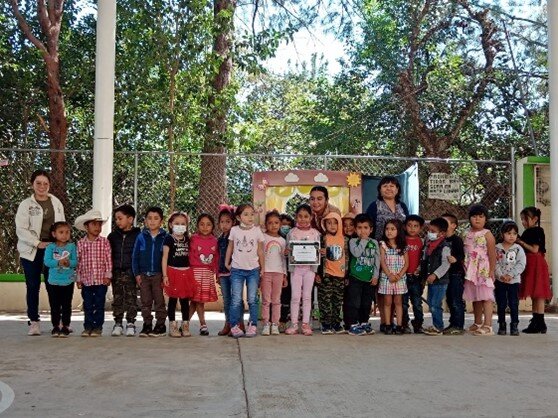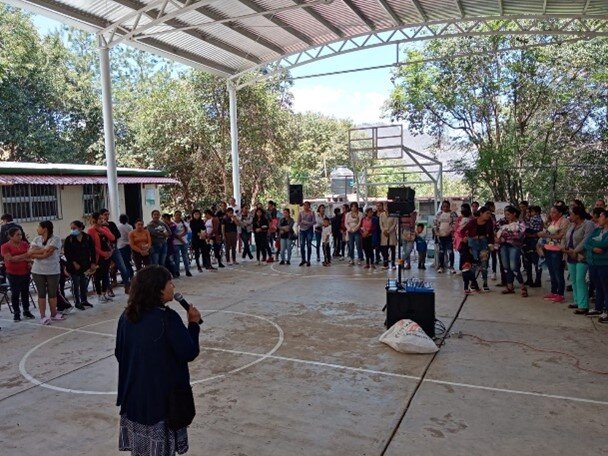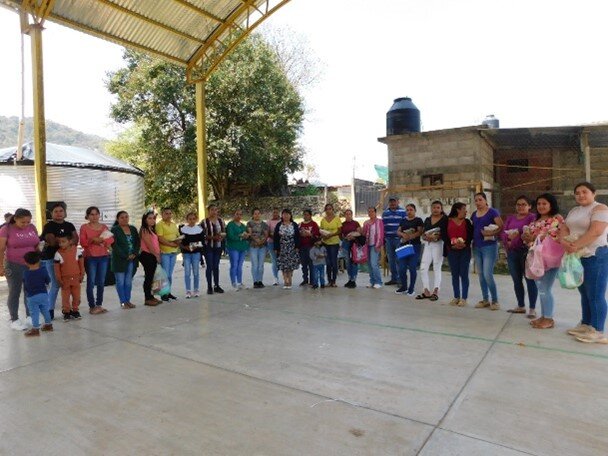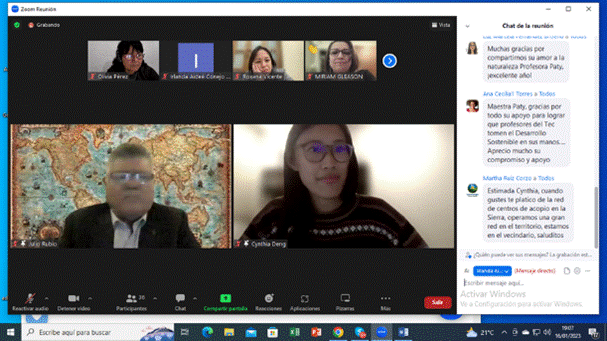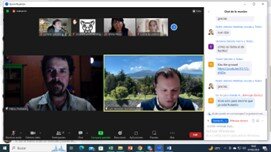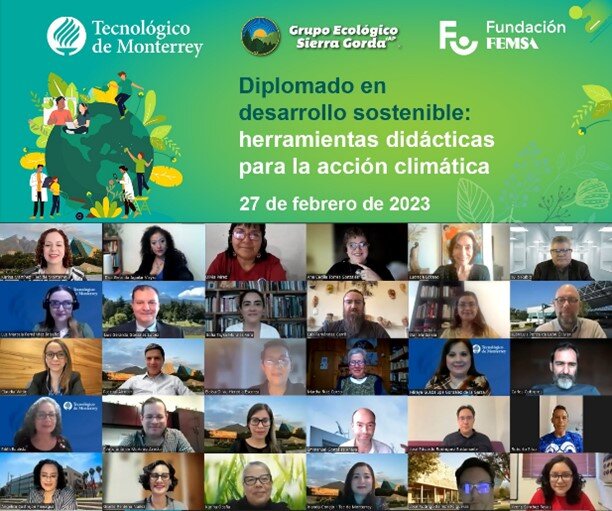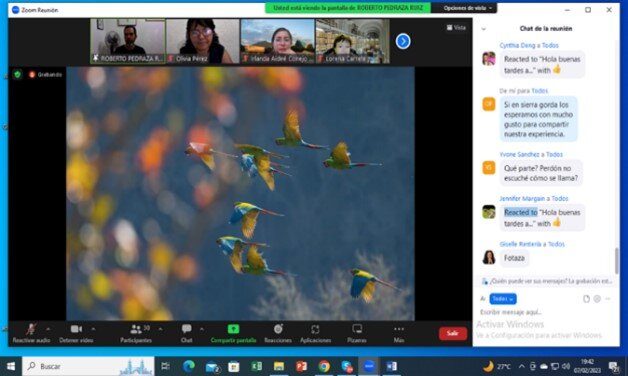 Links: