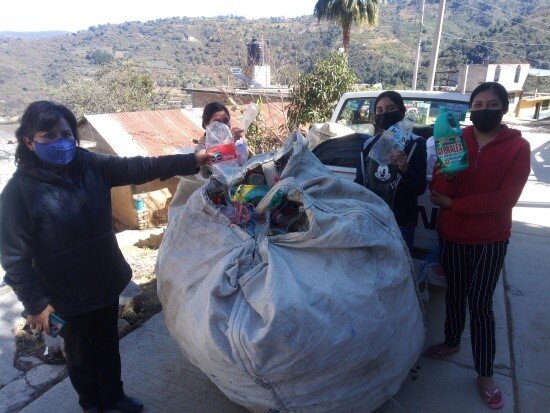 English
ENVIRONMENTAL EDUCATION PROGRAM
During the months of January, February, and March we held 6 webinars with 193 high school-aged students and The National Council for Educational Development (CONAFE). The topics covered included: environmental awareness, climate change, biodiversity within the Sierra Gorda Biosphere Reserve, forest environmental services, and the zero-waste campaign.
We provided in-person follow-up with 30 students from the community of Saúz de Guadalupe, and 20 from the National Anthem Elementary School in Lobo, on the Zero Waste Campaign, assisting them in carrying out campaigns to collect recyclable materials.
As always we use sanitary measures given the health contingency, at our in-person events.
To mark World Water Day, in conjunction with the 25th Anniversary of the Sierra Gorda Biosphere Reserve, and Grupo Ecológico Sierra Gorda´s 35th Anniversary, we held the "WATER FORUM". The live event took place at Centro Tierra, with 47 students from the Autonomous University of Querétaro prep school, the Technology University of San Juan del Río, and 10 students from the Technical Institute of Querétaro connected virtually.
The environmental team and the State Water Commission joint program looked like this:
Orientation and environmental awareness presented by Martha Isabel Ruiz Corzo.
Forest environmental services presented by Salvador Sarabia.
The biodiversity of the Sierra Gorda Biosphere Reserve by the nature photographer, Roberto Pedraza Ruiz
Ecological techniques for reducing wastewater and the relationship between water and the forests by Brenda Cárdenas Alvarado and Geographer Octavio Beltrán from the State Water Commission´s Water Culture Office.
We visited 100 vendors from the municipal market, and from the broader region to follow up on and promote the Zero Waste Campaign. We reminded them that when they sell their products they should avoid the use of plastic bags or single-use items. They should continue to invite their clients to bring their reusable bags and containers for their purchases, to reduce generating waste. We also informed them that the municipal rules around solid waste are going into effect soon and that there will be fines and sanctions against those who do not comply with the regulations.
For our rain barrel project, we have coordinated the formation of 17 committees made up of parents from 9 communities in Arroyo Seco and 8 from Landa de Matamoros. There are 85 people signed up to serve on committees out of the 311 overall attendees. These committees will be the link between the school and communities´ participation in activities like the collection of recyclables, the separation of solid waste in homes, community reforestation, and the promotion of the Zero Waste Campaign.
To spread the word about the Zero Waste Campaign during this health contingency, we distributed 350 posters about the separation of solid waste and 928 decals.
To emphasize the care of ecosystems, we painted 7 murals in public spaces, around the themes of preventing forest fires and solid waste, and Zero Waste.
Español

PROGRAMA DE EDUCACIÓN AMBIENTAL
Durante los meses de enero, febrero y marzo realizamos 6 webinarios con 193 estudiantes del nivel medio superior y el sector educativo de CONAFE. Desarrollando una agenda de sensibilización y con la participación de expertos en la materia, del grupo ecológico, con los siguientes temas: El tema de sensibilización ambiental, Cambio climático, la Biodiversidad de la Reserva de la Biosfera Sierra Gorda, los servicios ambientales que ofrecen los bosques, la campaña de basura Cero.
Además de dar seguimiento de manera presencial y con las medidas sanitarias al proyecto de basura cero, con la participación de 30 estudiantes del telebachillerato de la comunidad del Saúz de Guadalupe y a 20 alumnos de la escuela primaria Himno Nacional de la comunidad del Lobo, se realizaron campañas de acopio de materiales reciclables.
De igual manera y respetando las medidas de la contingencia sanitaria.
En el marco del día mundial del agua, del aniversario de la Reserva de la biosfera sierra gorda y del grupo ecológico sierra gorda. Se llevó a cabo el "FORO DEL AGUA", en las Instalaciones del Centro Tierra, con la participación de 47 estudiantes del nivel preparatoria de la UAQ y de la Universidad Tecnológica de San Juan del Río, unidad Jalpan y 10 estudiantes, del ITQ, que se conectaron vía zoom.
Así como con la participación del equipo de la educación ambiental, y personal, de la Coordinación de la CEA. Desarrollando una agenda con los siguientes temas: La sensibilización ambiental, orientada por la Mtra. Martha Isabel Ruiz Corzo, Los servicios ambientales que ofrecen los bosques, por el Ing. Salvador Sarabia, La biodiversidad de la reserva de la biosfera sierra gorda, por el fotógrafo de naturaleza, Roberto Pedraza Ruiz y las Enotecnias y la relación del agua y del bosque. Presentado por la Coordinación de Cultura del agua (CEA, Qro). Lic. Brenda Cárdenas Alvarado y el geógrafo Sergio Octavio Beltrán.
Visitamos 100 comerciantes del mercado municipal y de los alrededores de Jalpan, para dar seguimiento y difusión a la campaña de "basura cero", recordándoles que en la venta de sus productos deben evitar dar bolsas plásticas o residuos de un solo uso, además de seguir invitando a los clientes a llevar su bolsa de mandado y los recipientes necesarios para sus compras y con esto, evitar la generación de más desechables. También informando que próximamente entrará en rigor la aplicación del reglamento municipal de residuos sólidos, en el que se contemplan multas y sanciones para quienes no cumplan con lo estipulado.
Dentro del proyecto de tanques liner, para captación de agua de lluvia, organizamos la integración de 17 comités con padres de familia, 9 comunidades de Arroyo seco y 8 en comunidades de Landa de Matamoros. Sumando 85 personas integrantes de los comités y 311 de los asistentes en general. Estos comités vincularán la participación de la escuela y la comunidad, en la realización de actividades, tales como: las campañas de acopio de materiales reciclables, la separación de los residuos sólidos en sus hogares, la reforestación comunitaria y la difusión de la campaña cero.
Para reforzar la campaña de difusión de la campaña "Basura cero" dentro de este periodo de contingencia sanitaria, se entregaron 350 carteles de la separación de los residuos sólidos y 928 calcomanías.
Para difundir y hacer más énfasis en el cuidado de los ecosistemas, se pintaron 7 murales en lugares públicos, con los temas prevención de incendios forestales y residuos sólidos. "Basura Cero".