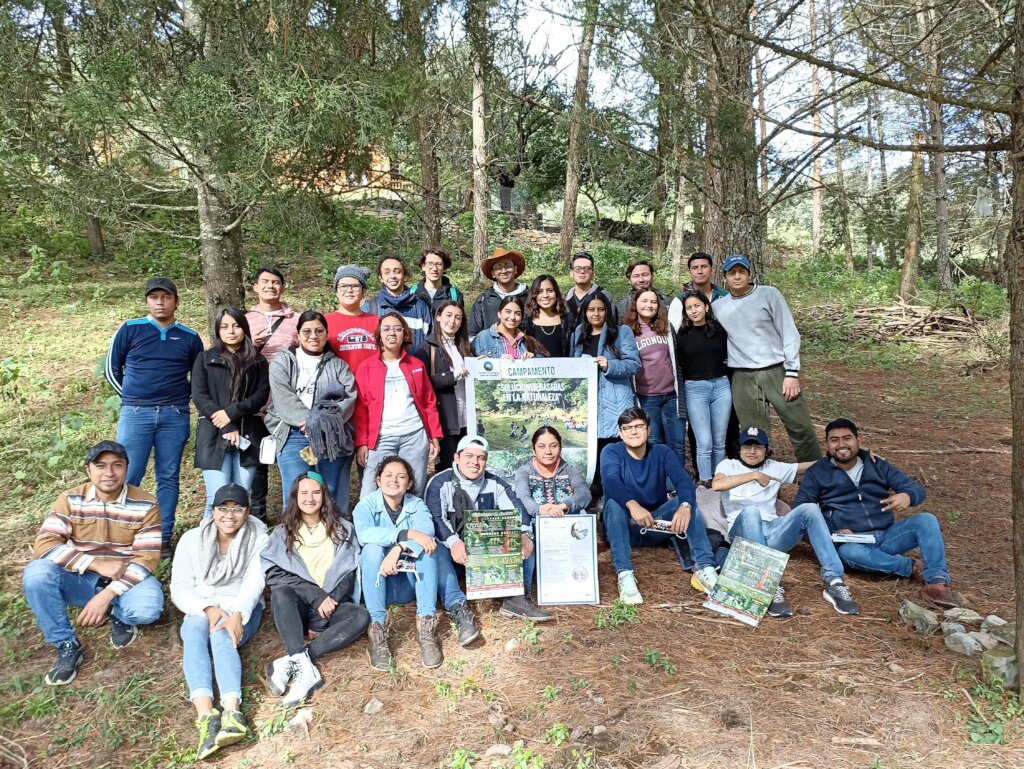 ENVIRONMENTAL EDUCATION PROGRAM
During the months of August, September, October, and November, the Environmental Education Program had 8 virtual meetings which reached 332 high school students. Grupo Ecológico Sierra Gorda delivered the presentation, "Awareness of the Climate Emergency: Local Call to Action" with the following themes: current state of the planet (climate disruption), biodiversity of the Sierra Gorda Biosphere Reserve, forest environmental services, Zero Waste campaign, and environmental awareness.
With health measures in effect, we held the Nature-Based Solutions Camp at the Tonatico Ranch- School. Twenty-five students from the Autonomous University of Querétaro participated. The packed agenda included practices for a healthy life; climate disruption and its consequences; the biodiversity of the Sierra Gorda Biosphere Reserve; environmental issues of the region; the campaign to minimize solid waste, with the end goal of Zero Waste. They went on a forest walk to understand carbon capture and hydrological storage, they learned about regenerative management of soils, organic agriculture, clean eating, how to make preserves, how to establish gardens using the bio-intensive method, and how to make compost and biofertilizers, as well as working in teams.
In April we visited 102 businesses to continue to spread the word about the campaign to minimize solid waste, with its goal of Zero Waste. The businesses all responded that they would participate and we also shared the information about the municipal regulation around solid waste (a ban on plastics or single-use packaging).
Another activity that was very relevant during this period of pandemic life, was sharing information about the virtual learning community center. 30 posters were distributed to 11 educational institutions and placed in public spaces. The courses advertised are free and they help train people to be employable and train in productive diversification.
To place greater emphasis on the care of ecosystems, we painted three murals in public places around the theme of Zero Waste.
Taking advantage of the rainy year we had, we delivered a total of 20,915 trees, to 73 communities. The species list included: privet, ash, different varieties of fan palms and bottle palms, jacarandas, white cedar, red cedar, and rosy trumpet trees. 2,683 people directly benefitted and in this way, we are mitigating climate change.
Español
PROGRAMA DE EDUCACIÓN AMBIENTAL.
Durante los meses de Agosto, Septiembre, Octubre y Noviembre, el Programa de Educación realizó, 8 encuentros virtuales, sensibilizando a 332 jóvenes estudiantes del nivel medio superior. El Grupo Ecológico Sierra Gorda, desarrollo una agenda con el siguiente contenido: Tema: "Sesión de sensibilización ante la emergencia climática: Llamado a la acción local" con los siguientes temas: Estado actual del planeta (Disrupción climática), Biodiversidad de la reserva de la biosfera sierra gorda, Servicios Ambientales Forestales, Campaña "Cero basura" y Sensibilización Ambiental.
De igual manera y respetando las medidas de la contingencia sanitaria se realizó en el Rancho-Escuela Tonatico, el campamento titulado "Soluciones basadas en la naturaleza" en la que participaron 25 jóvenes de diferentes áreas académicas de la universidad autónoma de Querétaro. En éste se desarrolló una nutrida agenda de temas y prácticas para la vida saludable; como lo son, la disrupción climática y sus consecuencias, la biodiversidad de la Reserva de la biosfera, sierra gorda, la problemática ambiental más relevante en la región serrana, y la difusión de la campaña de minimización con la meta de "basura cero", se realizó la caminata al bosque para comprender la captura de carbono y captación del agua en los bosques, el manejo regenerativo del suelo, la agricultura orgánica y la alimentación sana, elaboración de conservas, el establecimiento de hortalizas con el método bio-intensivo, elaboración de composta, de biofertilizantes y el trabajo en equipos.
En abril visitamos 102 comerciantes para continuar con la difusión y promoción de la campaña de minimización de residuos sólidos, que tiene como meta basura cero, a lo que los comerciantes responden estar de acuerdo con su participación en la misma. También se difundió el contenido del reglamento municipal de residuos sólidos.
Otra de las actividades sumamente relevantes dentro de este periodo de contingencia sanitaria, fue la difusión del Centro comunitario de aprendizaje virtual, 30 carteles entregados a 11 instituciones educativas y en lugares públicos. En la que se ofrece una oferta de cursos gratuitos en apoyo a la capacitación en empleabilidad y diversificación productiva.
Para difundir y hacer más énfasis en el cuidado de los ecosistemas, se pintaron tres murales en lugares públicos, con el tema: "Basura Cero"
También aprovechando las lluvias, se entregaron 20,915 árboles para la reforestación de 73 comunidades, de las especies: Truenos, fresnos, variedad de palmas abanico y cuello de botella, jacarandas, cedros blancos, cedros rojos, y palos de rosa. Beneficiando a 2683, personas. Y de esta manera contrarrestar los efectos del cambio climático.