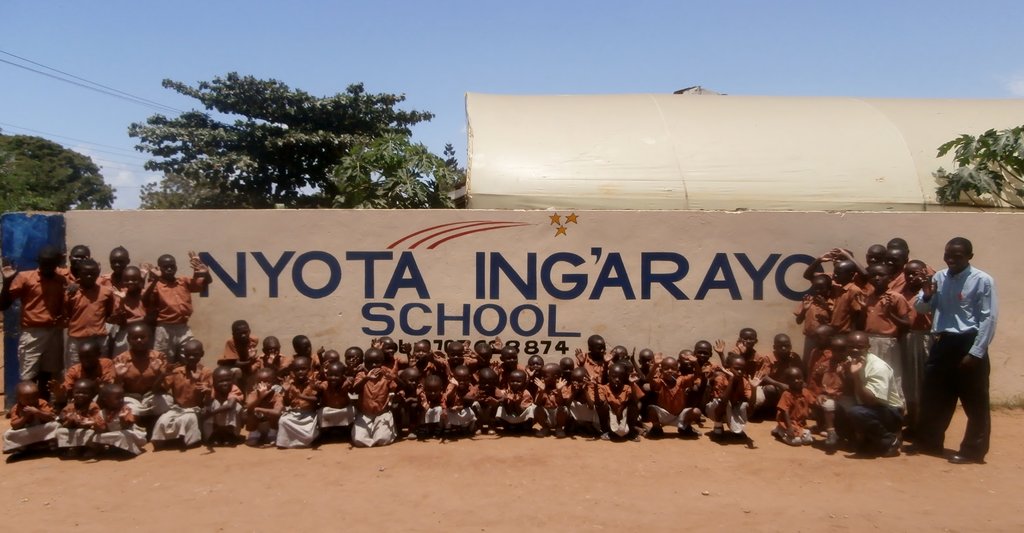 We first want to thank you, our supports for all your help in 2012. We hope you are all having a happy holidays!
In August 2012 GVI ended its three year partnership with Jane Wangoi, the founder of Precious Vision Centre. Following this, a group of parents of the current students approached GVI asking if they would continue to assist the running of the school to ensure that the 250 students could still attend. If the school was to close, there would be limited scope for students from their disadvantaged backgrounds to access education.
GVI helped form a committee which consisted of parents, teachers and local business personnel and had a meeting with the local District Officer providing them with the relevant information on how to register the school. The first step stated was that the name of the school would have to be changed. The committee decided that the naming of the school should be a decision made amongst the student themselves.
Children from Standard 4 upwards were invited along to take part in a democratic election to decide upon the new name of the school. The Kenyan teachers together with GVI volunteers also participated in the name change. After a preliminary discussion the group opted for a Swahili name as opposed to an English one. Following an in depth debate, two names were selected from numerous suggestions, Imara Daima ('stand firm forever') and Nyota Ing'arao (Shining Star') were shortlisted. After a unanimous vote the name Nyota Ing'arao was selected to be the name of the school.
Also, this month the standard seven pupils of Nyota Ing'arao undertook mock KCPE examinations alongside pupils from the neighbouring school 'Jocaham Academy'. The KCPE (Kenyan Certificate of Primary Education) is sat by pupils at the end of Standard 8. Passing the KCPE's is crucial to enable children to further their education and enhance their future prospects. If the students manage to achieve results within the top 10% of the country they are frequently offered a scholarship to a local high school. Even children who don't achieve this will have a greater chance of successfully securing employment, as a KCPE certificate is a key requirement requested by employers upon application. Theis includes basic jobs such as shop assistants and hotel catering.
Another method of school integration which has happened this month is the use of sport in enhancing school relationships and social cohesion. Nyota Ing'garao and Olives Rehabilitation Centre have undertaken two friendly football matches. In addition to building self confidence and promoting both physical and mental well being, sport can be crucial in creating social cohesion. Participating in teams sports helps forging a unified identity, and can provide an opportunity to build new relationships.
Thank you again for your support for this project in Mombasa, we hope to see you again in 2013!
Links: