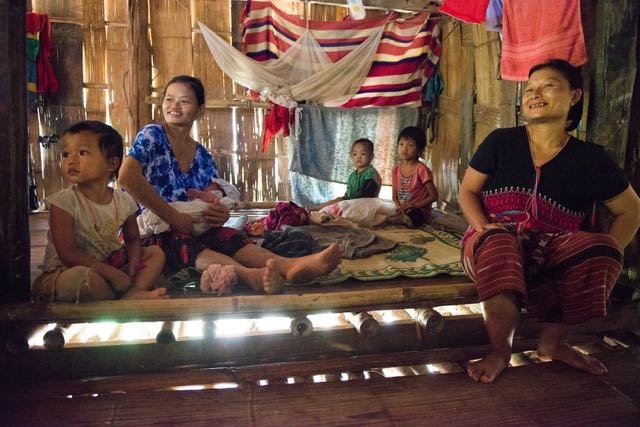 Your generous support has ensured women living in camps in Myanmar have received baby kits with essential health and hygiene items to give their newborns a good start in life.
One of the mothers who received the kit said:
"While we are displaced we don't have enough clothes or food or shelter. We have to move from here to there. In this time we received a gift so it made us feel so happy. Even if we received only a piece of cloth and a bar of soap, I feel so happy and I feel like somebody cares for me and is willing to help me, even to go through all the obstacles to get to me. So I felt very encouraged."
It is important to just feel that someone cares. Giving birth is an exciting but traumatic experience at the best of times. These women are living in camps in very tough conditions in the jungle, in small houses made of bamboo with leaf roofing. For those who find themselves without any support, it is even more worrying.
The provision of baby kits to new mothers goes beyond just caring. The health leaflet that accompanies the distribution of the kits provides guidance on looking after the baby as well as the mother. For most of these women, they will have received little to no antenatal education about pregnancy, birth and caring for a newborn, starkly compared to the overabundance of information and educational courses available to mothers in more developed countries.
The distribution of the baby kits is clearly improving the health of babies and their mothers. For example, one mother we met explained how she had learnt about the different cycles of breast milk production which removed a huge amount of anxiety when feeding her baby. Another mother had never used soap for her babies before, instead cleaning her previous babies with fruit.
The program's reach is more than direct support to the mother and her baby and having positive effects on the wider family. In the words of one camp leader;
"Because we are able to distribute Baby Kits our whole community benefits. Even if some mothers only received a few items, the whole family feels better."
With your kind support, RIJ can continue raising global funds for local projects like this. Through RIJ, you can support sustainableprojects that work at a local level in communities to empower refugees to build a brighter and better future. Thank you.