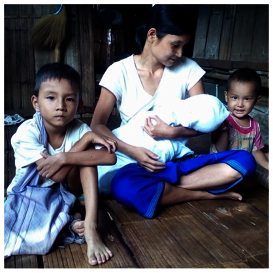 Refugee and internally displaced communities have been impacted during the COVID-19 pandemic much like everywhere else in the world.
The refugee camps on the Thai-Myanmar border were put into lock-down and movement inside Karen state, Myanmar has been severely restricted.
This has meant that community workers could not reach the displaced communities, so no training workshops have been held recently.
However, the women who have benefited from previous training are able to support each other during these times.
We remember the mother who said that she is very happy she joined the awareness raising session and she felt she can share the information with other women so that it will help other babies.
This ripple effect of our funding is essential for ensuring continuity and sustaining the benefits of the program.
In October 2019, the Women, Peace and Security Index, developed by the Georgetown Institute for Women, Peace and Safety ranked Myanmar 150th out of 167 countries in terms of inclusion, security and justice for women so projects like this are essential for strengthening the communities to build resistance to the challenges they face.
A huge thank you to our donors during World Refugee Week and for the matching funding from GlobalGiving. We will be able to resume support to mothers in Karen state once the restrictions are lifted. Our appreciation is expressed best by one Karen mother: "Thank you for your help to me and my children. You don't know me, and you live far away from my village, but anyway you are willing to help me. You must be very kind and thoughtful. If I could meet you I would express my deep gratitude to you."