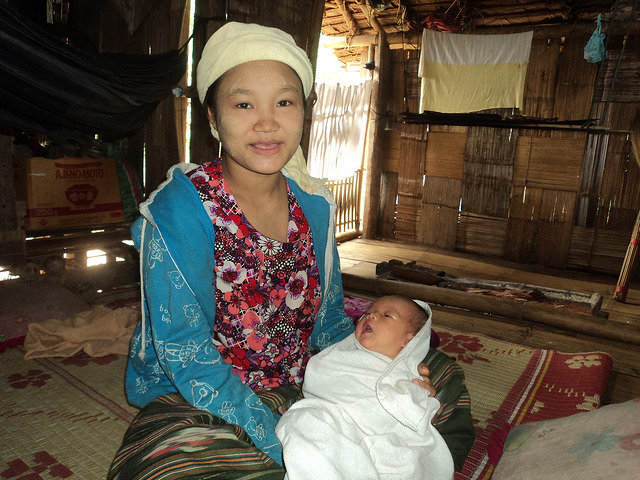 The distribution of baby kits along with training and food support is proving more and more essential as the situation inside Myanmar continues to deteriorate.
Many NGOs have withdrawn support for those displaced in the region as competing priorities arise and this has led to food and health rations being cut in half within refugee camps and internally displaced (IDP) communities. In Ei Htu Hta IDP camp, home to around 2600 adults and children, these rations have been entirely stopped, forcing people to forage for food in the surrounding areas. This emphasises the importance of providing nutritional supplements to pregnant mothers. The expectant mothers receive 1kg of beans every month for the 3 months leading up to giving birth.
In Mu Traw district in Karen state, Myanmar, 20 nutrition awareness sessions were held in response to requests from the local community. Mothers are spreading the word about good nutrition as learnt during the sessions.
One mother said "I can share this information with other women so that it will help other babies. There are still stereotypes in our community which will need constant health awareness raising to reduce this kind of wrong thinking."
Since the training, Mu Traw district has experienced incursions by soldiers seeking to recruit people for forced labour causing thousands to flee their homes. This is a worrying development but the women are strong after years of uncertainty and they will carry the information they have learned to their new communities.
Refugees and IDPs have been living with insecurity and instability for decades but this project continues to provide hope and stability to expectant mothers, their babies, and the local community through critical healthcare training, nutritional supplements and baby kits. RIJ remains committed to supporting these neglected communities and assuring them that they have not been forgotten.
Your contributions make this essential support possible.