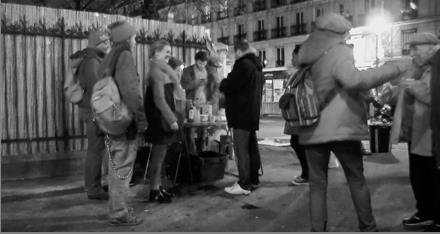 Homeless people, sheltered in overcrowded urgency facilities, living in hotels or in run-down housing: 4 millions French are exposed to social exclusion, and 150 000 people are currently living on the streets. Among these people, we find more and more families, alternating between living on the streets and ramshackle places. These situations have a real impact on health, education, family balance, social and professional integration, in short, all aspects of life.
Every day, these people are exposed to a staggering level of violence: 42% have been robbed in the last two years prior to the Insee survey and 33% have been the victim of an attack. The living conditions on the streets are extremely difficult and in 2018, 566 homeless people have died.
Through many of its social programs and initiatives, Secours Catholique has made social rehabilitation one of its top priorities for many years now.
Helping the homeless: our actions
The many social projects helping the homeless do have to assess the challenges of the diversity of the situations they face and what is doable locally. Other non-profit organizations and public services and authorities are also involved in these programs. To better respond to the plight of those at greatest risk of social and financial exclusion, our field teams have deployed several types of operations:
Street work: they accompany people who no longer go to homeless shelters
Homeless shelters: where they will be offered counseling, professional and administrative advices as well as long term care
Housing: since 1990, Association des Cités du Secours Catholique, a sister organization, manages our biggest shelters while Secours Catholique is in charge of smaller housing with an average of 10 beds per residence.
Three points of reference guide our actions:
Reaching out: we identify and are present for the people who no longer go to the usual social shelters.
Adapting our programs to always base our relationships on reciprocity, sharing experiences between volunteers and beneficiaries are the start of rich interactions. In helping one another they become actors of their own transformation.
Doing with what we got: focusing on people's abilities, understanding their needs (expressed or not), looking at them for who they are and not for what they lack.
Our volunteers consider solidarity a civic duty. They believe in accepting others with open arms, specifically the poorest and marginalized ones, to build a just and fraternal world together.
They create special bonds with them through
one on one meetings either in a collective and convivial setting or on the streets, counseling and giving the persons the attention they need.
offering activities to allow each person to find his or her own voice and renewed energy.
individual focused services based on more formal relationship with specific objectives: individual projects or access to social and legal rights.
Street work:
In rural areas as well as medium size towns or big cities, Secours Catholique has opened social shelters aimed at helping homeless with basic necessities.
Mobile teams wander the streets day and night to meet people living on the streets offering assistance, support or just getting to talk to someone who cares.
Every night, all year round, these mobile teams of volunteers meet with the most fragile, isolated and marginalized fringe of the population, those who hardly come to the social shelters. These teams are there to bring them human contacts, initiate conversations, with a coffee and something to eat. In establishing a trusting relationship with the people they visit regularly, the volunteers often succeed in convincing them to come to the shelters where they find solutions to better their living conditions.
Street Cafés in Paris
The Paris antenna of Secours Catholique have 1595 volunteers and 31 permanent staff helping 10 330 people each year in 26 shelters scattered around the French capital.
For the past 10 years now, the Paris antenna has supported several Street Cafés offering and distributing hot beverages to the homeless. Every night of the week, volunteers, neighbors and people living on the streets meet in a friendly atmosphere. With time they have successfully built trusting relationships, listening and talking to each other forgetting all prejudices or social bias. These moments are opportunities for everyone to network, reconnect with people, and sometimes to make friends. They can also get information where to find a medical facility or legal advice or counseling.
Each week, it's about 100 volunteers who bring the Street Cafés to Chatelet and Gare du Nord where they serve up to 160 people. Some are regulars, others are just passing, but they all get to drink a coffee and talk or chat for awhile.
Once the equipment is delivered, the table and drinks are put in place and the distribution lasts from 8 pm to 10 pm. Small groups of people gather asking for hot cocoa and cookies. They exchanged timid smiles. Usually things start slow and then build up. Some people joke around. The most confidents will start and tell about their day, others will comment on the latest soccer match or the daily news. « It's just about the pleasure of having a human contact. And enjoying a simple moment.», says Serge, a young man in his 20's. « We can say we had a bad day and talk about it. It's like having a therapist. And it's free!» says Giovanni jokingly.
New goals:
Even with the help of these many volunteers, this program demands heavy logistics and could be retooled more efficiently to bring a more welcoming setting. Today the means put in place to distribute hot beverages are very basic and the services offered are limited. The need of a utility vehicle is not fit to a very congested city with scarce parking spaces. The delivery and setting up is very time consuming and could be optimized. And the program is constraining for people under back-to-work contracts (driving license, night work, « off-shifting » schedule) and could be rethink to better serve its purpose. Right now it's becoming difficult to find people to fill these positions.
The success of the Street Cafés has motivated Secours Catholique to test new ideas. We want to rethink the concept and put the relationships as the real pivot of the experience as well as to offer new services such as a street library, plugs to recharge phone batteries, music and informative panels. Moreover we would like to let the people who come to the Street Cafés be in charge and take over and serve the drinks or start the conversations. Finally we need a more eco friendly way to deliver the material and a bike seems to be the perfect solution. It would also be a way to value people who don't have a driving license.
Our objectives:
To transform the Street Cafés and make them more convivial
To value the back-to-work contracts
To have a positive and an eco friendly impact
We are planning on sponsoring the hiring and training of 2 employees (under back-to-work part time contracts with a third party company) to help the « delivery/prep » team. We need to rent temporally new premises for storage near Gare du Nord or the Tour St Jacques near Chatelet (30 m2 on ground floor with electricity and water) until we move to the 19th arrondissement's planned address for our project.
With these new initiatives, we want to create and build a wagon tracked by an electric bike to help transport a removable bar, the centerpiece in our project to improve our Street Café.
The Paris City Hall has already pledged to help the project with a donation in the amount of 15 000 Euros.
We are now in the process of finding new partners who would be willing to support the deployment of new Street Cafés in Paris.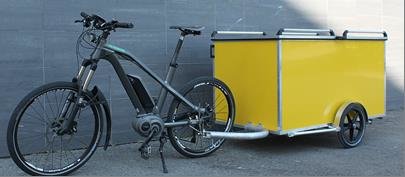 Links:
Attachments: