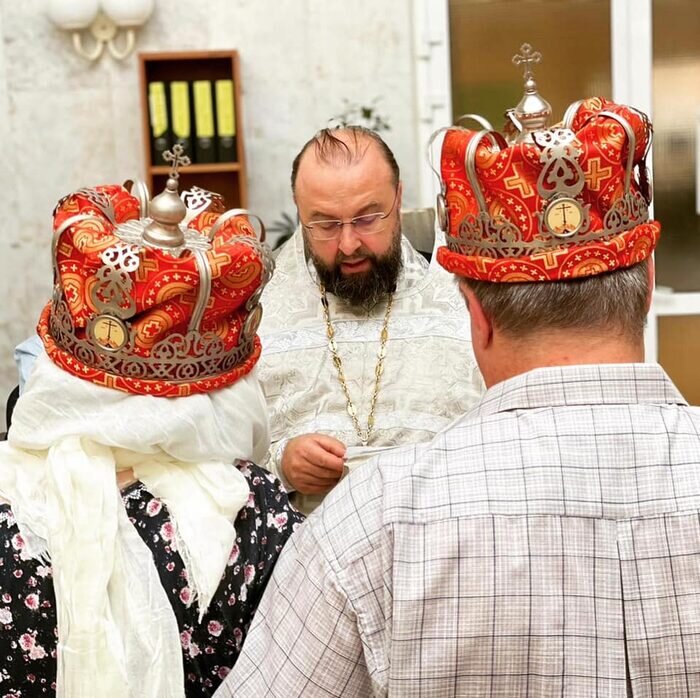 At the end of 2021, journalist Dmitry Muratov joined those who helped hospices.On October 11, 2021, he received the Nobel Peace Prize and donated all funds to 5 Russian organizations, including us.
These are the miracles that happen. Sometimes — very big, sometimes small.
For a sick person lying in bed 24 hours a day, going out/going for a walk, watching the sky, falling golden leaves, feeling the autumn wind is a miracle and life! A simple walk requires preparation. In hospices there are special lifts that lifts and gently lowers the wards into a wheelchair. So those who can't walk go for a walk. Or you can leave without getting out of bed. In winter, the walks continue, as well as in autumn.
Or you can stay inside the hospice, it's cozy there. Every week a "joy cart" comes to the wards with various goodies: strawberries, pizza, ice cream. Or crispy sauerkraut, delicious homemade jelly — so the volunteers pampered the patients of the hospice "Degunino".
And in the Zelenograd hospice, a wedding was held for the first time. The couple has been together for more than 30 years. When his wife became seriously ill, her husband supported her and was almost constantly by her side. Instead, they decided to consolidate their union.
There was also such a miracle… Nastya, our ward from the Tsaritsyno hospice, received a call from Jared Leto on her 27th birthday. Then Nastya's brother shared with us: "My dream is for Jared to find out that there is such a girl here in Russia — smart, beautiful, ambitious, loving. Who, despite everything, continues to believe in herself, in us, in her colleagues. I dream that she will hear words of support not only from me, mom and sisters, but also from her long-time idol and friend Jared Leto."
When the foundation finds out about a ward's dream, a chain of handshakes is immediately launched. This time, the dream seemed impossible for everyone. Everyone except our colleague Olga Ebich. When she heard about Jared, she asked: why not? And the online meeting took place.
Miracles that we are not talking about, but that must necessarily be, are oxygen concentrators — without them a person cannot breathe enough and suffers from shortness of breath, medical consumables — tubes, masks for patients, disposable gloves for staff, as well as hygiene products and adult diapers. Now they are getting more expensive, and logistics is partially disrupted. But thanks to you we continue to help those who are most vulnerable.
Our fund has spent for this program 217 103,96$ from October to December including:
medical equipment and its service 41 597,90$
meals 1 794,72$
coordinators´ salaries 131 711,90$
hospice stuff financial support 7 428,26$
other expenses 34 571,18$