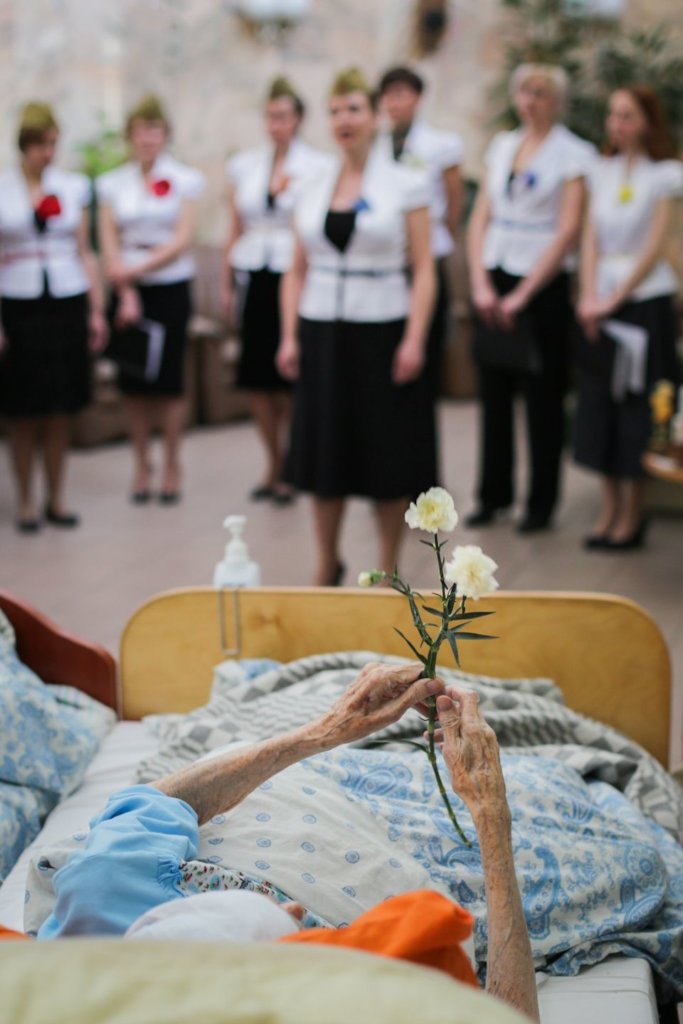 In April, as soon as the snow melted and the sun came out, walks and picnics resumed in hospices. Many people think that patients' lives are held within four walls, but this is not the case — as soon as the weather allows, patients go outside in wheelchairs and beds.
April is the time for cleaning and renovating. Hospice staff and volunteers have put the territory in order to make it easier for patients to go out for walks. In the garden of the hospice "Butovo", in the farthest corner, there is a very cozy place. Before the pandemic, even large families of patients could gather together for a picnic and not feel in the hospital — as if they were at the country side together. One family even once celebrated 25 years of marriage there. Volunteers put this place in order after the winter: they bought paint, sanded and painted the pergola, barbecue, benches and planted flowers.
In the hospice "Nekrasovka" volunteers cleaned the second floor of the gallery. The volonteer Aigyun wrote a review: "The hospice gave me not only a love for clean-up days, but also wonderful people with whom we easily put our former greenhouse in order for a couple of hours, closed for the quarantine period, which will soon delight everyone around with its greenery again."
"Joy carts" returned to hospices - with treats and small gifts for patients. Volunteers carry a cart around the wards and offer hospice residents sandwiches, fruits and cakes. Everyone can choose an afternoon snack to their liking. And on the bottom shelf - hand creams, crosswords and various useful little things. Patients are very fond of "joy carts". And newbies are always surprised that everything is free. Sometimes carts are organized in honor of some holiday or event. For example, Masha, a volunteer at the Degunino hospice, became the winner of the All-Russian school contest of Law. In honor of this event, Ekaterina organized a "joy cart" for patients.
On April 29, a large charity Easter bake was held in favor of Moscow hospices and wards of the Vera Foundation. Our regular volunteer Nadezhda once again gathered a team of bakers. They baked royal cheesecakes and 1350 cakes for the Easter table.
Each patient received a gift — no one felt forgotten and lonely. Visiting hospice services congratulated patients at home on Easter. Nurses and hospice doctors came to the calls with cakes, Easter towels and souvenirs.
Spring and summer were marked by a return to the regular order - as before quarantine, as possible in the conditions of the ongoing pandemic.
"Now the hospice is slowly returning to its former life. Visits to relatives are already allowed, and this is very important for everyone. We try to make the hospice cozy, we equip recreation areas where patients can spend time with their loved ones over a cup of tea or just sit, chat, read magazines and books. One of these places is our bright hall with comfortable furniture and a fireplace," says Svetlana Porfirenko, coordinator of the Degunino hospice.
In May, Victory Day was celebrated in hospices. Friends of the foundation and volunteers brought treats, flowers and gifts — radios, handkerchiefs and creams. There were roses and carnations in every ward and hall.
In June, hospice staff celebrated their professional holiday - the Day of the Medical Worker. A singer Sergey Galanin came to the Palliative Care Center to congratulate the doctors. And the patient Vanya congratulated the doctors and nurses with poems of his own composition.
And of course what summer is without berries and ice cream? As soon as the first harvest appeared in the summer houses, hospice friends brought strawberries, currants, mint, greens for patients. And ice cream is generally the most favorite treat in hospices. Patients love it very much and eat it every day both on walks and in wards. June in Moscow turned out to be sultry. The temperature reached +37 degrees. Patients found ways to survive the heat, and still did not give up walking. "We drank ice cream milkshakes, turned on the air conditioners and walked at night. We have a cool lobby, and during the day everyone hung out there with a book or a movie. And all the men also wished for ultra-short haircuts," says Nastya Lavrentieva, coordinator of the Rostokino hospice.
Our fund has spent for this program 143 480,41$ from July to March including:
medical equipment and its service 2 817,55$
meals 2 273,44$
vehicles and its maintenance 33 068,16$
coordinators´ salaries 103 056,34$
other expenses 2 264,92$