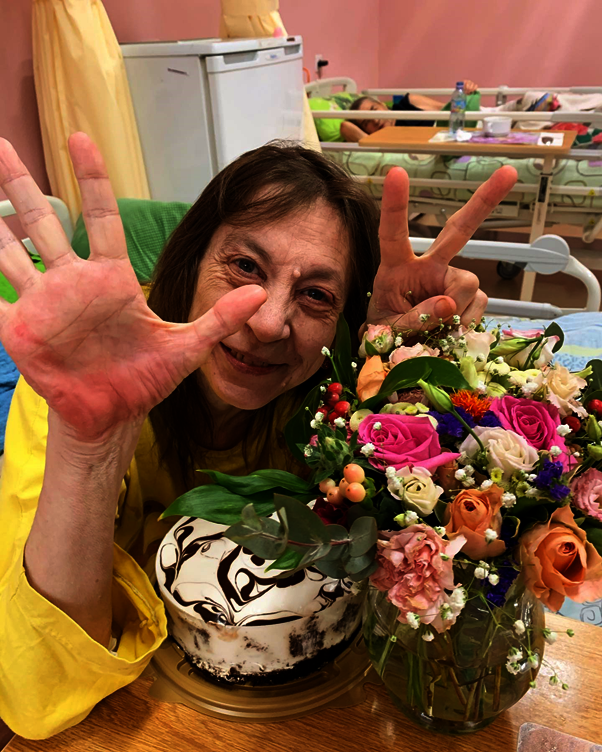 Last summer, because of the pandemic, hospices were closed to volunteers and relatives. But the patients had a real summer. They walked in the fresh air: sat in the garden, participated in picnics. We often say that hospice is about life. And life consists of such simple pleasant little things.
Felix Pinto Baqueriso, coordinator of the First Moscow Hospice named after V. V. Millionshchikova, says:
"The summer turned into one big picnic. This is very joyful, because the summer was warm. Of course, sometimes it rained, but it was still great. And someone was pleased to get under the raindrops.
The milkshakes were made, the coffee was brewed, the ice cream was eaten, the sausages were fried. They listened to different music. There are patients who like to sing along with the performers.
When we connected patients with their families from our garden via video link, of course, the family was a little confused. They are happy that their relatives are in the flower garden, that they have a grape on one side, and a linden tree on the other side."
Besides that both summer and autumn - it's time for fresh fruits and berries. Our volunteers and benefactors delighted the patients with delicious watermelons, melons, apples, and cherries.
With the onset of winter, preparations for the New Year began. Our volunteers decorated hospices, painted windows with Christmas patterns, and benefactors prepared gifts: colored fleece blankets, sweets, coffee and tea.
But life is not just about common holidays. There is always room for your own personal joys. For example, birthdays. We congratulated the patients, despite the circumstances.
Says Lyubov Ivanovna (pictured), a patient of the Moscow hospice:
"The moment I arrive at the hospice, it's my birthday. I just said in the ward, " Oh, girls, you know, it's my birthday tomorrow. Let's have a tea party? Candy bars, something like that, chocolate bars." Well, that's settled.
I wake up early in the morning and suddenly I hear-my girls all start in chorus: "Happy Birthday!". They began to sing ditties, different songs about Lyuba. And by that morning we hardly knew each other. You know, I was crying."
Thank you to all the benefactors for their support. Thanks to you, we can maintain an atmosphere of warmth and comfort even during a pandemic.
Our fund has spent for this program 719 718,93$ from July to March including:
medical equipment and its service 17 214,40$
meals 4 904,08$
financial support 383 888,99$
coordinators´ salaries 307 204,32$
other expenses 6 507,13$