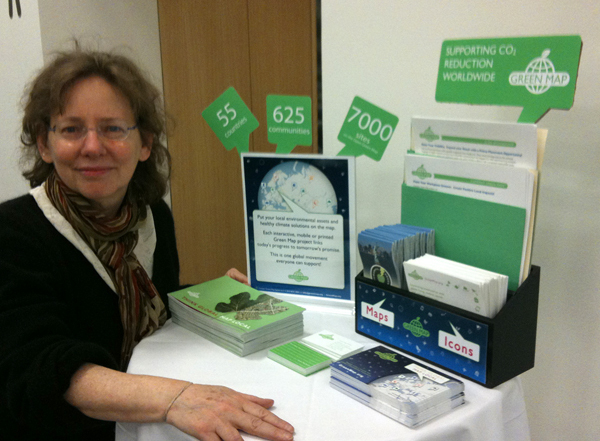 It's been quite an exciting season at Green Map System!
We were very pleased with the generous response you made towards our participation in the Give More – Get More Campaign. A total of $7,390 was raised, including Global Giving's match and bonuses from our Board. Early in the new year, we will draw prizes, as promised, and contact the winners. Your support is very important to over 625 communities worldwide with registered Green Map projects, and helps us build a sustainable future together.
December was especially meaningful to me, as Green Map's director. I went to Copenhagen for the United Nations climate conference COP 15! I've created a series of blog posts, starting at GreenMap.org/cop15 about events there with Green Mapmakers from Denmark, Sweden, Indonesia and Taiwan. It was a great opportunity to develop movement-wide plans for the decade ahead and meet people who will initiate new Green Map projects and partnerships.
Today, people everywhere are seeking meaningful ways to address climate change, overcome a lack of government vision and restore hope for a healthier and greener future. With your donation to Green Map System, we can offer millions of people a new opportunity to create a sustainable future, starting right in their own hometown.
We have offered this opportunity for nearly 15 years – what makes it different now?
First of all, 2009 was a remarkably effective year for us. One key indicator: the number of newly registered projects surged 35% - now another 119 communities, from Sao Paulo Brazil to Edinburgh UK to Dalian China to Oakland California - have Green Maps in progress!
Our technology took a giant step forward in 2009. Through the launch of our Open Green Map platform, we have made it so much easier to publish, share and explore Green Maps. Each of the 7,300 sites mapped to date is ready for your viewpoints, assessments and images. Now, the Open Green Map is even available on your mobile phone! We'll be announcing this breakthrough in January but you can give it a whirl today by clicking GreenMap.org on any internet-enabled phone.
We want to help you make the world a better place, too!
Our world is a beautiful place. Join us in telling its story from your place in the world, and help everyone see it that way!
Best wishes for a sustainable start to the New Year and new decade from everyone at Green Map System!

Links:
Attachments: