Project Report

| Nov 23, 2009
Fresh Blogs, Tangible Outcomes!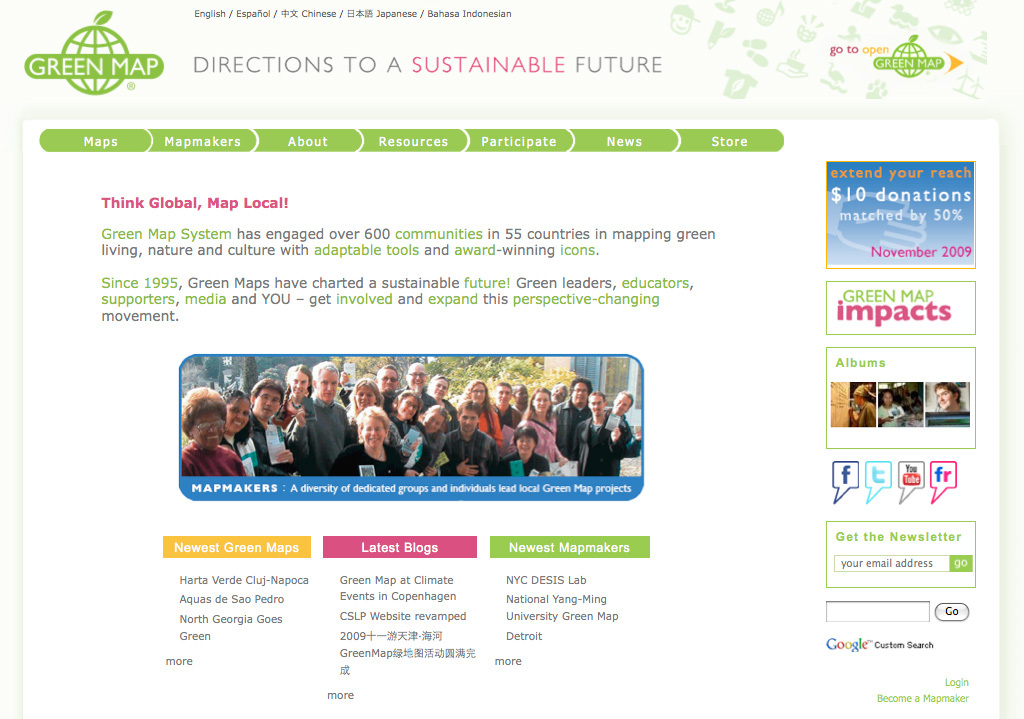 All Green Map project leaders are invited to blog at GreenMap.org/news, where you can quickly enjoy some of the latest activities and impacts of local Green Map projects. Here are some highlights from our Blog's front page today:
Copenhagen: Green Map System and Green Mapmakers are presenting our practical, community building approaches at several events and meetings during COP15, the UN climate conference.
Indonesia: 3 prestigious national media awards recognized creators of Green Map stories!
Craik Canada: This rural Green Map project has added 1500 images to the online resources it already offers. Now building an eco centre using natural materials, the Craik Sustainable Living Project is planning to make a new Green Map in 2010.
Tianjin China: The "Love Without Borders" group provides delightful images of the 25 people who experienced their October Green Map workshop. Scroll further down for a translated Blog.
Iceland: Green Map Iceland held an exhibition celebrating the 3,171 sites they have charted using both Green Map Icons and 'home grown' Icelandic icons signifying volcanoes, whale-watching areas, light-houses and turf-houses.
Kauai Hawaii: Enjoy Current TV video clips about the Kauai Green Map and how it supports local green businesses created by Malama Kaua'i, a Kilauea based non-profit.
New York City: Recent interactions with local universities and student interns' reflections on their experience at the global Green Map office.
Budapest Hungary: A terrific new digital Budapest Green Map was launched at a press conference and resulted in exciting media coverage for the Hungarian Association of Conscious Consumers on World Heritage Day.
Detroit USA: Announcing plans to restart their project, Green Map Detroit invited all interested partners to meet and discuss at the Great Lakes Bioneers Detroit event.
Cape Town South Africa: As the city gears up to host the FIFA World Cup Games in 2010, the City of Cape Town is moving quickly on printed and Open Green Maps.
Click the 'More' link at the bottom of each page of the Blog - the stories continue. This is an inspiring testament to the diversity and impacts Green Map System has supported worldwide!
We hope you are inspired to support our work and all these green communities worldwide. Your donations are worth 50% more to Green Map in November, thanks to Global Giving and our board of directors. Special thanks to all who help us meet this Challenge. We all win when we work together to make the world a better place!
Visit GreenMap.org/news anytime for fresh Blog posts and inspiration, thanks to the dedication and insights of Green Mapmakers around the world.
Attachments: