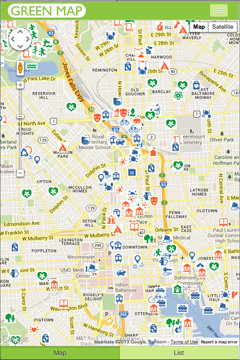 Hello GlobalGiving Donors!
Wednesday is a special Match day – starting at 9AM EST, your donation will help us accomplish 50% more!
Today, we have good news to share – there's a brand new way to explore Green Maps!
Got a mobile phone or tablet? Check out GreenMap.org on your browser. Experience this new interactive map on your desktop at http://m.greenmap.org too!
As you explore and zoom in, more sites from the Open Green Map will come into view. Finally, you can explore green sites in relationship to each other while you're on the go.
Created with the help of a Google-sponsored 24HoursofGood hack day, Green Map's mobile website is 'responsive' - it automatically changes shape to fit your device.
37 countries now use the Open Green Map platform, so our new mobile website is exciting to hundreds of communities worldwide who are announcing it to their audiences now too! Zoom around or tap the top square and type in a different location. If your city's sites are not on the map, consider leading a new Green Map project.
Next, we are planning to build new iPhone and Android apps with more features, including site collection and the interactive mobile map, but we need your help! Please donate and share this link - http://goto.gg/1965 - with your friends, social media, etc.
On June 12, your donation will be matched! Give this Wednesday at 9AM EST - GlobalGiving's pool of matching funds will only last a couple hours, so set your clock, please. 50% more! Give $20, we'll receive $30! Give $100, we'll receive $150, 50% more up to $1000!
Give this project a running start! Our Open Green Map platform and new ways to explore it - including this mobile website and apps – are continually being improved to support progress toward a sustainable future.
Thank you! Together we can Connect, Inform, Inspire!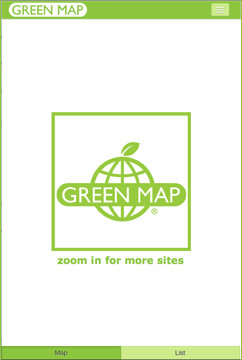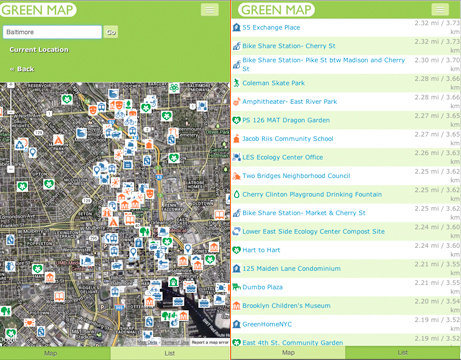 Links: