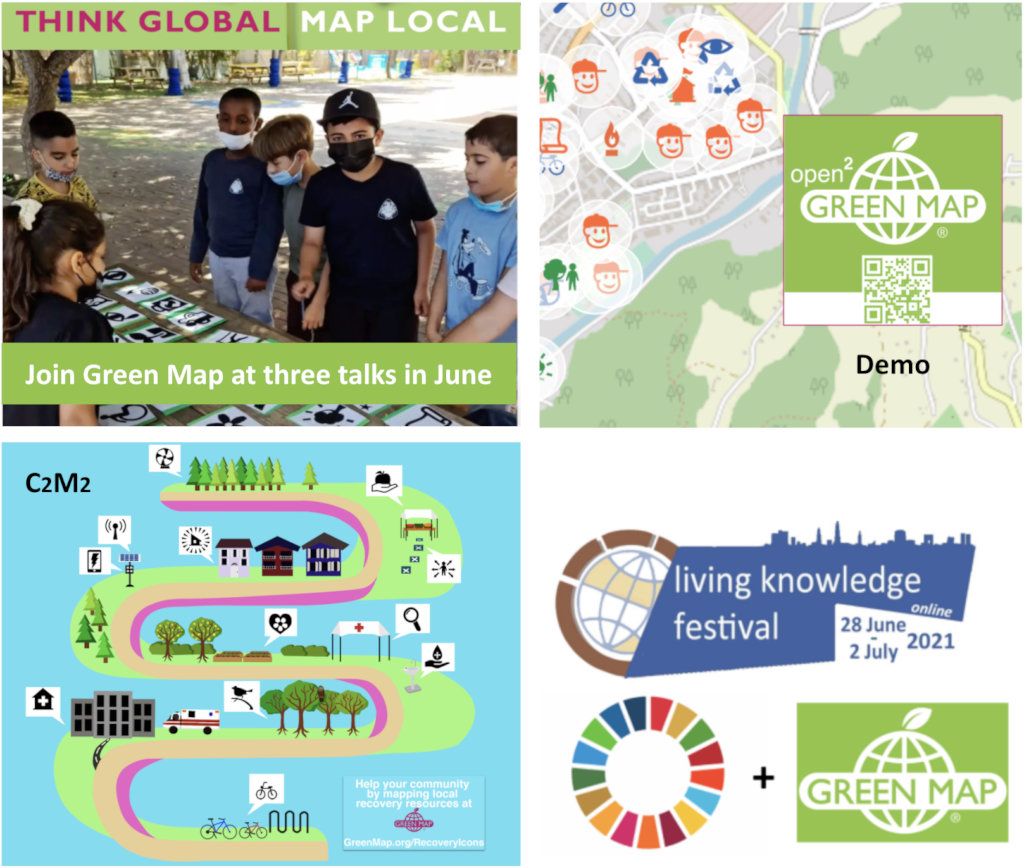 Lazy days of summer? Not so for Green Map projects. All of us in the network and at the global HQ can see that this is prime time and are working hard locally, already in the run up to the UN Climate conference, COP 26, and the NGO-oriented Fringe COP 26 that will take place this fall. Let's start there.
Our director was invited to the climate-themed TED Countdown conference in Edinburgh in mid-October! This set in motion a plan to stay in Scotland for the COP and work with local Green Map projects and the many participants who will be in and near Glasgow in early November! We'll share plans and our public events that are live, hybrid and online as it gets closer. Special thanks to Ms. Clinch of Dunoon's Tacit Design and Mr. Lovelock of Glasgow Eco Trust where the Green Map is already underway here, using OGM2, our cool new mapping platform and its campaign feature to engage people in creating it!
Want to help? Your contributions on July 14 of $100 - $1000 will be matched by GlobalGiving and will be dedicated to our work in Scotland this fall. Donate as soon as possible at 9 ET while matching funds last and give Green Map a big boost!
Ms. Clinch also took part in our recent presentation at Living Knowledge 9, which illuminated ways that the United Nations 2030 Global Goals - the SDGs - are used together with Green Map Icons to raise visibility at the local level. Associate Professor Murayama and students at Azabu University in Japan made a terrific 8 minute video on the topic which you can see at bit.ly/SDG-GM-Azabu or watch the full 2 hours at bit.ly/SDG-GM21
Our Recovery Icons were the subject of a talk at C2M2, the Cities, Covid, Mitigation and Mapping Symposium hosted by American Association of Geographers and Harvard University in June - find links to each day of this event as well as our most recent OGM2 Demo (with a sneak peek at the App in development!!) on our Blog.
There are now 60 Open Green Maps on our new platform! Let's call out one project, GreenErasmus, a student-led multi-campus project focused on students having the best, most sustainable possible experience during their semester abroad in Remagen Germany, Tbilisi Georgia, Baku Azerbaijan, Campina Grande Brazil and Pondicherry India. Congratulations to all involved!
Hadera Israel's spring project was also successful, yielding maps that shared 4th graders' perspectives and community improvement ideas, several of which will be funded to move forward. Watch this space in 2022, when, according to the project leader, Ms. Azmon, the project will be extended and continued!
Our thanks to everyone who helps make the world go round with their Green Map projects, and to you, for supporting this ongoing work! Our best wishes for a healthy and green season.