Project Report

| Sep 14, 2020
Now Open! Green Map exhibit & events!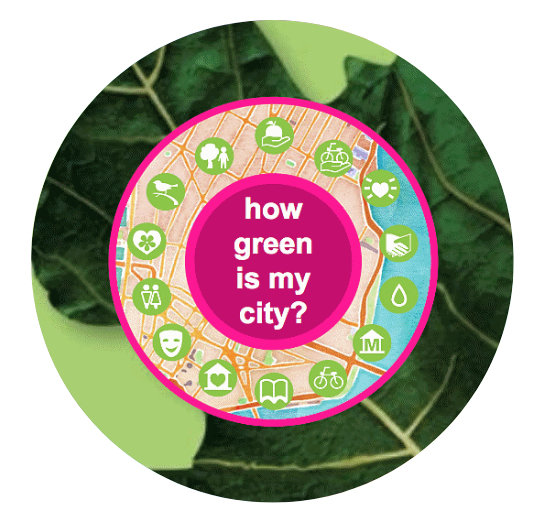 As promised, we are back to share news with you about the Green Map exhibit, How Green Is My City? The show opened on September 6th and will remain on view for the rest of 2020 at the Museum of Reclaimed Urban Space, 155 Avenue C in Manhattan's East Village. MoRUS Museum is open Tuesdays and Thursdays through Sundays from 11AM - 7PM. Check online at GreenMap.org/2020exhibit and morusnyc.org for updates culminating in a December closing event.
Please! Donate $10-$50 (until Midnight Friday) for a 50% Match!
Find this small museum at the intersection of history and activism in the community where Green Map has been based for 25 years. Accordingly, our show is mostly about our own past accomplishments, locally and globally. We also include current projects that your donations have helped to support, such as our mapping platform in development, which will be featured in online demos and this neighborhood event:
In person: Put your Spot on the Green Map! Saturday, September 19, 5-7pm
Celebrate North American Day of Sustainable Communities by putting your favorite green sites on the map. Share your knowledge about places, projects and practices and find out about the OGM2 mapping platform at this outdoor event. It's on the plaza at Grace Exhibition Space at 182 Avenue C, where the "Microbes to Metropolis" exhibit by MoS MoBS LoBS Lab is also on view.
Online: OGM2 Demonstration Discussion! Join us on first Fridays, October 2, November 6 and December 4 at 2PM ET.
Join us from where you stand and find out about using Open Green Map 2, the new mapping platform (now in Beta) developed for us by the Berlin-based GIS Collective. Get the Zoom link at GreenMap.org/2020exhibit.
We've also organized tours, with more to come later this fall:
Climate Week NYC Exhibit Tour Friday, September 25th, 6pm
This event is part of Climate Week NYC 2020. Beginning at MoRUS Museum, this outdoor - indoor tour will provide unique insight and context to the Green Map movement. Please RSVP here.
Green Map Cycling Tour Saturday October 17th, 3pm (rain date 10/18)
This Green Map bike tour will highlight green infrastructure. We'll track underwater streams and traverse the original NYC shore line into East River Park, which is slated for phased demolition beginning this fall. Guest speaker Ms. Ip from EastRiverParkAction.org as well as maps from the past (and for the future) will help us gain perspective on current resiliency challenges and movements. Limited to 8 riders - with distancing & masks. RSVP to apple@greenmap.org
MoRUS has this family-friendly event planned:
East Village Community Garden Passport - Sunday, Sept 20th 4pm
Stop in for your own copy of the Passport, which maps out a variety of sustainable gardens located in the East Village. Once you have gathered the stamps from all the gardens return the full passport to the museum and receive a prize!
There is much more coming up this season - see GreenMap.org/2020exhibit
We are so grateful for your support, which is matched all week - donate $10 to $50 and we'll receive 50% more from September 14th to 18th, until Midnight Friday, thanks to GlobalGiving.
Thank you for your generosity and for your support of urban sustainability and healthier communities through Green Mapping!
Links: