Project Report

| Oct 18, 2011
60 Countries! 775 Projects! Social Design Award!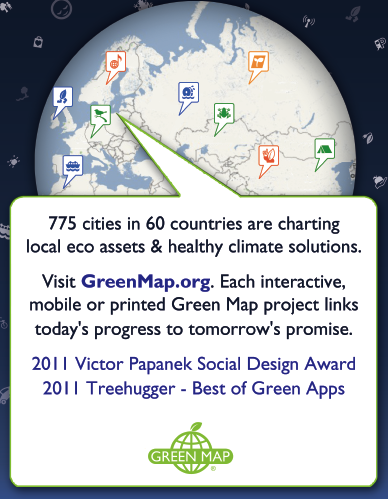 Guiding the Way to a Sustainable Future
So many people love their communities and care deeply about the world we all share. At Green Map System, we are always working to support each local initiative. By helping local people map out each green site and highlight its sustainability elements, new audiences and customers are drawn in. Tens of thousands of these green sites are on printed Green Maps, and you can interact with another 18,000 on Open Green Maps.
Our adaptable tools for communities, professionals and 'crowdsourced' Green Maps are continually evolving – help us meet the demand!
60 Countries!!
There are now Green Mapmakers in 60 countries, representing all inhabited continents. We reached this milestone as local projects got underway recently in Tibet, Serbia & Macedonia and Belgium. Latvia and The Gambia joined us in 2011, too. Click GreenMap.org/home to see where our network is growing and get our list of over 775 cities, towns and villages with Green Map projects (linked below).
How does this impact any single community? Check out the Blog and download the presentation by Janet Felsten of Baltimore Green Map that's linked below. Her efforts have engaged and enlighted a wide diversity of people and places. While in our Blog, take time to see what others are doing, as well.
30% Donation Match!
October 19 is a special 30% match day for us, thanks to GlobalGiving. Donate early to be sure the pool of matching funds will benefit Green Map System. Magnify the impact of your gift, and provide even more towards healthier, greener, more sustainable communities.
We appreciate all types of donations, including in-kind support. An example is the carbon neutral dedicated server donated by Pair Networks. In October, our server has been upgraded – visit GreenMap.org and see how much faster our website and Open Green Maps now appear on your desktop!
Victor J. Papanek Social Design Award
We are so pleased to be selected as a Winner of the inaugural Victor J. Papanek Social Design Award competition by the new Victor J Papanek Foundation –
Victor Papanek was a true pioneer, thought by many to be the "papa" of the modern eco-design movement. His books, including Design for the Real World, made a deep impression on Green Map's founder as our movement was forming in the early 1990's. Wendy Brawer states, "I hold Victor Papanek in high esteem and I am delighted to take part in the award ceremony and the exhibitions at University of Applied Arts Vienna (11/10/11–1/31/12) and in NYC (Dates TBA)".
The Papanek Social Design Award is our second honor in 2011. Special thanks to all the jurors of this competition as well as Treehugger Best of Green, which awarded us Best Eco App for a Smartphone this spring.
Upcoming Events
If you are in NYC and interested in civil society's response to crisis, our director will be giving a short talk on our work this arena at Design Like You Give a Damn LIVE this Saturday, Oct 22 at the AIA Center for Architecture.
Green Map System is part of the Local Spokes coalition, which is hosting three Visioning Sessions on the opportunities for Lower East Side and Chinatown residents to benefit from bicycling. Find details at LocalSpokes.org.
At a time when people are working together in new ways together to 'Be The Change', we are so glad to join hands with you! Thank you for your help and interest in bringing Green Mapmaking to people worldwide.
Links: