Project Report

| Oct 7, 2019
Green Map at NEW and other news!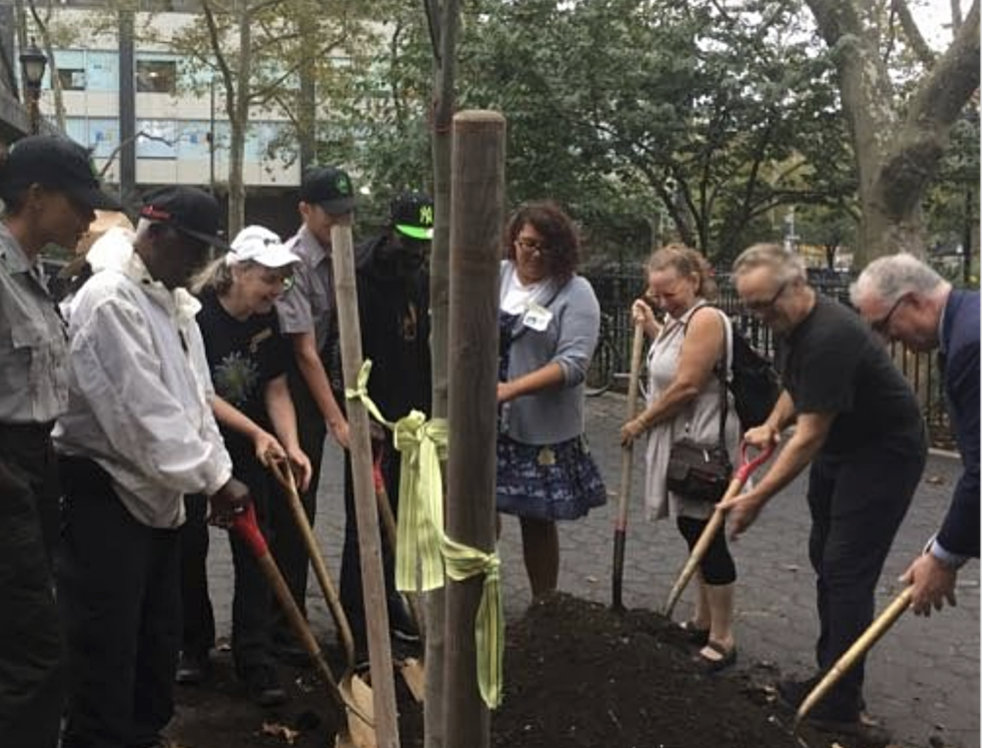 Green Map is now a member of an incubator for 'ideas for the city' at NEW Inc. This year-long program brings trainings, access to resources, mentors and a great cohort of more than 100 socially-minded creatives, technologists and entrepreneurs to our table. In conjunction with the NEW Museum, New Inc. is on the Bowery, close to our East Village office in NYC.
Interestingly, the incubator is just around the corner from the spot where we helped plant the first of 1,000 new street trees on the Lower East Side! You may recall that our director brought forward the LES Community Tree Canopy concept in Februrary. Now the first two trees are in the ground, planted with Parks Deputy Commissioner Kavanagh and tree advocates during our event on Sept 26, 2019 (see below). Like these first two trees, many of these will be native species which are better adapted to this climate and ecosystem. More will be planted as it gets cooler and our director has been asked to join the task force around stewardship for this Canopy. With trees being so beneficial to wellbeing across the board, we are also working on ways to share the process with other community boards across the city, and beyond.
Global news
Our new mapping platform in progress was presented at Foss4G, the open mapping conference by our tech team, Bogdan Szabo and Ciprian Samoila as described here. Your support is key to the progress of this shared, open source platform!
There are also great new print maps to celebrate in North East Baltimore MD and in Cape Town (featuring cycling)! We publisehd a new NYC Green Map too, check out how we address Urban Heat Island effect in our own community, in an inclusive and positive way.
"A Walk in the Park - SDGs in the Real World"
We enjoyed co-hosting this exciting event with Sara D Roosevelt Park Coalition. Together we mapped 41 sites on 3 blocks that are working towards the same goals as the United Nations 2030 goals! We also shared a new vision for the Stanton Building, created by Keena Suh's Pratt students More about the party, as seen by the SDR Park team and here, you can download the map and take your own walk in the park!