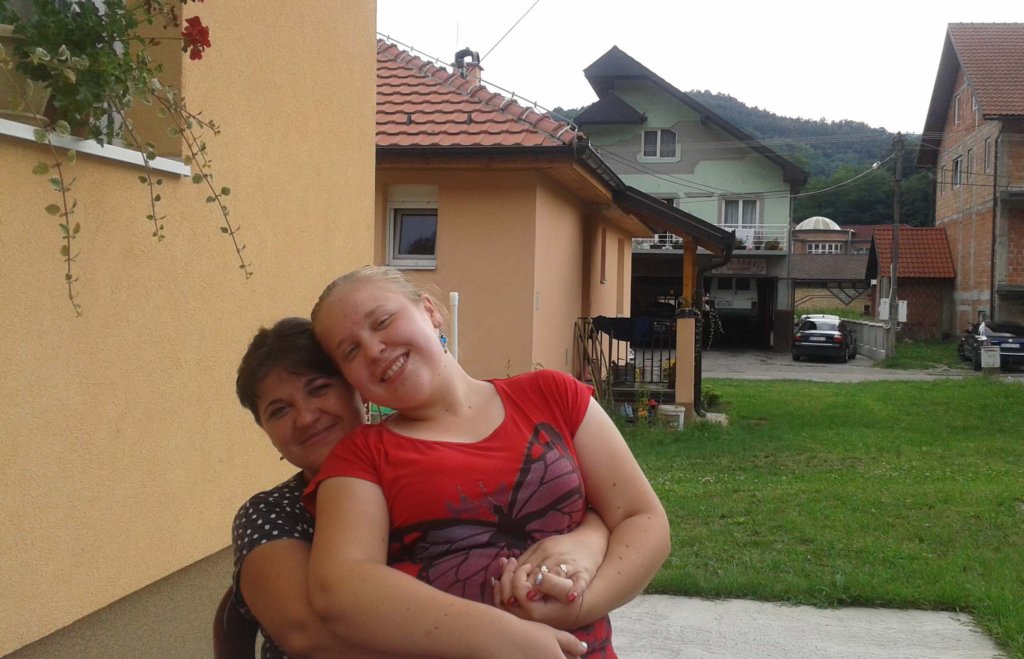 Andjela P., a fifteen-year-old girl, has completed her primary school education with excellent grades. This September she left her hometown for the first time to continue her education in Belgrade. She enrolled into a vocational school for postal and technical communications. She plans to start work as soon as she graduates from vocational school.
"It was not easy for me when I arrived in Belgrade. A big new city, new conditions and, of course, the hardest part was to start a new school in a proper way. There are lots of subjects which are not easy. But now it's better. I managed to get organized. I have not seen much of Belgrade, only Kalemegdan. I have a lot to learn so I do not have much free time," said Andjela about the beginning of her new life in the Serbian capital.
Andjela, like other children from Krupanj were very lucky to live in one of the most picturesque towns in western Serbia. Krupanj is surrounded by beautiful natural scenery: a lovely green river, breathtaking hills covered with green meadows, woods and a rich forest. However one night two years ago heavy rains poured down onto the town, the river became a dangerous force which undermined the hills and many houses disappeared in seconds. The catastrophic flood almost destroyed the whole town and the disaster affected the lives of many people. Andjela`s carefree childhood was abruptly interrupted because everything her family had vanished that awful night.
During the flood she was trapped with her sister and parents in the remains of their house which was situated on a hill in the Kostajnik village. The water was coming in very fast. Fortunately, they were all rescued, but fear of that terrible night still haunts the entire family.
After the flood Andjela's parents worked very hard on their farm. Every day, she walked for three kilometers to school in the nearby town Stolice. She didn`t complain and it was not difficult because she enjoyed learning. So, Andjela was an excellent student.
Andjela`s family lost all their possessions in the flood. They had nothing. Her parents lost their jobs and they were left with no income. Pomoc Deci was able to provide a scholarship for Andjela.
"At the time it was huge support for me, to continue learning", said this diligent girl.
Nowadays life in Krupanj is slowly returning to normal. Thanks to international aid, roads, hospitals and schools have been rebuilt and repaired. Last year Andjela's family was granted a prefabricated house, thanks to UNDP donations. Three generations are now living in the new house. Until recently, her grandfather's pension was the only income in their household. Luckily, Andjela`s mother, Zeljka has found a job and now works in a newly opened denim factory. Her father does not have a permanent job yet and he mostly does farm work. However, without the scholarship that Andjela has been receiving thanks to your donations, she would not have been able to move to Belgrade and continue her education.
We are just two weeks away from #GivingTuesday and we have some exciting news to share! The Bill and Melinda Gates Foundation has generously provided $500,000 in matching funds for #GivingTuesday!
There will be an unprecedented 50% matching for #GivingTuesday donations up to the first $1 million raised! This is the largest amount of matching funds GlobalGiving has ever had in one day in order to match more donations than ever before!
In addition to this huge matching opportunity, all new recurring donations made from #GivingTuesday through December 31st will be matched at 200% up to $100, on the fourth donation!
So, please, consider donating for our project during this time and help us change more lives of the children who suffered so much in the terrible floods in the Balkans!
Links: