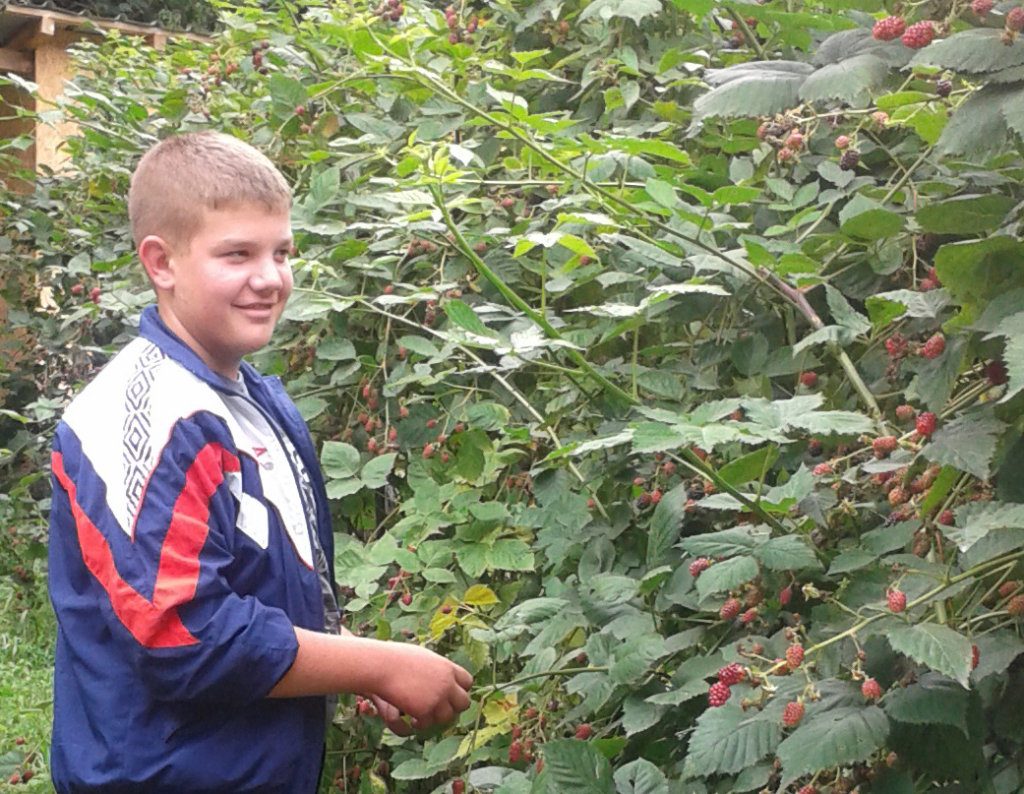 At the foot of the mountain Cer lays a little town Krupanj. At summer, it is surrounded with rows of green pine and fir trees. Lush nature hides the remains of the huge damage caused by the unprecedented floods that nearly completely destroyed this little town. Two years ago, within several hours, many families were left without anything, without houses and everything they had owned. The family of Petar M., a thirteen-year-old boy was one them. The house, cattle, and everything they had ever had vanished in just few minutes.Part of Petar's and his one-year-younger brother Aleksandar's carefree childhood life the flood took forever, too.
This time, we have met Petar in the centre of Krupanj. Young highlander stopped picking blackberries in the hills and came down from the mountain village Krzava to take us to his newly built home, some thirty kilometres up into the hills. He reached out his black coloured palm and shook hands warmly. Picking blackberries, which is his everyday job during the summer holidays, deep coloured his hand's skin.
While we were driving along a narrow gravel road to the top of the hill, to the village, we saw people rebuilding a small bridge and local roads. Petar recalled how terribly scared he was. He told us how he ran outside to help his mom when the rain started. He was soaked in a split second and then he started shivering and soon he was down with high fever. A huge downpour made a small river Krzava swell, just in front of their home. The water undermined the hill and house disappeared in a matter of minutes in a big land-slide. Nothing could be saved. With his grandmother, mom and younger brother, Petar had to run to the top of the hill to the neighbours. They could only save their lives at that point.
Roads, houses and bridges are slowly being restored in Krupanj now, thanks to the large international aid. Petar's parents started building a new house. They received sheep, pigs and chicken through donations, then rented the land to plant raspberries and blackberries. It was the new beginning for this hardworking family.
Petar's father works as carpenter in Belgrade, 150 kilometres away from home. He only gets home on weekends. Patar's mother has only recently started working at a small factory for sewing denim. It is Petar's grandmother who takes care of the house. So the hard work in the fields has become Petar's responsibility. His one year younger brother Aleksandar is helping him. During the day Petar is mainly picking raspberries and blackberries. In the late afternoon, he has to take care of the cattle. With his faithful little dog he takes sheep in for the night.
"When I have free time I love to play football with my friends. I watch TV a bit at night, but soon I fall asleep", says Petar.
Both Petar and his younger brother are excellent pupils. Next month he will start the eighth grade (last year of the elementary school). Afterwards he will continue his education, but he is not sure which secondary school he will enrol. "I just would not like to be far from home, because then, I could not help," firmly says this diligent boy.
"Petar is attached very much stickled to the family and very industrious boy, the best blackberry picker in the family. He could be stubborn sometimes, because he thinks he knows how to pick the fruits best", says his mother Snezana with a warm smile. "There is a lot of work to do in and outside the house, but for the boys the school is most important. They need to be educated, even if they choose to stay home and deal with agriculture," stresses Snezana.
In this modest family every penny is valued. The try to make savings to rebuild the household. They also want to save enough money to afford their children proper education. They appreciate very much the scholarship they received from Pomoc deci. It is spent for Petar's books and other things needed for his education. Petar is very careful with the books because they have to remain in good shape for his younger brother.
Thanks to your generous donations, Pomoc deci has been providing financial support for 18 children whose families lost their properties after catastrophic flooding in Krupanj. They are all excellent pupils and this assistance is of huge help in their efforts to overcome trauma and losses, to start all over again and rebuild their lives.
Links: