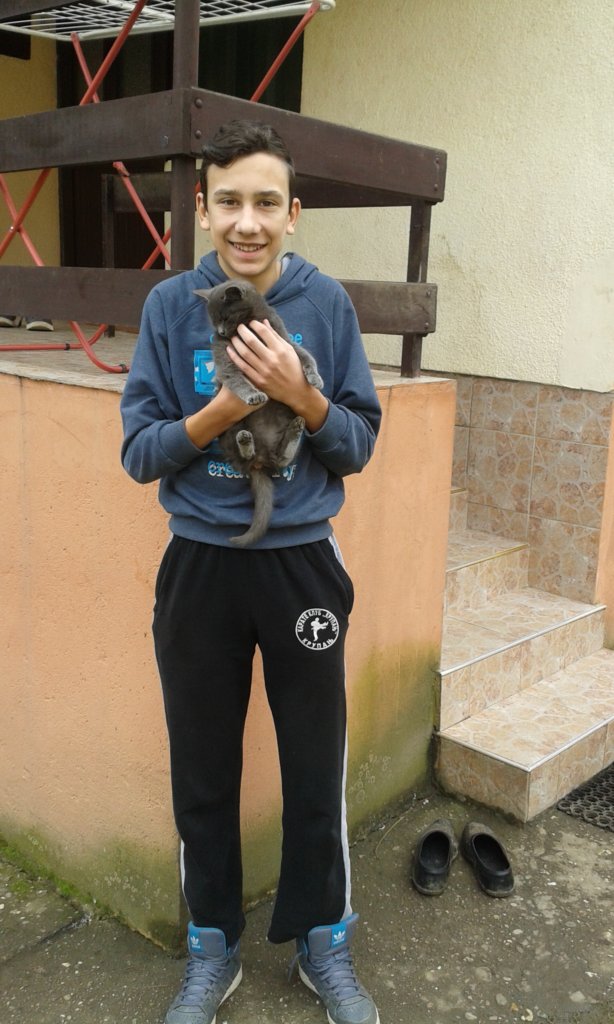 For several years, a school report card of Nemanja D. has been full with all the excellent grades, but one. There is just one subject with "only" a "very good" grade. It is the grade for the fine arts subject. "I cannot draw," briefly says Nemanja. He is in the grade now and will graduate from the primary school in Krupanj in May this year.
"He is one of only four pupils with excellent grades in the class of 23 pupils", says proudly his mom Ljilja.
Nemanja is a modest boy, a bit shy, doesn't talk much. He doesn't have many wishes, just to have a nice mobile phone. He would like to continue his education at high school. Maths and physics are his favorite subjects. Just like his sister Aleksandra, who is a first-year University student of Mathematics.
When we went to Krupanj last time, a week ago, Nemanja was on school holidays. Sometimes, he goes to visit his best friend in the neighborhood. When he stays at home, his cat Cicmil is a good company. He wants to cuddle it all the time.
Krupanj is a small town in Serbia, which almost vanished after the unprecedented flood a year and half ago. Many families lost all they owned. A huge downpour made a small river swell, the water undermined the hill and many houses disappeared in a matter of minutes in a big land-slide. Part of the carefree child-life the flood that destroyed nearly the entire town took forever. The night of the huge disaster changed so many lives.
Only a narrow road divided Nemanja's family house from the river banks. Heavy rain was falling the whole day, and after midnight a terrible bang woke them up. They remember how huge amounts of water started pouring over the river banks. The water climbed quickly up the house walls. Nemanja's mom and grandmother say it was a nightmare. They still speak about it with a quivering voice. Their eyes are filled with tears, and they just hope it never happens again. Nemanja cannot speak about the flood. His grandmother tells us he was so frightened that he was afraid to get out of the bed for a long time after. Fear of floods has not disappeared in this family.
"My husband is a policeman, unfortunately he was on duty that night. Children freaked out. Many animals were drowning in the courtyard. I was out of my mind. At that moment I didn't know what to do first. More than a month we were just cleaning the mess. The whole street disappeared and we had to climb over the hill to go to the town for necessary food", said Lilja.
Nowadays life in Krupanj slowly returns to normal. Thanks to the international aid and donations, the roads have been rebuilt, a hospital and schools repaired. But many residents of Krupanj still suffer. In a small town like Krupanj there is no industry and people mostly work in the fields. Nemanja's family almost repaired the house, but they lost the land where they had cultivated raspberries.
"We all used to work in raspberry fields, Aleksandra and Nemanja, too. We earned money by selling raspberries. It was our savings for the children's education. I work as a saleswoman in a local shop. Our salaries are small and sufficient just for the necessary things in everyday life," explained Ljilja.
Speaking about his work in the raspberrys fields, Nemanja says it was not difficult. He enjoyed it. "I loved picking the raspberries," he says with a smile.
Nemanja received a scholarship this scool year from the Pomoc deci for the first time. "Your scholarship came at the right time, because the end of the primary school is near and he wants to be prepared for high school. That money means a lot to our family, first of all, as a great support for Nemanja's further education. We are grateful. Many, many thanks," stresses Ljilja.
Pomoc deci is grateful to everyone who has generously donated to the Support for Children in Flooded Areas of Serbia proejct.
We appreciate any contribution and support. Thanks to your donations we have been able to provide school meals, school books, and scholarships for ten young boys and girls. All of us are happy to help them go forward and be successful in their education.
Please donate whatever you can and be the one of us who are happy to help as many children as possible!
Links: