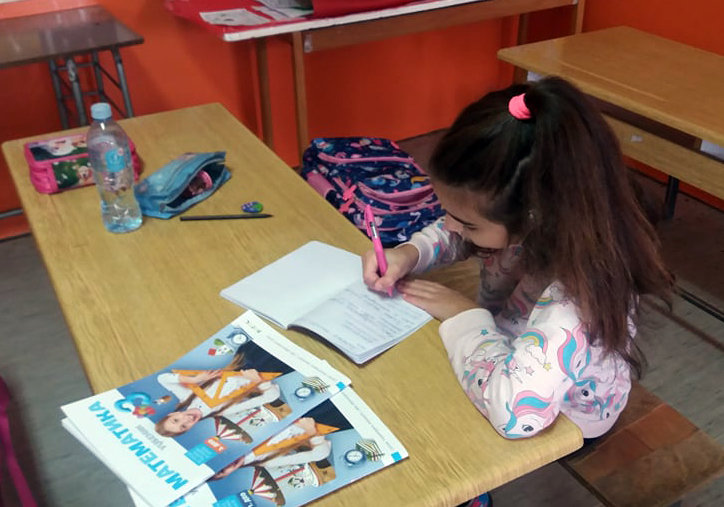 Almost a year and a half ago, the COVID-19 pandemic hit the world. And then if it was not enough, new floods came in south Serbia in summer 2020. Western and south parts of the country were under water, crops were drowned… many families were left both without jobs and food…
Little nine-year-old Elena A. from Surdulica lost her father to COVID-19. And her mother and grandmother had nowhere to go to pick fruits and earn some money, because the water destroyed raspberries in other people's fields. She completed the second grade of elementary school with all excellent grades and although she loved going to school, she was not looking forward to the beginning of the new school year. She was about to start the third grade, but a new school curricula was introduced by the Government and for the new curricula only new textbooks could help. Her mother could not turn to any older child for the second-hand books. She couldn't afford even notebooks, let alone new shoes or a jacket for the autumn. Elena's Master teacher wrote to us and asked if we could help in any way.
We reached out to you in an appeal to help and you responded! We received enough money not only to help Elena with new textbooks, school material and tools, but we bought new textbooks for other six Elena's peers. This proved to be of crucial importance since none of them have any computer, laptop or smart phone and when the schooling went online because of COVID-19, these textbooks were the only thing they could turn to in order to learn and get ready for the tests.
All of them, like other 121 children from the families affected by floods who we could help in some way, completed the school year successfully. However, as the education reform is underway, in September, they need new textbooks again – new programme starts for the fourth and eighth graders and there is no other possibility for these children than to buy new books.
We know that this year has been difficult for us all but your donation will help us make sure that the children from the poorest households will have that one secure meal per day at school, will have all the needed textbooks for the next school year, or will be able to attend school regularly because they would have the needed money for a monthly transportation pass. If you donate TODAY - on July 14th from 9:00 am Eastern Daylight Time - EDT (15:00 Central European Time - CET), donations between 100 USD and 1,000 USD will be matched from 15% to 50% by the GlobalGiving Foundation through the Bonus Day campaign.
Please, click on the Donate button today and help us help these children to start the new school year ready for new learning in September!
Links: