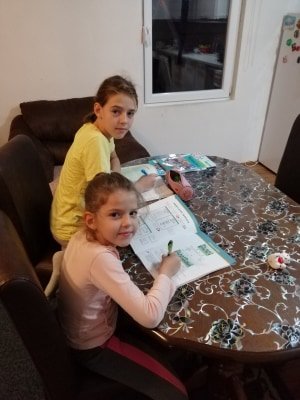 Hi friend,
Happy holidays from all of us at Pomoc deci! Have you made your 2020 New Year's resolutions? We have! Our wish for next year is to be able to continue to provide opportunities for young children to succeed in school. This holiday season, please consider helping us out. The work that we do is dependent on individuals like you.

This is why we would like you to meet Mina (11) and Lena (7), two sisters from Kragujevac. Their mother is a single-parent, and on top of work and taking care of her two daughters, she is also the primary caregiver of her sick mother-in-law. For the past few months, Mina and Lena have been going to an after-school program where they get homework help, a hot lunch and are able to exercise and play with friends.

The help that we get from individuals like you, helps the family immensely. By being in an after-school program, their mom is able to work. She says that, without the assistance, she wouldn't know what to do. Finances are tight, but at least she says she "doesn't have to worry what the kids will eat in school."
By donating, you will help children like Mina and Lena and many others who are in the same position.

After all, well fed children make much better students because they are able to concentrate and retain information better!
What can you do?
These are small acts of kindness, but to young children are invaluable :)
Don't forget to connect with us online (facebook, instagram or our website), we'd love to hear from you!
Warm regards,
Pomoc deci team